Homemade Soft Pretzels
These soft pretzels get boiled in baking soda water for their signature chewy texture, flavor, and deep color. Watch video below for shaping tips.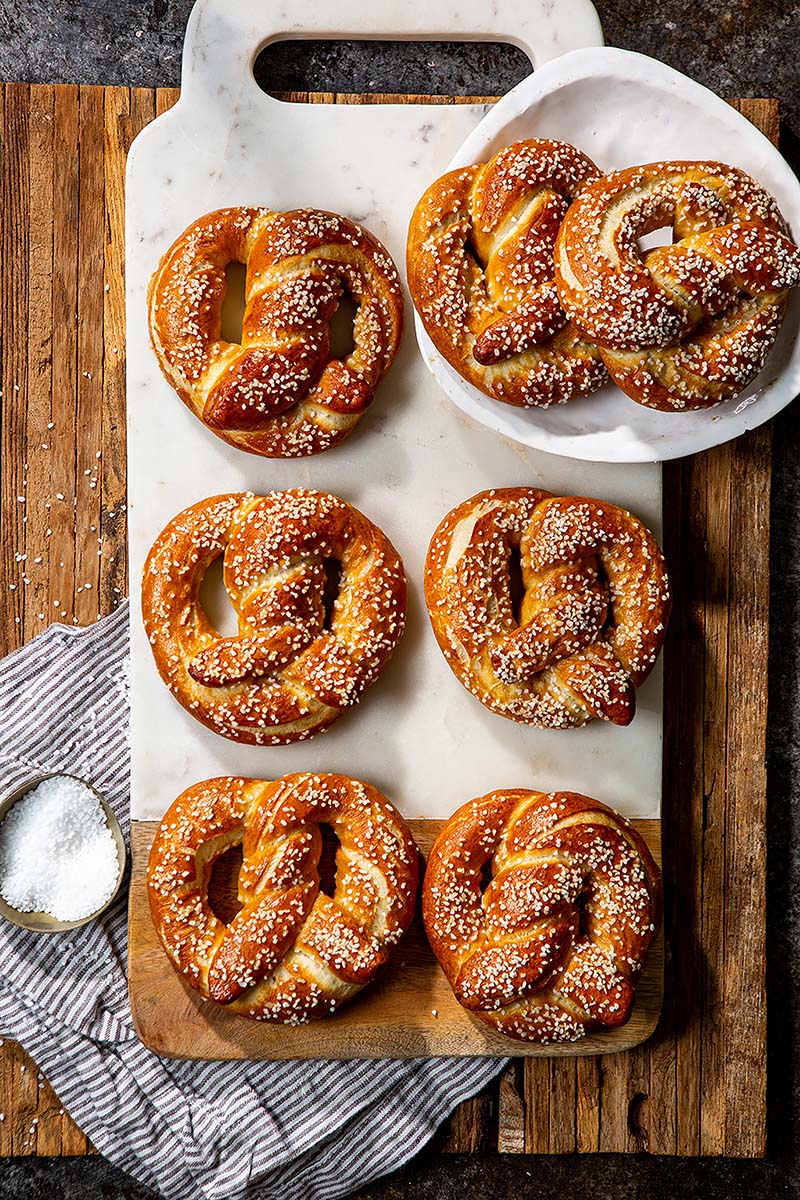 Ingredients
5¼ cups (667 grams) bread flour, divided
2 tablespoons (28 grams) firmly packed dark brown sugar
1 tablespoon (9 grams) kosher salt
1 (0.25-ounce) package (7 grams) Platinum Yeast
9½ cups (2,280 grams) plus 1 tablespoon (15 grams) water, divided
2 tablespoons (28 grams) unsalted butter
¼ cup (60 grams) baking soda
1 large egg yolk (19 grams)
2 tablespoons (36 grams) pretzel salt
Instructions
Step 1. In the bowl of a stand mixer fitted with the paddle attachment, combine 2 cups (254 grams) flour, brown sugar, kosher salt, and yeast.


Step 2. In a small saucepan, heat 1½ cups (360 grams) water and butter over medium heat until an instant-read thermometer registers 120°F (49°C) to 130°F (54°C). Add warm butter mixture to flour mixture, and beat at medium speed until combined. Reduce mixer speed to low, and gradually add 2½ cups (318 grams) flour, beating just until combined and stopping to scrape sides of bowl.


Step 3. Switch to the dough hook attachment. Beat at low speed until a soft, somewhat sticky dough forms, 5 to 6 minutes, stopping to scrape sides of bowl and dough hook; add up to remaining ¾ cup (95 grams) flour, 1 tablespoon (8 grams) at a time, if dough is too sticky. Turn out onto a lightly floured surface, and shape into a smooth round.


Step 4. Lightly oil a large bowl. Place dough in bowl, turning to grease top. Cover and let rise in a warm, draft-free place (75°F/24°C) until doubled in size, 30 to 45 minutes.


Step 5. Place a large piece of parchment on work surface, and dust with flour.


Step 6. In a 4-quart stockpot, bring 8 cups (1,920 grams) water and baking soda to a slow boil over medium to medium-high heat.


Step 7. Punch down dough, and let stand for 10 to 15 minutes. Turn out onto a very lightly floured surface, and divide into 12 portions (85 to 90 grams each). Cover and let stand for 10 minutes.


Step 8. Roll each portion into a 22-inch-long rope that tapers at each end. (Lightly flour dough if sticking to surface.) Shape each rope into a "U," and cross ends of rope about 3 inches down. Twist twice; fold down, and place ends on dough, pinching to seal. (If there is too much flour for the ends to stick, place a small amount of water on dough to help seal). Place on prepared parchment paper. Cover and let rise in a warm, draft-free place (75°C/24°C) until puffed, 15 to 20 minutes.


Step 9. Preheat oven to 400°F (200°C). Line 2 baking sheets with silicone baking mats or parchment paper; if using parchment, spray parchment with cooking spray.


Step 10. Carefully drop pretzels, 1 to 2 at a time, top side down, into boiling water mixture. Cook for 30 seconds per side. Using a spider strainer or large spatula, lift, and let excess water drip off; place on prepared pans.


Step 11. In a small bowl, whisk together egg yolk and remaining 1 tablespoon (15 grams) water. Brush egg wash onto dough. Sprinkle with pretzel salt.


Step 12. Bake until deep golden brown, 14 to 16 minutes. Let cool on pans for 5 minutes. Remove from pans, and place on wire racks. Serve warm or at room temperature.
How to Shape Soft Pretzels video tutorial