Homemade Italian Bread (with video)
This homemade Italian Bread is a cool rise bread. It can be made in advance and put in the refrigerator for anywhere from 2-24 hours. It's great to bake just before guests arrive!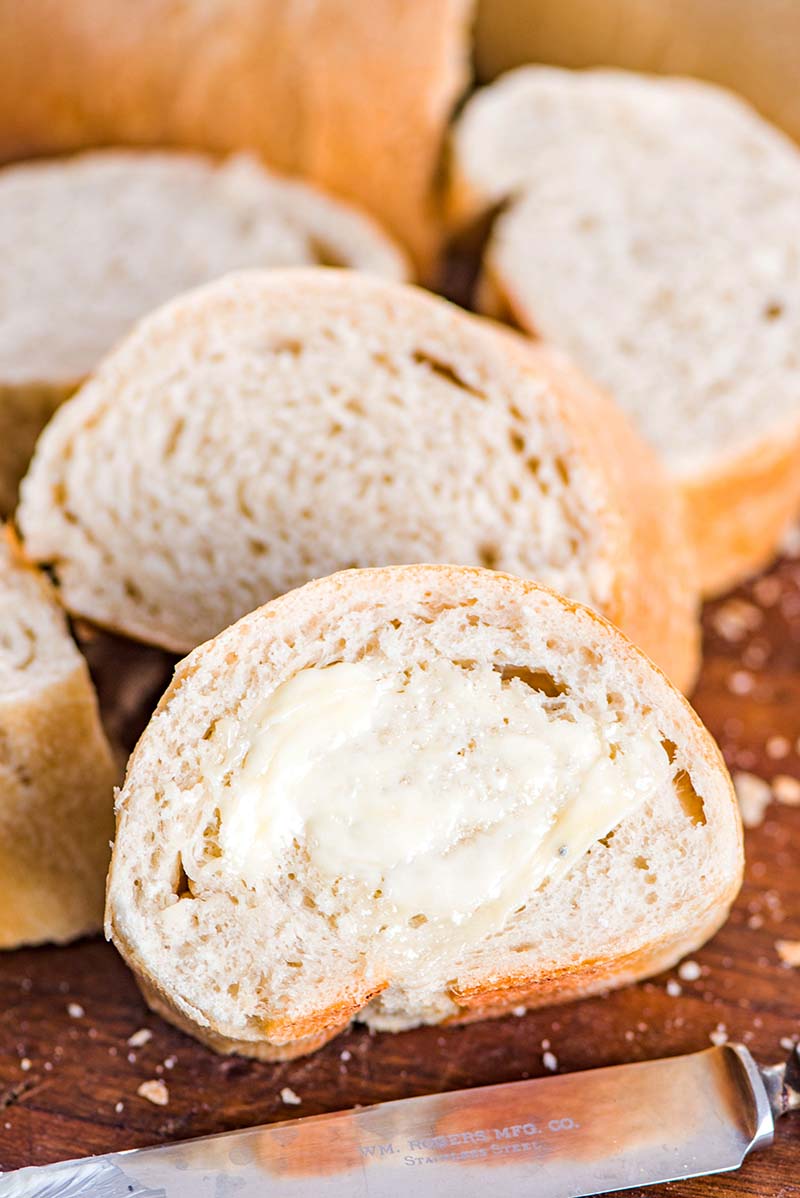 Ingredients
1 Tbsp granulated sugar
2 tsp salt
2 packages (4½ tsp, ½oz, 14g) RED STAR Platinum Superior Baking Yeast
5 cups all-purpose flour (approximate)
1 Tbsp butter
1¾ cups water
2 Tbsp cornmeal (optional)
2 Tbsp vegetable oil (for brushing)
1 large egg white (for egg wash)
1 Tbsp water (for egg wash)
Instructions
**Start this recipe early in the day, or a day in advance of the day you need the bread.


In the bowl of a stand mixer, combine the sugar, salt, yeast and two cups of flour.


In a microwave safe bowl, heat the butter and water until it is very warm, but not hot (about 120-130°F). The butter does not have to be completely melted.


With the mixer on low speed with the paddle attachment, gradually beat the liquid into dry ingredients until just blended. Increase the speed to medium and beat for two minutes, scraping the sides of the bowl as necessary. Beat in the remaining flour to make a soft dough, scraping the sides of the bowl as needed.


Switch to the dough hook attachment and knead the bread for 5-7 minutes until the dough is smooth and elastic.


Turn the dough out onto a floured surface. Cut the dough in half; cover and let it rest for 20 minutes. Spray a large cookie sheet with non-stick spray and sprinkle with cornmeal (optional).


On a floured surface, roll one dough half into a 15x10-inch rectangle. Starting with the 15-inch side, tightly roll the dough jelly-roll style. Pinch the seam to seal. Repeat with the other half of the dough. Place the loaves, seam-side down on a cookie sheet and taper the ends. Brush with vegetable oil. Cover loosely with plastic wrap and refrigerate for 6 to 24 hours.


To bake, preheat oven to 425°F. Remove the loaves from the refrigerator, uncover and let stand 10 minutes. Cut 3-4 diagonal slashes on top of each loaf. Bake for 20 minutes.


In a small bowl, beat egg white with 1 tablespoon water. Remove loaves from the oven. Combine egg white and water. Brush with loaves with egg mixture. Return to the oven and bake for an additional 5 minutes.


Allow the bread to cool completely, then store in an airtight container.


Recipe created by Tastes of Lizzy T.