Homemade Bread Bowls

Author: Sally McKenney Quinn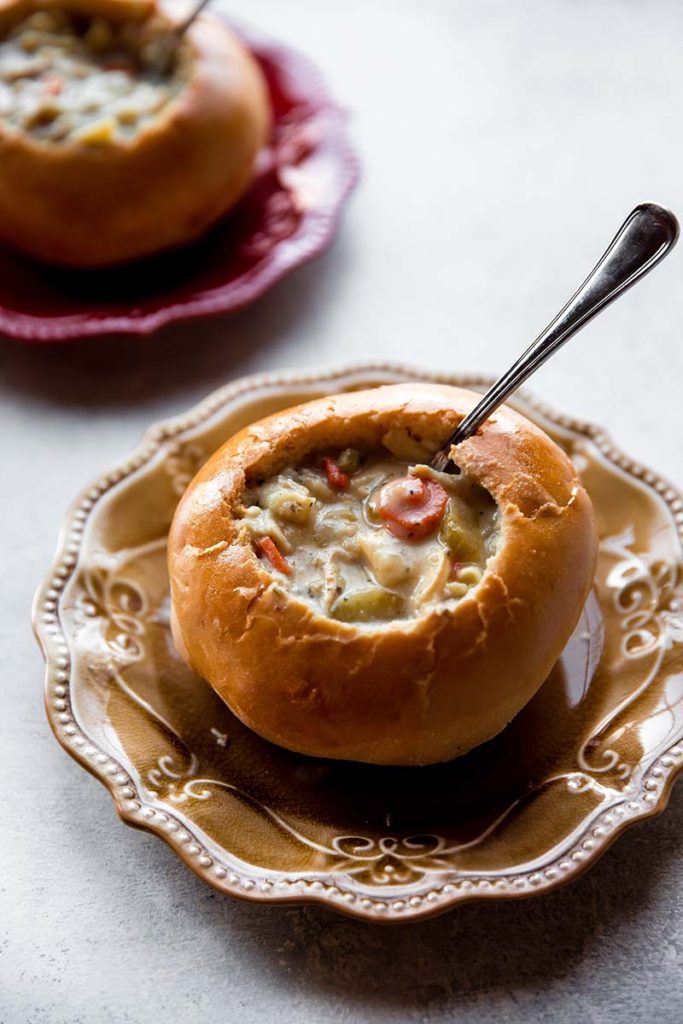 Tie on your aprons, gather your determination, and heat up that creamy soup. Let's make deliciously soft and crusty bread bowls together!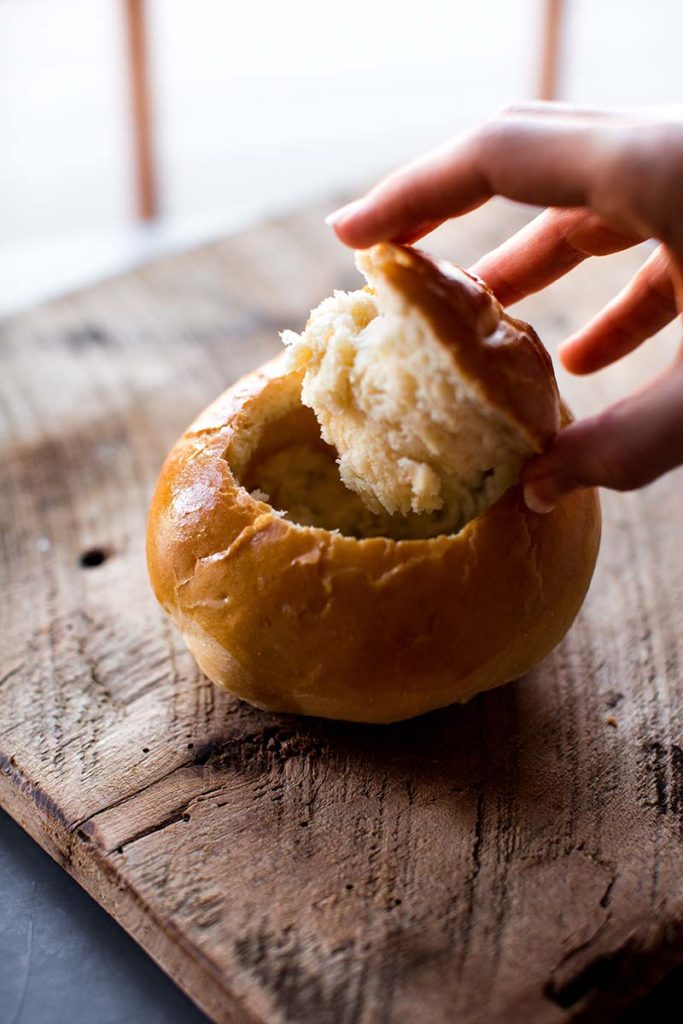 If breadmaking intimidates you, think of it this way: it's one of the most basic foods. Just simple ingredients mixed together, left alone to work some magic, shaped, and baked. That's the process and it's 100% something you can handle.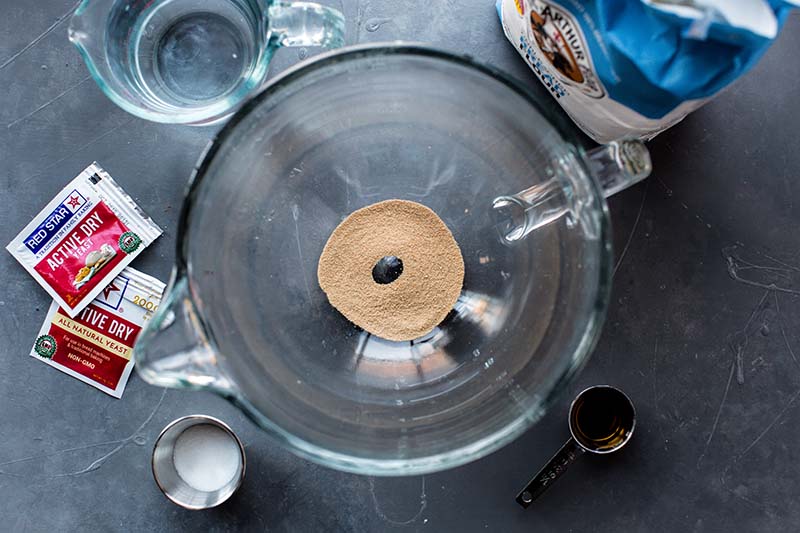 These homemade bread bowls start with an ordinary bread dough. Dissolve the yeast in warm water to get things going. I highly recommend using a quality yeast like Red Star Yeast– it's always my go-to brand for the best tasting breads!
Just 4 more ingredients: salt and olive oil for flavor, a bit of sugar to "feed" the yeast which creates carbon dioxide bubbles and allows the dough to rise, and bread flour. Bread flour contains a lot of protein which helps form a chewier, more dense, and, well, more bread-like… bread. We want a strong and crusty bread for our bread bowls… and bread flour will help us achieve that!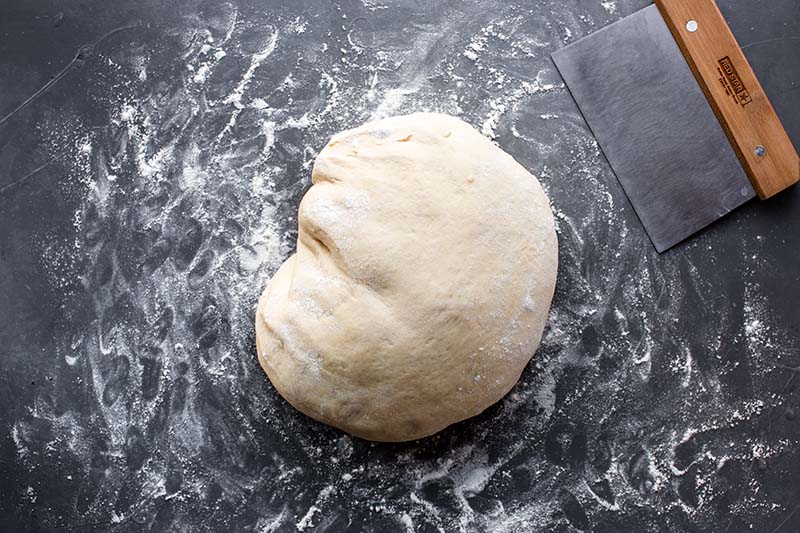 To give you the full picture, I usually use all-purpose flour when I'm making richer, softer, and more fluffy bread. Things like cinnamon rolls, butter rolls, doughnuts, and monkey bread. I typically use milk instead of water and I add additional fat like eggs and/or butter. More fat usually means the dough takes longer to rise. Today's bread bowls are a particularly "lean" dough, so the rise time is quicker.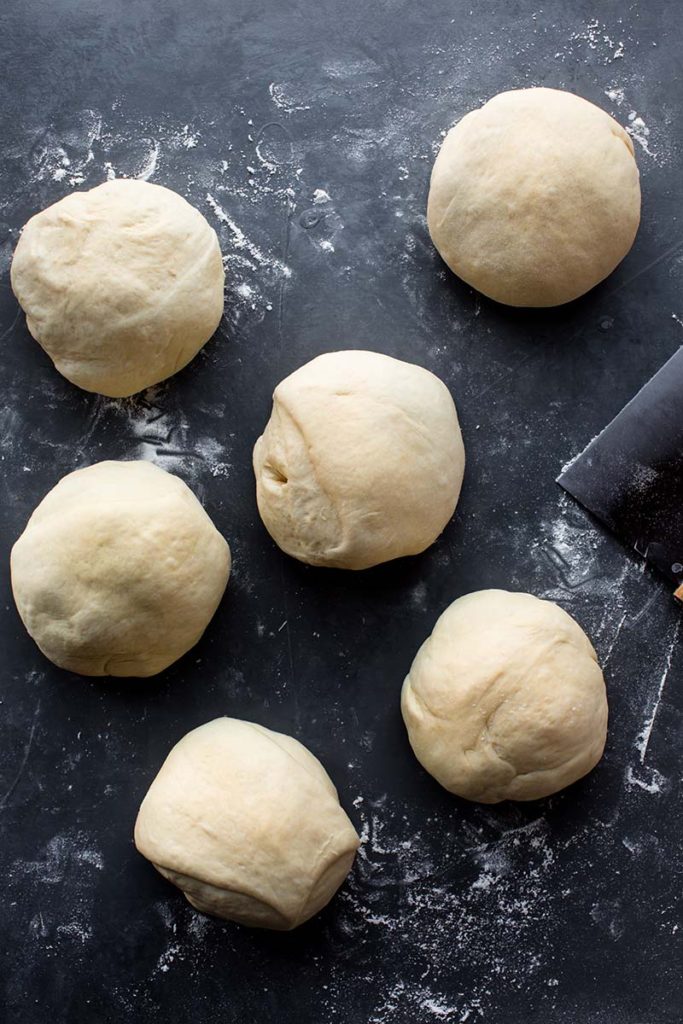 After the dough rises, you'll shape the dough into 6 balls and bake them. But here's the wonderful thing about this recipe: you're not limited to bread bowls! This dough can easily turn into a couple pans of traditional dinner rolls, crusty loaves of bread, or even a few pizza doughs.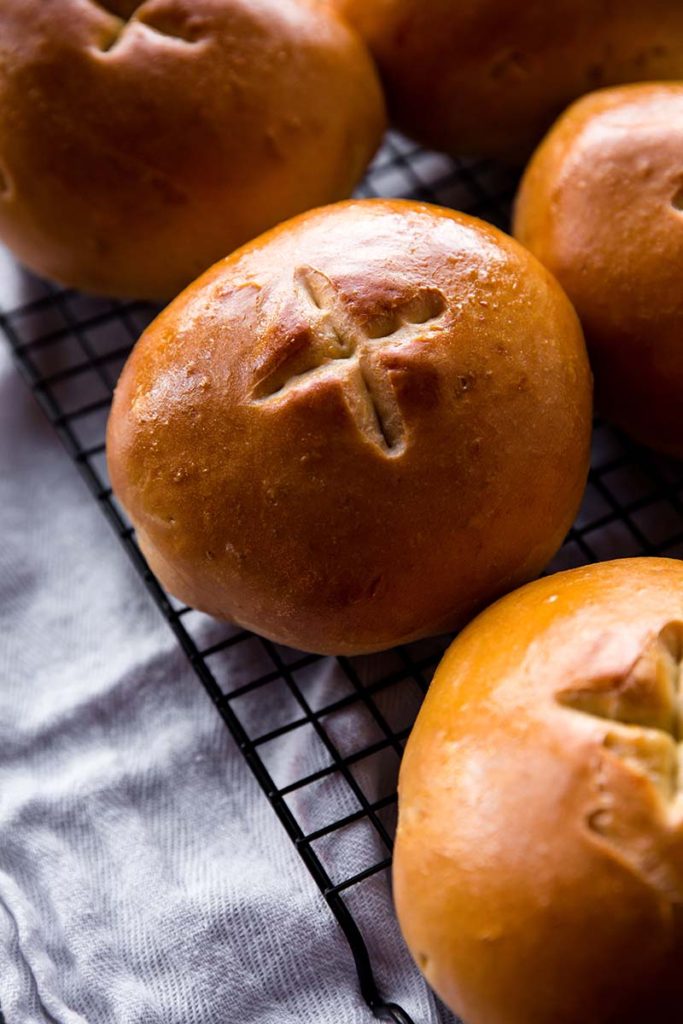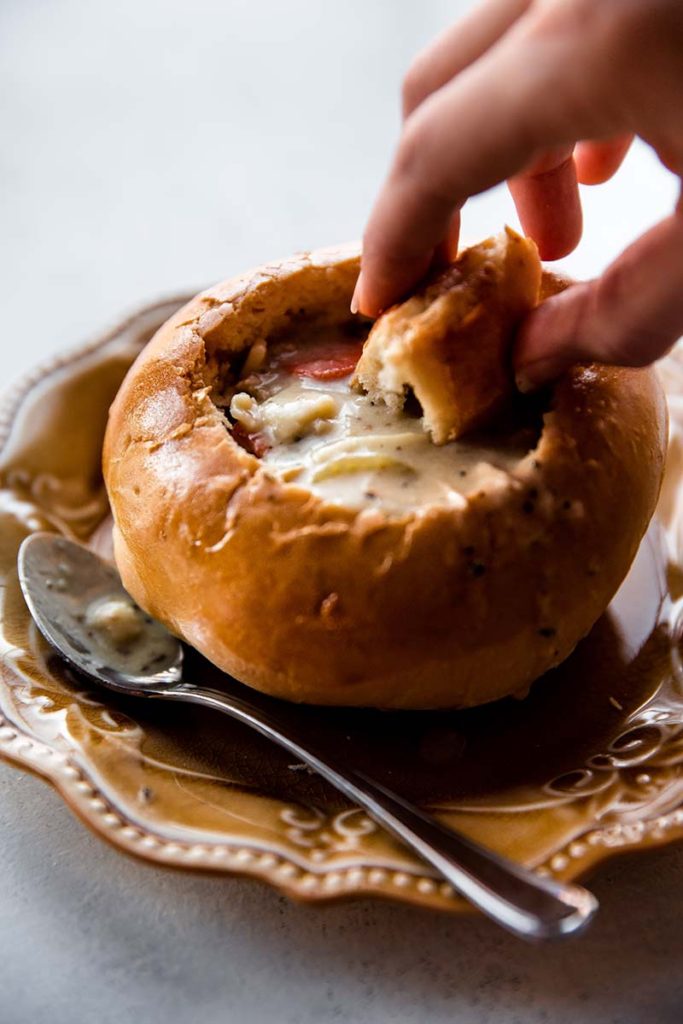 Homemade Bread Bowls
Make deliciously soft and crusty homemade bread bowls with this recipe. This is a basic bread dough recipe you can use for dinner rolls, too!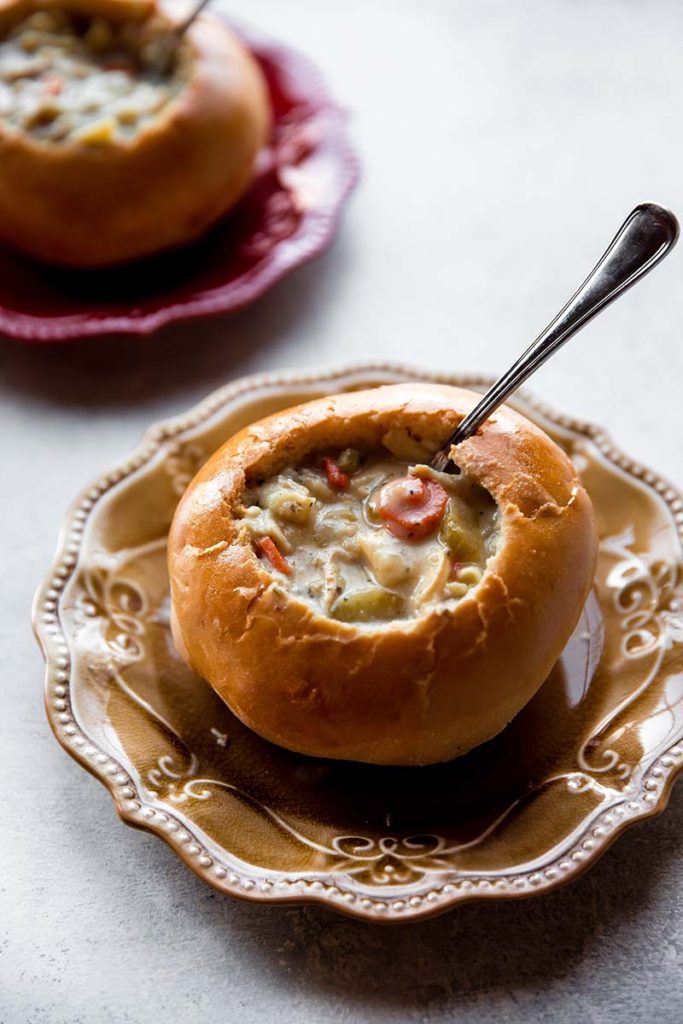 Yield:
6 large bread bowls
Ingredients
2 packages (4½ tsp, ½oz, 14g) RED STAR Active Dry Yeast
2¼ cups warm water
2 tsp granulated sugar
2 tsp salt
2 Tbsp (30ml) olive oil
6 cups (780g) bread flour, plus more for hands and surface
Egg wash: 1 large egg beaten with 1 Tbsp milk
Instructions
1. Pour the warm water over yeast in the bowl of a stand mixer fitted with a dough hook attachment. Or, if you don't have a stand mixer, a regular large mixing bowl. Whisk together and allow to sit for 5 minutes. Cover the bowl with a towel. The mixture should be frothy and foamy after 5 minutes.


2. If you do not have a mixer, you can mix by hand in this step. With the stand mixer running on low speed, add the sugar, salt, olive oil, 4 cups of bread flour, and seasonings (if using, see recipe note). Beat on low speed for 1 minute, then add remaining 2 cups of flour. Beat on low speed for 5-6 minutes. The dough should be thick, yet soft. And only slightly sticky. It should pull away from the sides of the bowl as it mixes. If it's too sticky, add more flour, 1 tablespoon at a time, until it pulls away from the sides of the bowl.


3. Form dough into a ball and turn it out onto a lightly floured surface. And place into a large greased bowl, turning once to grease the top. (I just use the same mixing bowl-- remove the dough, grease it with nonstick spray or olive oil, put the dough back in.) Cover the bowl with plastic wrap and place it in a warm environment to rise until doubled, about 90 minutes. For this warm environment, I preheat the oven to 200°F (93°C) then turn the oven off and place the bowl inside the warm-ish oven. Leave the oven door cracked a bit.


4. Once doubled in size, punch down the dough to release any air bubbles. Remove dough from the bowl and turn it out onto a lightly floured surface. Punch down again to release any more air bubbles if needed.


5. Using a sharp knife or dough scraper, cut into 6 even pieces. Form each into a large ball.


6. Line 2 large baking sheets with parchment paper or silicone baking mats. Place 3 dough balls onto each. Cover lightly and set aside to rest for 20 minutes as the oven preheats.


7. Preheat oven to 400°F (204°C). Brush each dough ball with egg wash and, using a sharp knife, score an X into the tops of each.


8. Bake for 30 minutes or until golden brown. Cool until ready to handle. The longer you cool, the easier they are to cut open!


9. For serving, cut a large round out of the top of each bread bowl. Scoop out the center (save the center to dunk into soup!) and fill with soup.


10. Cover and store leftover bread bowls at room temperature for a couple days or in the refrigerator for 1 week. You can also freeze the baked bread bowls for up to 3 months, then thaw overnight in the refrigerator. Bring to room temperature before serving.
Notes
Make ahead tip/overnight: After dough has risen two hours in step 3, punch down the dough inside the mixing bowl and cover the bowl tightly with plastic wrap. Refrigerate overnight or for up to 2 days, then remove from the refrigerator and continue with step 4. OR freeze for up to 2 months, then allow to thaw overnight in the refrigerator and continue with step 4.
---
Baking enthusiast Sally McKenney Quinn is the blogger and photographer behind Sally's Baking Addiction, as well as the author of best-selling cookbooks Sally's Baking Addiction and Sally's Candy Addiction. The kitchen is where her creative juices flow and she enjoys sharing recipes with her millions of fans around the world. When Sally isn't in the kitchen or behind the camera, she enjoys practicing yoga, running off all those cookies, and hiking with her husband, Kevin, and their dog, Jude.