Homemade Berry Fritters

Author: Sally McKenney Quinn
Try homemade berry fritters the next time a doughnut craving hits! Based off of the popular apple fritters, this summery fried berry fritter combines a soft yeasted dough, blueberries, and a creamy strawberry glaze made from real strawberries.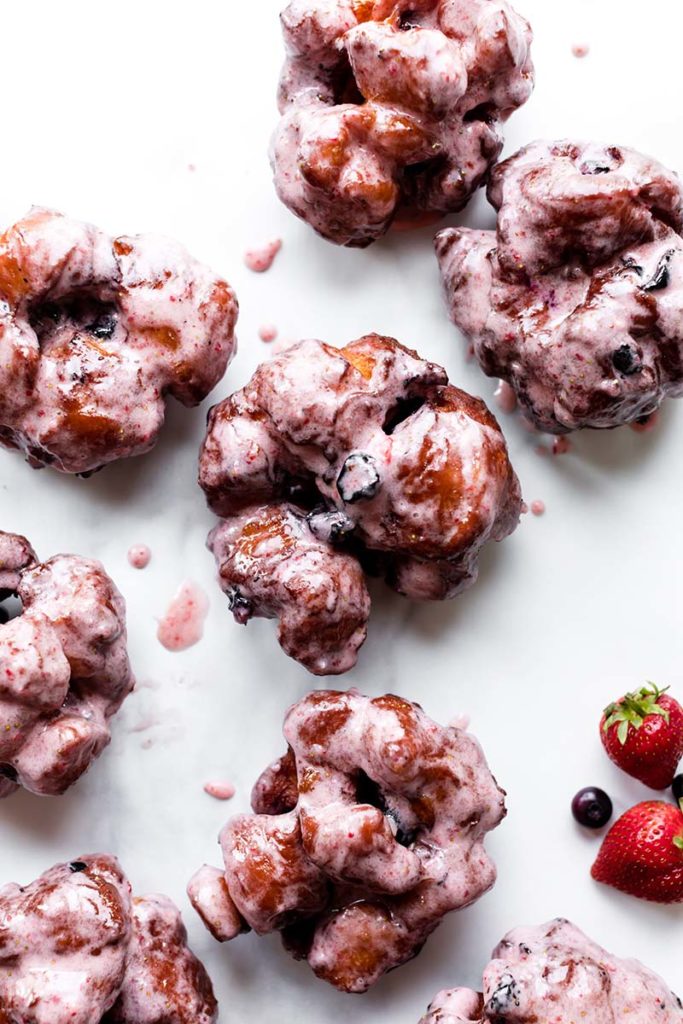 Here are the basic steps:
Make the dough.
Knead the dough.
Let the dough rise for 1-2 hours.
Roll out the dough. It should be about ½ inch thick.
Shape into fritters. This step includes folding the dough over fresh blueberries, then slicing the dough into strips and dividing into 12 pieces.
Let the shaped fritters rest. Meanwhile, heat the oil.
Fry the fritters for 1-2 minutes on each side.
After that, dunk the fritters into a creamy strawberry glaze. Truly one of the best parts in these breakfast treats!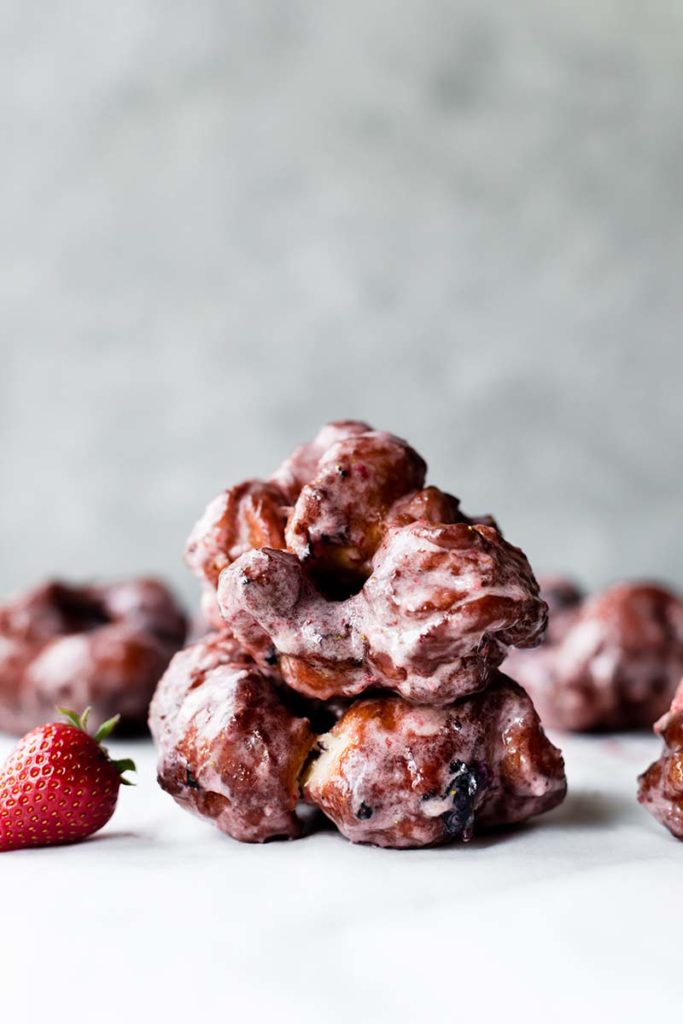 Let's talk about the dough. This is a rich, buttery dough that requires yeast for its rise.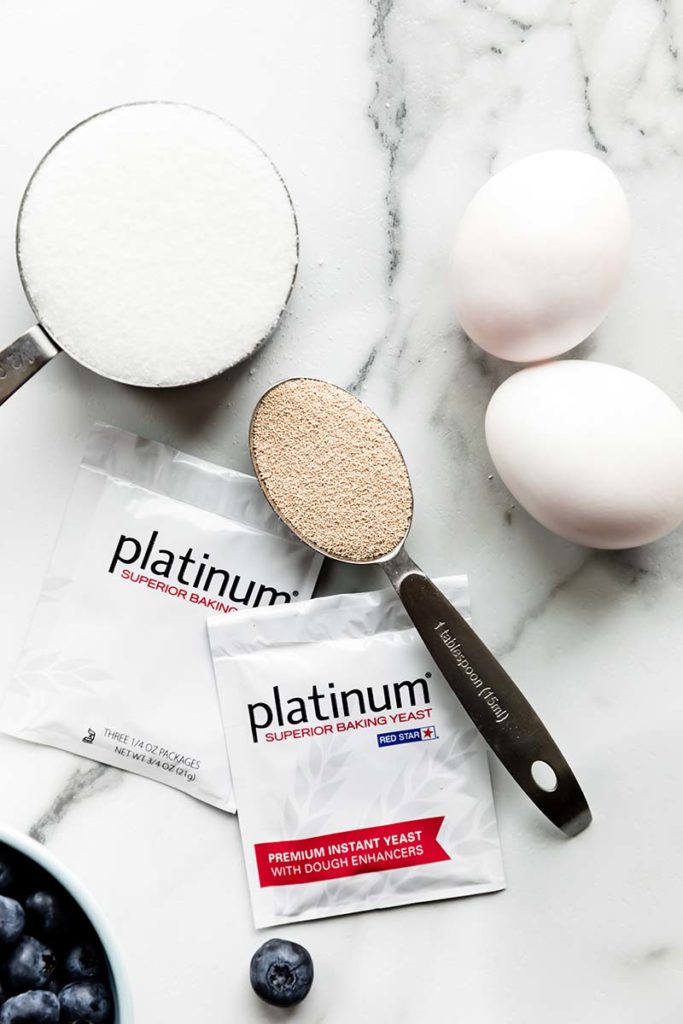 Here are the ingredients needed:
Yeast: Start with quality yeast. Like usual, I use Platinum Yeast from Red Star. It's an instant yeast that builds a stronger, taller, more voluminous dough.
Sugar: Sugar feeds the yeast and adds flavor to the fritters.
Whole Milk: Liquid activates the yeast.
Butter: Butter adds flavor. Melt it, then let it slightly cool before using.
Eggs: 2 eggs make this a delicious brioche-style fritter.
Flour: Flour is the entire structure of the berry fritters. The dough is a little sticky and you'll be tempted to add more flour as you mix it together, but resist that temptation! You want a soft dough.
Salt, Vanilla Extract, & Nutmeg: Each add wonderful flavor. Nutmeg is a VERY common ingredient in most doughnut recipes!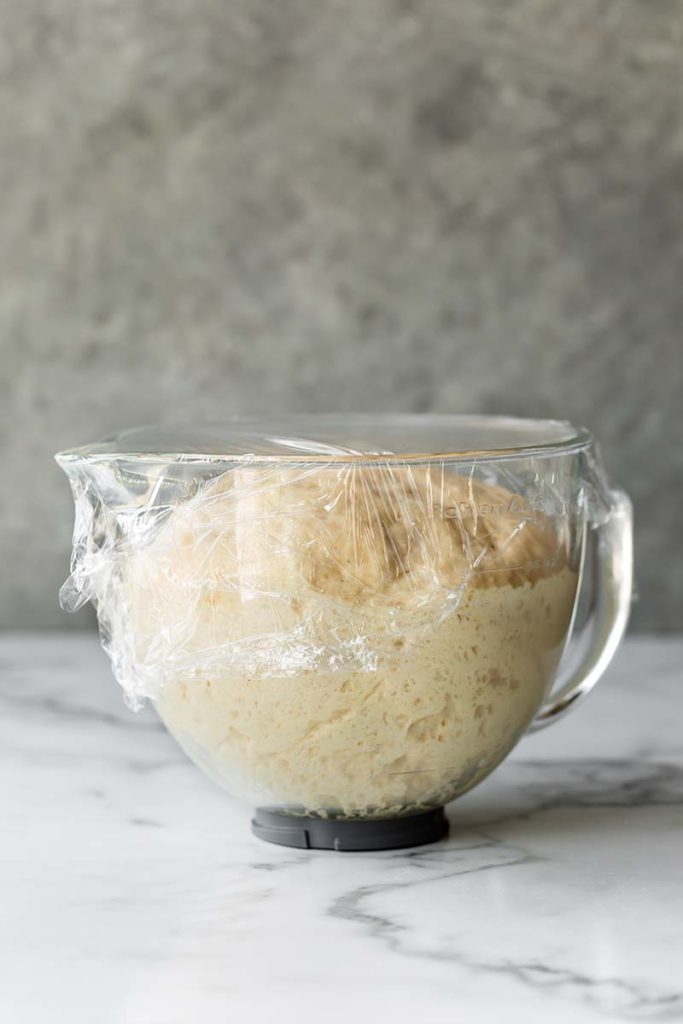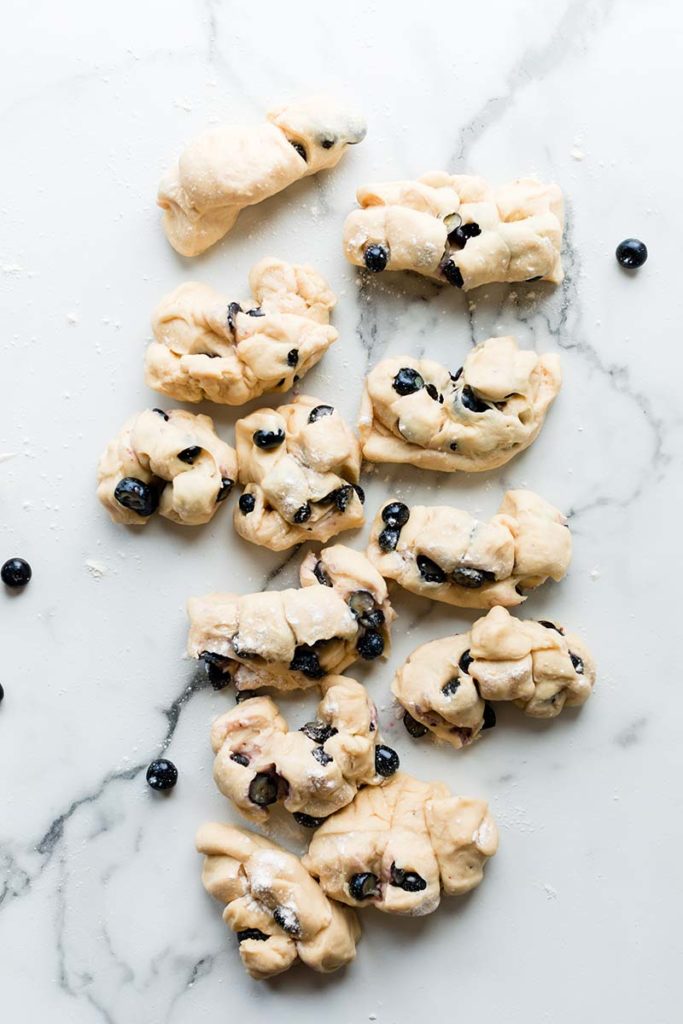 I recommend frying the fritters in vegetable oil. Make sure you use a large heavy-bottomed pot and only fry the fritters for about 1-2 minutes on each side. It's important that you do not over-fill the pot. Only fill it with about 2-3 inches of oil.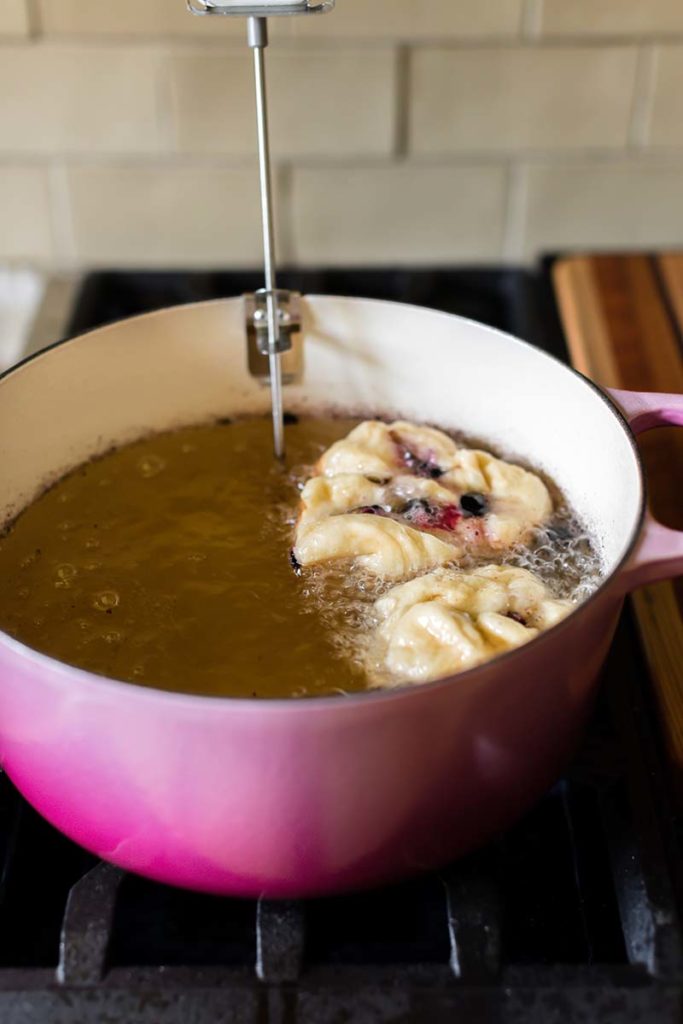 Don't forget the finishing touch! Most of the berry flavor comes from the fresh strawberry glaze, so don't skip it. Instead of strawberries, you can use raspberries or blackberries.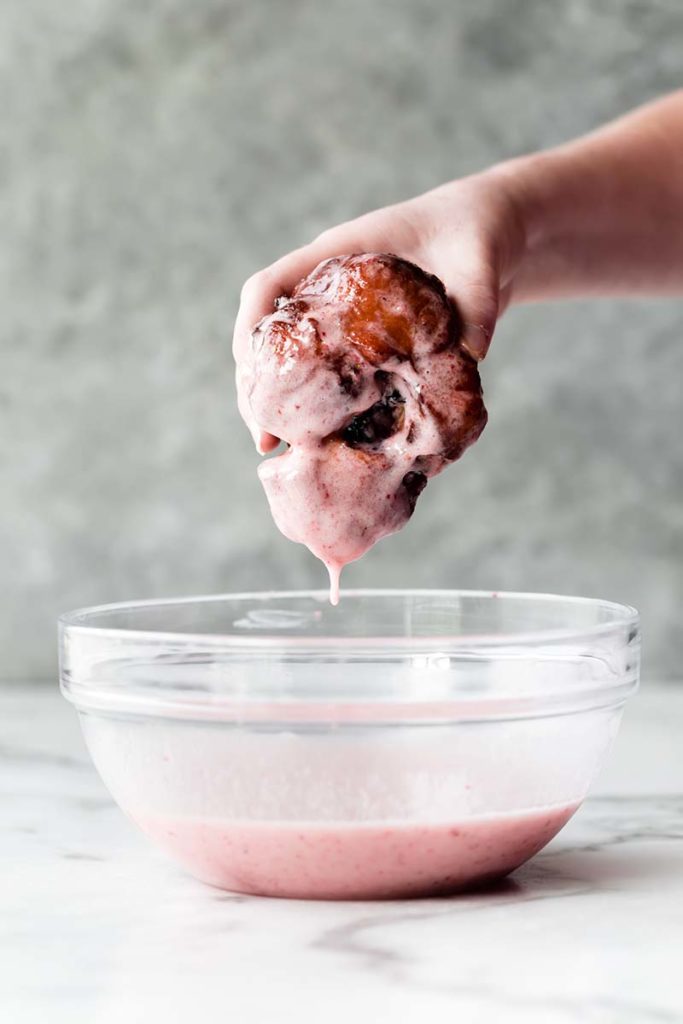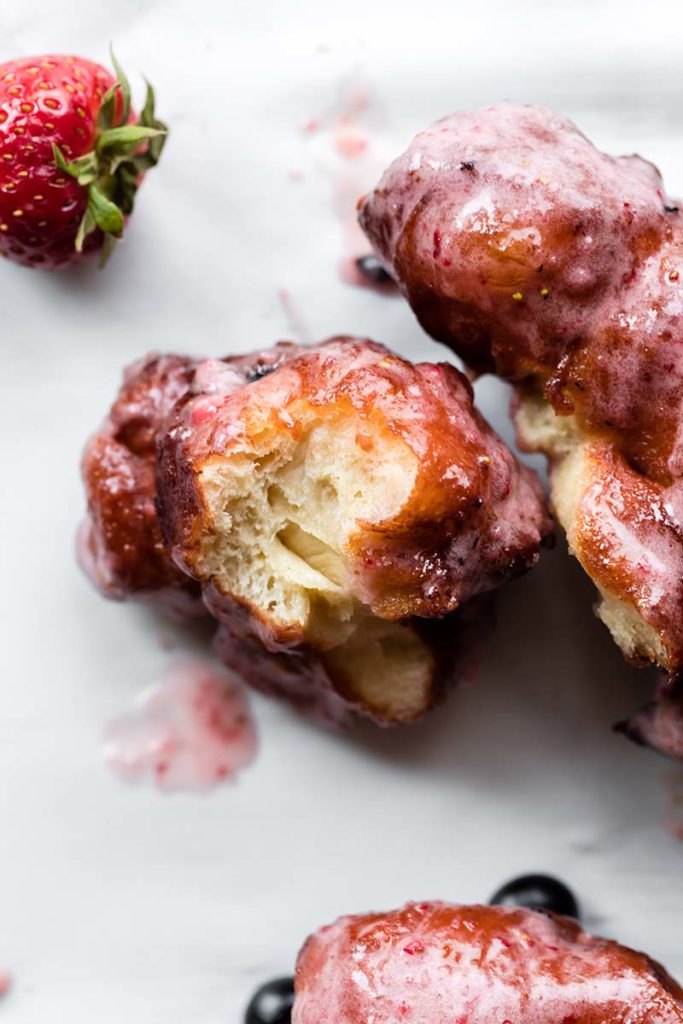 Homemade Berry Fritters
This sweet summery fried fritter combines a soft yeasted dough, blueberries, and a creamy strawberry glaze made from real strawberries.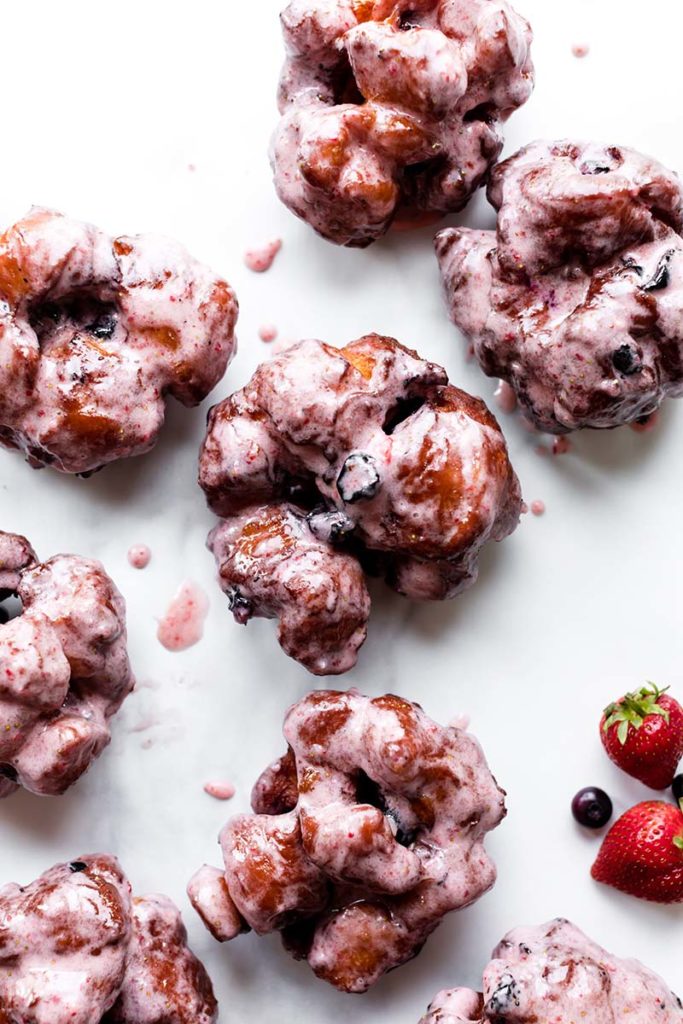 Ingredients
1 cup whole milk, warmed to about 110°F
1 Tablespoon Platinum Yeast
½ cup granulated sugar, divided
2 large eggs
6 Tablespoons butter, melted and slightly cooled
1 teaspoon pure vanilla extract
½ teaspoon salt
¼ teaspoon ground nutmeg
4 cups all-purpose flour plus more as needed
1 and ½ cups (250g) fresh berries such as blueberries, chopped strawberries, or blackberries*
1 – 2 quarts oil
For the Strawberry Glaze:
2 cups confectioners' sugar
1 cup chopped strawberries (about 5 large strawberries)
¼ cup heavy cream, half-and-half, or whole milk
1 teaspoon pure vanilla extract
Instructions
Step 1: Whisk the milk, yeast, and 1 Tablespoon of sugar together in the bowl of your stand mixer fitted with a dough hook attachment. Cover and allow to sit for 5 minutes.


Step 2: Add the remaining 7 Tablespoons of sugar, eggs, butter, vanilla extract, salt, nutmeg, and 1 cup flour. Beat on low speed for 30 seconds, scrape down the sides of the bowl with a rubber spatula, then add the remaining flour. Beat on medium speed until the dough pulls away from the sides of the bowl, about 2 minutes. If needed, add more flour, 1 Tablespoon at a time, until the dough pulls away from the sides of the bowl. Don't add too much flour, though. You want a slightly sticky dough.


Step 3: Keep the dough in the mixer and beat for an additional 2 minutes or knead by hand on a lightly floured surface for 2 minutes.


Step 4: Lightly grease a large bowl with oil or nonstick spray. Place the dough in the bowl, turning it to coat all sides in the oil. Cover the bowl with aluminum foil, plastic wrap, or a clean kitchen towel. Allow the dough to rise in a relatively warm environment for 1-2 hours or until double in size.


Step 5: When the dough is ready, punch it down to release the air. Turn it out onto a lightly floured work surface and with lightly floured hands, flatten the dough into a long oval about ½ inch thick. You can use a rolling pin if needed, but your hands should be able to stretch it out. Spread blueberries onto half of the dough. Fold the dough over the blueberries, then seal the edges. Using your hands, work the dough into an even log, making sure the edges are totally sealed. Using a sharp knife bench scraper, cut the dough into 12 even strips, then cut 4-5 perpendicular strips to make a cross pattern. This is NOT an exact process, so don't stress. Divide the cut-up dough into 12 even pieces. Mold each into a round shape and try to "enclose" the blueberries inside the dough as much as you can. (They'll fall out of the fritters otherwise.) Place the shaped fritters on a lined baking sheet, then cover and allow to rest as you heat the oil.


Step 6: Place a cooling rack on a large baking sheet. Set aside.


Step 7: Pour oil into a large heavy-bottomed pot set over medium heat. Using a candy/oil thermometer, heat the oil to 350°F (177°C). Add 2 fritters at a time and fry for 1-2 minutes on each side or until golden brown. Wear kitchen gloves if oil is splashing. Remove with a metal spatula or metal slotted spoon. Place fritters onto prepared rack. Repeat with remaining fritters, then turn off the heat.


Step 8: Let the fritters cool for a few minutes as you prepare the glaze.


Step 9: Place confectioners' sugar in a medium bowl. Set aside. Purée the strawberries in a food processor. If they aren't pureeing into a liquid, add 1 Tablespoon of the heavy cream, half-and-half, or milk you are using in the glaze. Once liquefied, pour over confectioners' sugar, then add the cream/milk, and vanilla extract. Whisk until smooth.


Step 10: Dunk each fritter into glaze.
Notes
Freezing Instructions: Prepare recipe through step 5. Freeze shaped fritters for up to 3 months. On the day you serve them, let the fritters thaw and rest for about 4-5 hours. Fry as directed. You can also freeze the fried fritters (unglazed). Allow them to cool completely, then freeze for up to 3 months. Thaw in the refrigerator or at room temperature, then reheat as desired and top with glaze.

Oil: I recommend using vegetable oil. The amount of oil really depends on how wide or tall your pot is. You want oil to fill about ⅓ of the pot.
---
Baking enthusiast Sally McKenney Quinn is the blogger and photographer behind Sally's Baking Addiction, as well as the author of best-selling cookbooks Sally's Baking Addiction and Sally's Candy Addiction. The kitchen is where her creative juices flow and she enjoys sharing recipes with her millions of fans around the world. When Sally isn't in the kitchen or behind the camera, she enjoys practicing yoga, running off all those cookies, and hiking with her husband, Kevin, and their dog, Jude.