Heavenly Butterhorns
Rich in butter, these tender and flaky pastries are a delicious treat!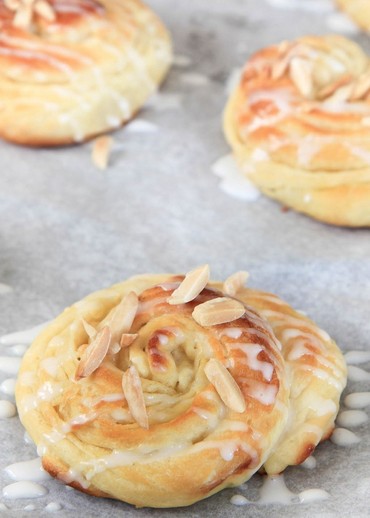 Ingredients
⅓ cup melted margarine
1 cup milk
¾ cup water
½ tsp vanilla
½ cup sugar
3 eggs
3 packages (6¾ tsp, ¾oz, 21g) RED STAR Active Dry Yeast
6 cups bread flour
1⅔ cups butter
1 egg, small, beaten
1½ cups icing sugar
3 Tbsp milk
1¼ cups flaked walnuts or toasted slivered almonds
Instructions
In a small saucepan melt margarine, set aside. In a large bowl, add milk and tap water (both at 110°-115°F). Add the vanilla, sugar, three eggs and Yeast. Whisk or beat with a wooden spoon until smooth. Beat in 4 cups of bread flour and the melted margarine. Gradually add the last 2 cups of bread flour. As the dough gets firmer, use your hands to work flour in.


Place dough on a floured surface and dust any sticky parts with flour. Roll into a rectangle about ¼-inch thick. Slice butter in ¼-inch slices, place on centre third of dough about ⅓-inch from edge. Fold left hand side to center third, then right side over both, punch seams to seal. Roll again to a rectangle ¼-inch thick. If butter comes through just spread back in and dust with flour. Repeat the rolling and folding one more time. After the last fold, let the dough rest for 10 minutes.


Roll dough into a rectangle shape again ¼-inch thick and brush with beaten egg. Starting at the long and furthest end from you, roll dough towards you jelly roll style. Cut into ½-inch thick pieces, flouring knife if it becomes sticky. Place on greased cookie sheets. Then place lightly greased canning rings around each butterhorn. Let rise uncovered until indentation remains after touching.


Bake for 10 minutes in a preheated 400°F oven until golden brown.


Mix the icing sugar and milk to a smooth paste. Drizzle over warm butterhorns and top with the walnuts or almonds.


The butterhorns freeze beautifully.


*You can substitute Instant (fast-rising) yeast in place of Active Dry Yeast. When using Instant Yeast, expect your dough to rise faster. Always let your dough rise until ripe. Traditional methods: use equal amounts; Bread Machine: use ½ tsp Instant Yeast OR ¾ tsp Active Dry Yeast per cup of flour in your recipe. Visit our Lessons in Yeast & Baking for more information.


Red Star recipe. Image by Greens & Chocolate.