Hazelnut Twist Bread
This sweet yeasted bread features swirls of rich spiced hazelnut filling and a drizzle of irresistible hazelnut glaze.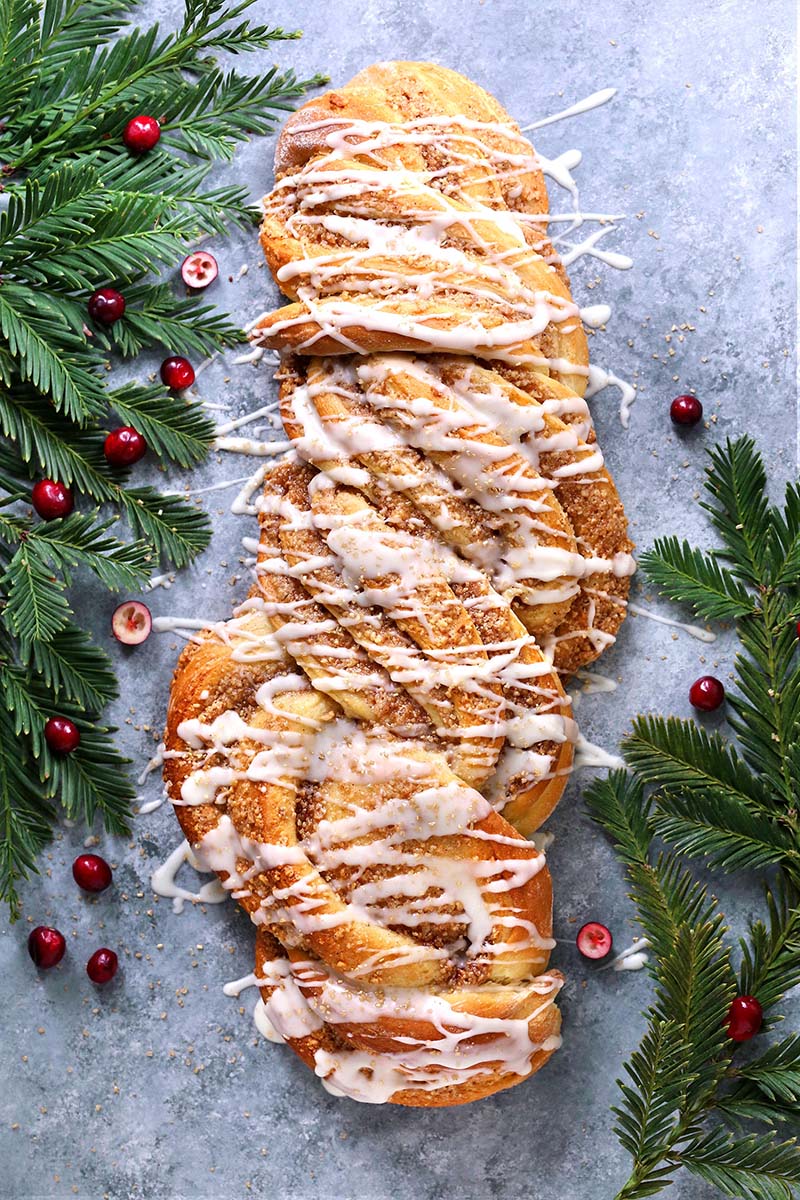 Ingredients
For the dough:
3½ cups (490 g) flour
1 package (1/4oz, 7g) or 2¼ tsp Platinum Yeast
¼ cup (48 g) sugar
½ tsp salt
1 cup (240 g) low-fat milk
¼ cup (56 g) unsalted butter, at room temperature
1 large egg, at room temperature
For the filling:
1 cup (125 g) blanched and roasted hazelnuts
½ cup (96 g) sugar
⅛ tsp salt
½ tsp cinnamon
⅛ tsp cloves
⅛ tsp nutmeg
¼ tsp vanilla extract
2 Tbsp (28 g) unsalted butter, melted
3 Tbsp (45 g) low-fat milk
For the glaze:
½ cup (60 g) powdered sugar
⅛ tsp salt
1 Tbsp (14 g) unsalted butter, melted
1 Tbsp hazelnut liqueur (or substitute milk)
1 tsp milk
¼ tsp vanilla extract
Gold glitter sprinkles (optional)
Instructions
Combine 2 cups (280 g) flour, yeast, sugar, and salt in a large mixer bowl; mix on low
speed until incorporated. Heat milk in a microwave-safe measuring cup for 45 seconds
to 1 minute, until very warm (120-130°F). Add warm milk, butter, and egg to flour mixture
and mix until combined; mix in remaining 1½ cups (210 g) flour. Switch out the flat
beater for a dough hook, and knead dough for 5 minutes until smooth and elastic. The
dough is ready when it feels tacky but doesn't stick to your fingers (if necessary, add
additional flour 1 tablespoon at a time while kneading).


Place dough in a large bowl coated with nonstick spray and cover with plastic. Let the
dough rise in a warm place until doubled in size, about 40 minutes. To check if dough
has doubled, lightly flour two fingers and press them down into center of dough. If
indentations remain, dough has risen enough. When the dough is ready, gently press
down dough; cover and let rest 5 minutes.


While the dough rests, prepare the filling. Place hazelnuts and sugar in a food processor
and process until finely ground. Transfer to a bowl and whisk in salt, cinnamon, cloves
and nutmeg; add vanilla, melted butter, and milk, and stir mixture until spreadable.


Line a large rimmed baking sheet with parchment paper. Turn dough out on a lightly
floured board and roll into an 18 x 12-inch rectangle. Dollop filling over dough and use
an offset spatula to spread into an even layer, leaving a 1-inch border. Roll dough up
into a tight log and use a sharp serrated knife to cut dough in half, lengthwise down the
middle. Carefully transfer each half to prepared baking sheet and turn each half so that
the filling faces up. Twist the two strands from the middle out to the ends, like a rope.
Tuck ends under, cover loosely with plastic and let rise 25 minutes. ( Prepare ahead:
After bread rests, cover and refrigerate overnight. Bring to room temperature - this takes
about two hours - before baking)


Preheat oven to 350°F. Bake bread until golden brown, about 35 minutes (cover with foil
after 25 minutes to prevent over-browning). Let cool on a wire rack for 30 minutes before
glazing. For the glaze, whisk together powdered sugar, salt, melted butter, hazelnut
liqueur, milk, and vanilla in a small bowl. Drizzle glaze over bread, top with gold
sprinkles, and let set before serving.


Recipe created by Tutti Dolci.
Notes
Make ahead: After the bead completes the second rise, cover and refrigerate overnight. Bring to room temperature - this takes about two hours - before baking. Once baked and fully cooled, the unglazed bread can be wrapped well and frozen up to 1 month.