Goat Cheese Stuffed Honey Wheat Rolls recipe
Warm, gooey, and delicious, this recipe combines all of the things I love about autumn and wraps them in a naturally sweet bun.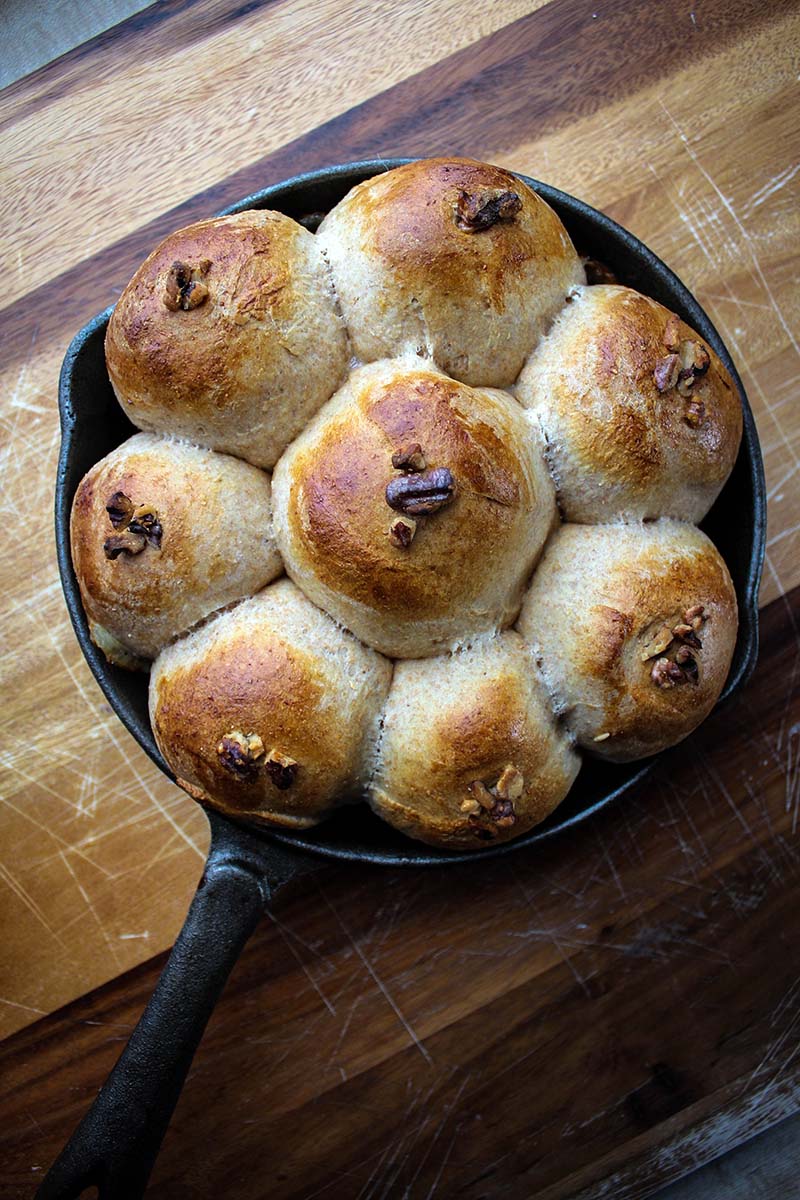 Ingredients
½ cup whole milk
½ cup water
4 Tbsp unsalted butter
1 package (2 ¼ tsp, ¼oz, 7g) RED STAR Platinum Superior Baking Yeast
2 Tbsp honey
1 ½ cups whole wheat flour
2 cups all-purpose flour
1 tsp salt
1 egg + 1 egg white, both room temperature (use extra yolk for egg wash, see directions below)
8 ounces goat cheese
8-9 walnuts, if desired
Instructions
In a small saucepan, heat milk, water, and butter until butter is completely melted. Stir to combine and transfer to your stand mixer bowl. Let sit until temperature cools to 110°F.


Stir in yeast and honey. Let stand for 10 minutes or until yeast mixture is bubbly.


While mixture is resting, sift flours together in a medium bowl.


Turn on stand mixer, fitted with a dough hook, and add salt, egg, and egg white.


With mixer still on, add your flour mixture, about a ½ cup at a time, until a shaggy dough forms (depending on wheat flour used and altitude, you may require just a little less flour than this recipe calls for).


Turn dough out onto a floured work surface and knead for about 6 minutes or until dough is springy to the touch. OR Knead dough in stand mixer for 3 to 4 minutes on medium speed until dough pulls away from bowl and is soft & elastic.


Place dough in an oiled bowl. Cover with plastic wrap or clean towel, and let rest for one hour at room temperature.


Preheat oven to 400°F.


Grease a 9-inch round pan or skillet thoroughly.


Punch down dough and turn out onto clean surface. Divide into 8 or 9 equal-sized pieces.


Cut goat cheese into 8 or 9 pieces.


Pat each piece of dough flat with the palms of your hands and place a piece of goat cheese in the center. Wrap edges of dough around cheese, and form a ball with the dough, leaving the goat cheese in the center.


Place rolls in prepared pan.


Prepare egg wash: Whisk extra yolk with a teaspoon of water. Brush a bit on top of each roll.


Press a walnut in the center of each ball, if desired.


Bake for 25 to 30 minutes, or until golden brown.


Serve immediately for a melty, delicious warm bun.


The rolls can keep for up to two days in an airtight container. Reheat in microwave or wrap in foil to reheat in oven before serving.


Recipe created by Fig and Bleu.