Gluten Free Pecan Cranberry Sweet Rolls
Tender, sweet rolls filled with pecan frangipane and chopped dried cranberries, drizzled with a white chocolate glaze.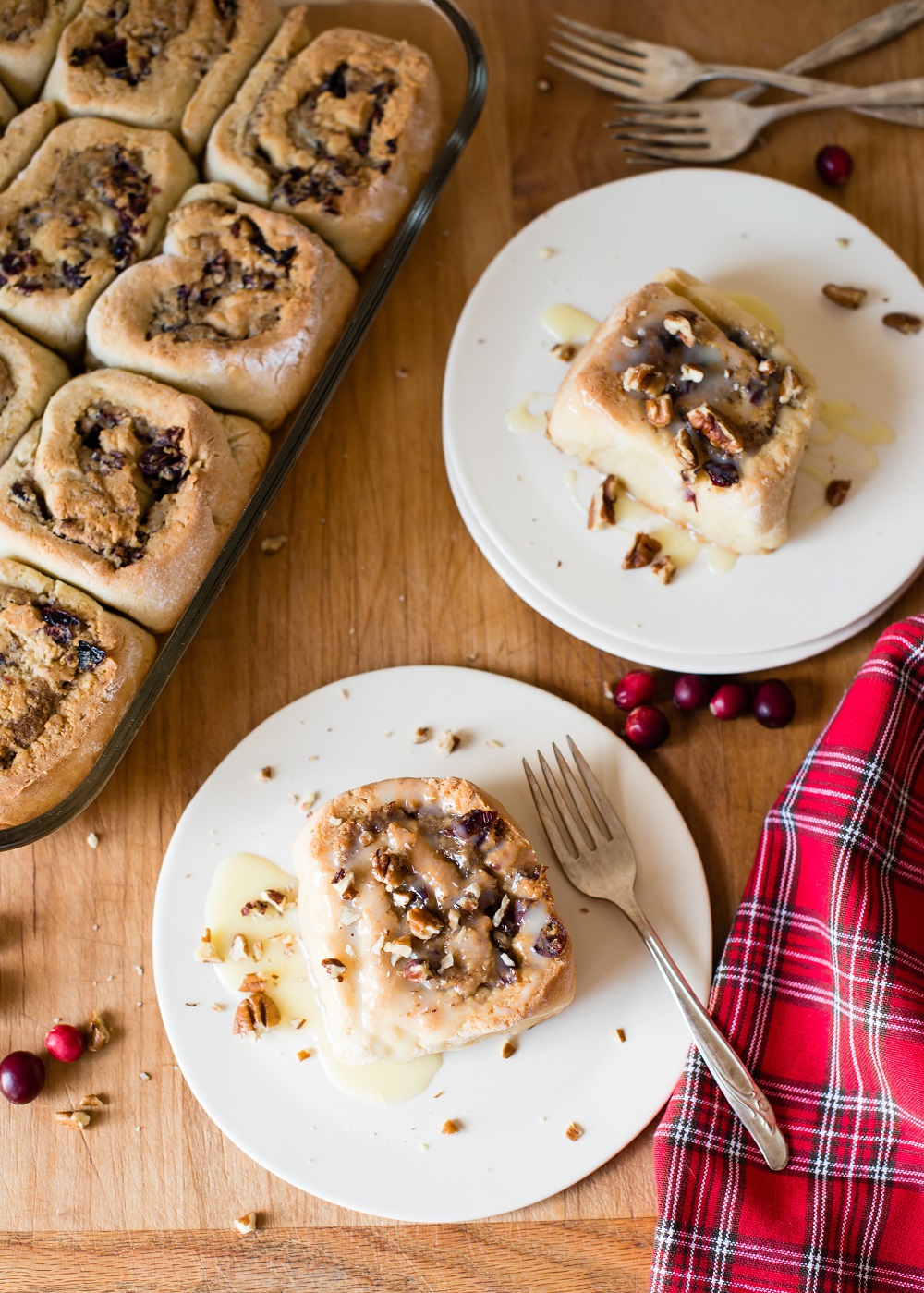 Ingredients
For the dough:
2 packages (4½ tsp, ½oz, 14g) RED STAR Active Dry Yeast
6 Tbsp warm tap water (110°F)
1 cup milk (non-dairy is fine too)
½ cup butter, softened (or non-dairy replacement)
⅓ cup light brown sugar
1½ tsp salt
2 large eggs, lightly beaten
4 cups gluten-free flour mix* (see below)
2 tsp xanthan gum
For the filling:
¾ cup pecan pieces
1 Tbsp cornstarch
4 Tbsp butter, softened
¼ cup light brown sugar, packed
1 large egg yolk
1¼ cup dried cranberries, chopped
For the glaze:
½ cup white chocolate chips (non-dairy is fine)
2 Tbsp heavy cream (or full fat coconut milk)
*Gluten Free Flour Mix:
1 cup fine white rice flour
¾ cup sticky white rice flour
¾ cup fine millet flour
¾ cup tapioca starch
¾ cup potato starch
Sift together before using.
Instructions
For the dough: Place the gluten-free flour mix and xanthan gum in the bowl of a stand mixer fitted with the paddle attachment. Mix on low speed for 30 seconds.


Place warm water in a medium bowl. Sprinkle yeast over water along with the ¼ teaspoon sugar. Stir to dissolve. Let stand for 5-10 minutes, or until foamy.


Meanwhile, in a medium pan, stir together milk, brown sugar, and salt. Add the butter. Heat over medium, stirring occasionally, until butter is melted, and sugar is dissolved. Remove from heat.


In a medium mixing bowl whisk eggs. Pour the hot milk mixture into the eggs in a slow, steady stream while whisking.


Turn the mixer with the gluten-free flour on to low speed. Pour the warm milk and egg mixture into the bowl with the mixer running. Add the yeast next. Turn mixer to medium speed and beat for 5 minutes. The dough will be pretty sticky. If it appears to be too dry, add a little warm water, one tablespoon at a time.


Oil a large mixing bowl and transfer the dough to the bowl. Form into a ball and turn it over to coat the dough with oil. Cover and let rise for 45-60 minutes.


While the dough is rising, prepare the filling.
For filling - place pecans and cornstarch in a blender or food processor. Pulse until pecans are finely ground. Add the butter, brown sugar, and egg yolk. Pulse, stopping to scrape down sides, until thick and creamy. Set aside until ready to roll out dough.


To roll out dough, lay a piece of parchment paper or silicone baking mat on a clean, flat surface. Sprinkle evenly with a little rice flour to prevent sticking. Transfer dough to the surface and press or roll dough out into a large rectangle, about 9- by 16-inches. Spread the pecan cream over the dough leaving a little bit of a border on one of the long sides. Sprinkle the chopped cranberries evenly over the pecan cream.


Starting with the long side without the border, roll the dough over onto itself using the parchment or silicone baking mat as a help. Gently press the seam to seal it. If it doesn't stick, use a little water as "glue."


Butter a 9x13-inch baking dish. Using a very sharp knife, cut the dough into 12 thick rounds. Arrange the rolls in four rows of three. Cover tightly with plastic wrap. Place somewhere warm and let rise for 30-45 minutes.


Preheat oven to 400°F. Bake the rolls for 20-30 minutes, or until golden brown on the top and bottom. (A clear glass pan makes this easy!) Let rolls cool slightly while prepare glaze.


For glaze - place white chocolate chips and cream in a microwave-safe bowl. Heat on 50% power for 30 second intervals until melted. Whisk until smooth.


To serve - drizzle rolls with glaze and serve immediately.


Recipe in partnership with Café Johnsonia.
Notes
Rolls are best served warm. To reheat, place in microwave for 10-15 seconds.

Store extra glaze in the refrigerator. Reheat for 10 seconds in microwave and whisk until smooth.