Garlic Bubble Loaf
An easy one-rise garlic bread in a buttery pull-apart monkey bread.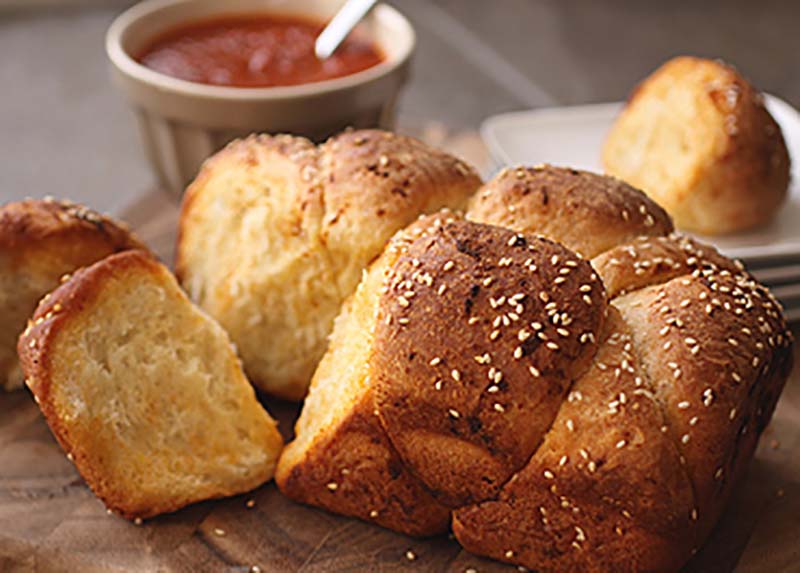 Ingredients
2½ to 3 cups bread flour
1 package (2¼ tsp, ¼oz, 7g) RED STAR Active Dry Yeast
1 Tbsp sugar
1 tsp salt
½ cup milk
½ cup water
2 Tbsp shortening
1 egg
¼ cup butter or margarine, melted
1 tsp paprika
½ to 1 tsp garlic powder
1 Tbsp sesame seeds
Instructions
In large mixer bowl, combine 1½ cups bread flour, yeast, sugar and salt; mix well. In saucepan, heat milk, water and shortening until warm (120°-130°F; shortening does not need to melt). Add to flour mixture. Add egg. Blend at low speed until moistened; beat 3 minutes at medium speed. By hand, gradually stir in enough remaining flour to make a soft dough. Knead on floured surface about 2 minutes.


Divide dough into 2 parts. Divide each half into 6 pieces. Shape each piece into a smooth ball. Combine melted butter, paprika and garlic powder; mix well. Dip balls into butter mixture; place in a greased 9 x 5- inch bread pan, using 6 balls on each layer. Sprinkle with sesame seeds. Cover; let rise in warm place until indentation remains after lightly touching. Bake in preheated 375°F oven for 40 to 45 minutes until golden brown. Remove from pan; serve warm.


You can substitute Instant (fast-rising) yeast for Active Dry Yeast. Traditional methods- replace 1:1. Expect your dough to rise faster; always let your dough rise until 'ripe'. Bread Machines- use ½ tsp Instant yeast (or ¾ tsp Active Dry yeast) per cup of flour in your recipe. Visit our Lessons in Yeast & Baking for more information.


Recipe featured at My Kitchen Addiction.