Garlic and Herb Swirled Bread
Fluffy yeast bread swirled around salted butter, garlic, and herbs.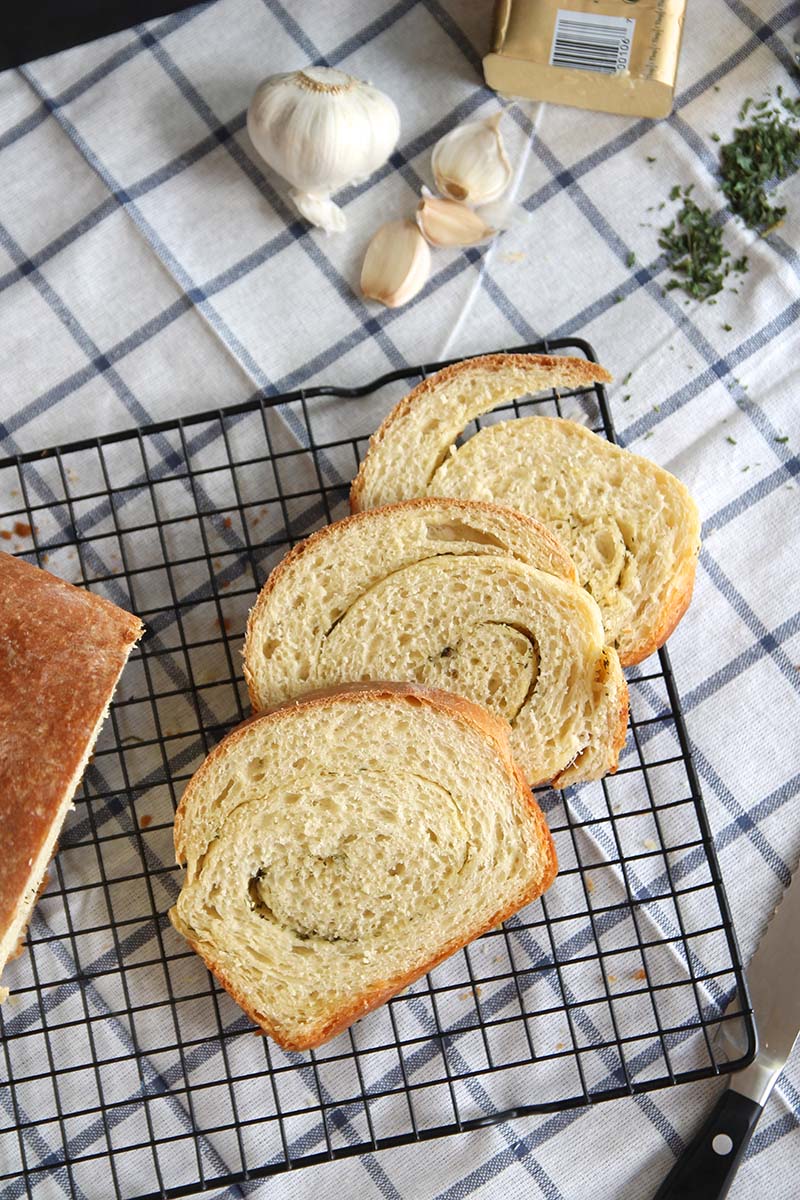 Ingredients
For the dough:
½ cup milk
⅓ cup water
3 Tbsp unsalted butter
3 to 4 cups bread flour
1 Tbsp sugar
¾ tsp salt
1 package (2¼ tsp, ¼oz, 7g) RED STAR Platinum Superior Baking Yeast
1 whole egg
1 egg, divided
For the filling:
¼ cup salted butter, melted
3 garlic cloves, finely minced
¼ tsp dried basil
¼ tsp dried dill
½ tsp dried parsley
2 to 3 Tbsp freshly grated Parmesan cheese
Instructions
Combine milk, water, and butter in a small saucepan. Heat over medium heat until liquids are very warm (120-130°F). Remove from heat.


Place 3 cups of flour, sugar, salt, and yeast in the bowl of a stand mixer fitted with the hook attachment. Mix just until dry ingredients are combined. Gradually add whole egg, egg yolk (reserve the white), and liquids. Mix on medium-low speed just until ingredients are combined, then add in the remaining flour, ¼ cup at a time, until dough clings to the hook and pulls away from the sides of the bowl, about 2 minutes. Continue kneading on medium speed for an additional 2 minutes.


Place dough in a greased bowl, turning to lightly grease the top. Cover with a clean towel and let rise until doubled in bulk, about 1 hour.


While dough rises, make the garlic butter: Mix melted butter, garlic, and dried herbs in a small bowl. Let sit in a cool spot while dough rises so that butter starts to solidify again, making it easier to spread later.


Once dough has risen, turn out onto a lightly-floured surface. Roll into a 9x14-inch rectangle. Spread with the garlic butter, then sprinkle with the cheese. Starting from the short end, roll the dough tightly into a loaf and place in a greased 9x5-inch loaf pan. Cover with the towel and allow to rise until doubled again, about 30-40 minutes.


Near the end of the second rise, preheat oven to 375°F. Bake loaf for 40 minutes. Brush with the reserved egg white, then bake for an additional 5 minutes, or until deeply browned. Remove from pan to a cooling rack immediately. Allow to cool slightly before cutting and serving.


Recipe created by Stephie Cooks.