Everything Bagel Challah
This six-strand braided bread is enriched with honey, oil, and eggs for a soft crumb that's rich and slightly sweet. The everything bagel seasoning on top truly takes it over the top. Watch the how-to video below for braiding tips.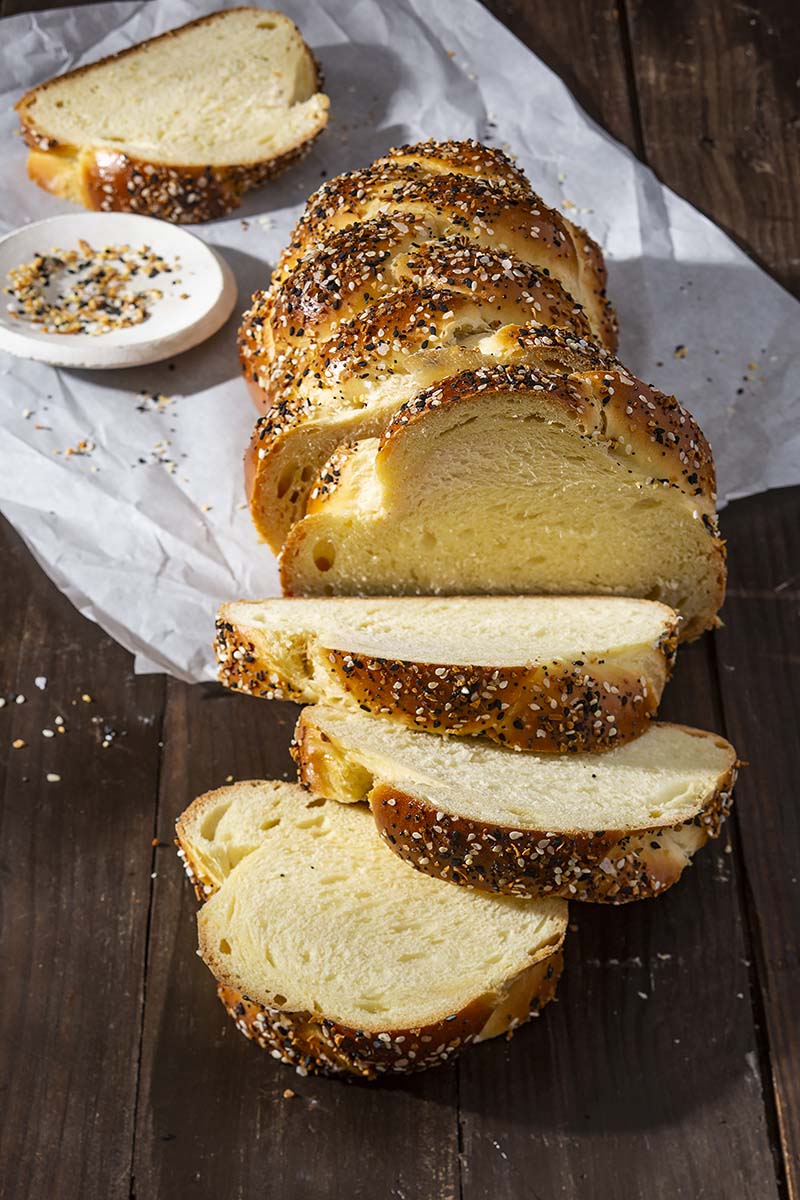 Yield:
1 large braided loaf
Ingredients
10 tablespoons (150 grams) lukewarm water (85°F/29°C to 90°F/32°C), divided
1 (0.25-ounce) package (7 grams) Platinum Yeast
4⅔ cups (592 grams) bread flour, divided
2 tablespoons (24 grams) granulated sugar
1½ tablespoons (13.5 grams) kosher salt
¼ cup (56 grams) vegetable oil
¼ cup (85 grams) honey
3 large eggs (150 grams), room temperature and divided
3 large egg yolks (56 grams), room temperature
1½ tablespoons (14 grams) everything bagel seasoning
Instructions
Step 1. In the bowl of a stand mixer, whisk together 6 tablespoons (90 grams) lukewarm water and yeast until dissolved. Add 1 cup (127 grams) flour; using the paddle attachment, beat at low speed until combined, about 30 seconds. Cover and let rise in a warm, draft-free place (75°F/24°C) until doubled in size, 20 to 30 minutes.


Step 2. Add 3⅓ cups (423 grams) flour, sugar, and salt to sponge. Switch to the dough hook attachment.


Step 3. In a medium bowl, whisk together oil, honey, 2 eggs (100 grams), egg yolks, and 3 tablespoons (45 grams) lukewarm water. Add to flour mixture, and beat at low speed until dough comes together and is smooth and elastic, 5 to 6 minutes, stopping to scrape sides of bowl and dough hook; add up to remaining ⅓ cup (42 grams) flour, about 1 tablespoon (8 grams) at a time, if dough is too sticky. Turn out dough onto a very lightly floured surface, and shape into a smooth round.


Step 4. Lightly oil a large bowl. Place dough in bowl, turning to grease top. Cover and let stand in a warm, draft-free place (75°F/24°C) until doubled in size, 1½ to 2 hours.


Step 5. Line a baking sheet with parchment paper.


Step 6. Punch down dough, and let stand for 10 to 15 minutes. On a lightly floured surface, divide dough into 6 portions (about 182 grams each), and roll each portion into a rope about 20 inches long, tapering ends slightly. Lay ropes vertically on work surface (ends of the ropes pointing toward you). Pinch ends of ropes farthest away from you in 2 groups of 3, making sure ropes are spread out; pinch both groups together into one end. Lay ropes in a pattern left to right of 1 strand, 2 strands, 2 strands, and 1 strand. (This will help keep things straight.) Cross outside single strands, left over right, over pinched end of dough. Bring top right rope down to center; bring outside left rope up to replace top right rope. Bring top left rope to center; bring outside right rope up to replace top right rope. Repeat until you reach end of ropes. Pinch ends together to seal, and tuck under. Lift, and place diagonally on prepared pan. Cover loosely with plastic wrap, and let rise in a warm, draft-free place (75°F/24°C) until puffed, 1 to 1½ hours.


Step 7. Preheat oven to 325°F (170°C).


Step 8. In a small bowl, whisk together remaining 1 egg (50 grams) and remaining 1 tablespoon (15 grams) lukewarm water. Generously brush loaves with egg wash. Sprinkle with everything bagel seasoning.


Step 9. Bake until golden brown and an instant-read thermometer inserted in center registers 190°F (88°C), 30 to 40 minutes, covering with foil halfway through baking to prevent excess browning. Let cool on pan for 10 minutes. Remove from pan, and let cool on a wire rack. Serve warm or at room temperature.
Video Tutorial: How to braid bread | 6 strand challah