Dried Herb Ciabatta
We used dried basil, oregano, parsley, and rosemary for our ciabatta, but you can load this dough up with whichever dried herbs you prefer or have on hand. If you don't have bread flour, all-purpose flour will also work, though it will make the bread less chewy.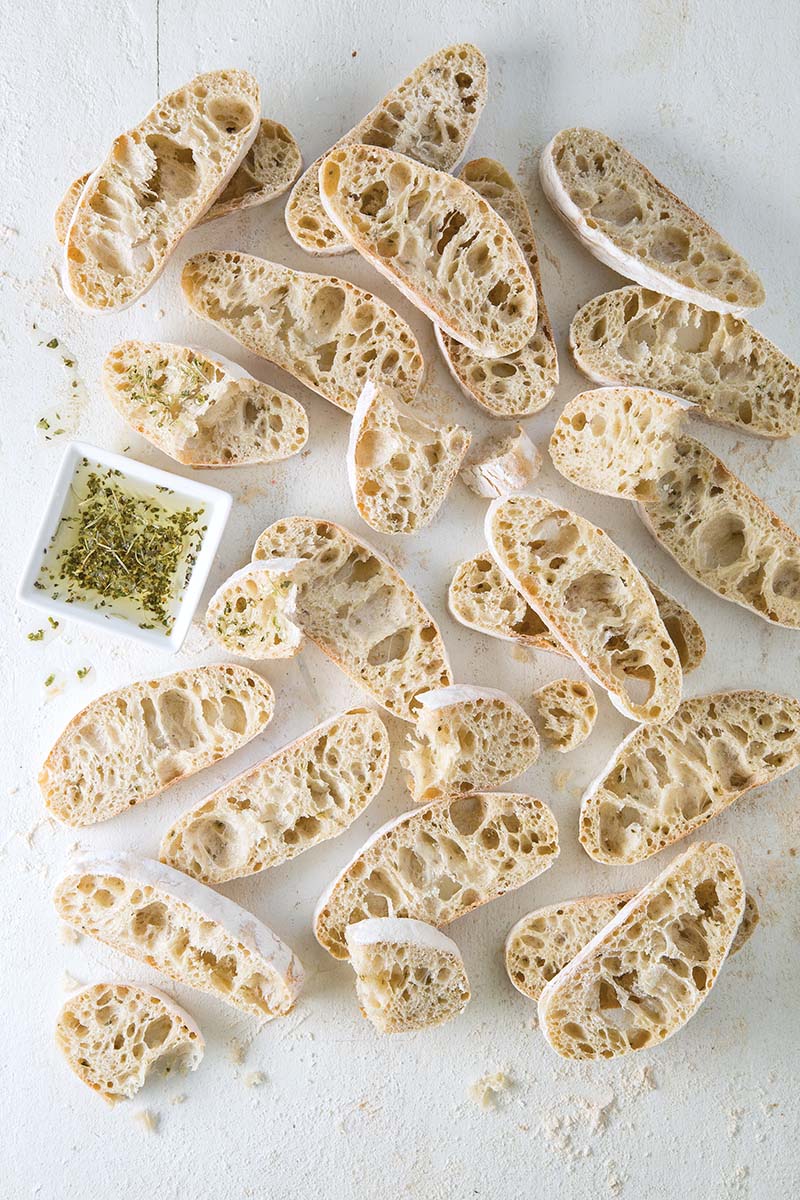 Ingredients
Poolish (recipe follows)
1 cup (240 grams) water (60°F/16°C)
2 tablespoons (28 grams) olive oil
½ teaspoon (1.5 grams) Platinum Yeast
¾ teaspoon dried basil
¾ teaspoon dried oregano
¾ teaspoon dried parsley
½ teaspoon dried rosemary
2½ cups (318 grams) bread flour
½ cup (62 grams) white whole wheat flour (see Note)
1 tablespoon (9 grams) kosher salt


Poolish:
1¼ cups plus 2½ tablespoons (179 grams) bread flour
¾ cup plus 1 tablespoon (195 grams) water (70°F/21°C)
2 tablespoons (15 grams) white whole wheat flour (see Note)
1/16 teaspoon Platinum Yeast
Instructions
Make the Poolish: Makes 4 cups
In a medium bowl, stir together all ingredients until dry ingredients are completely moistened. Cover with plastic wrap, and let stand at room temperature for 14 to 16 hours.


Make the Ciabatta:
Step 1. In the bowl of a stand mixer fitted with the paddle attachment, place Poolish. Add 1 cup (240 grams) water, oil, yeast, basil, oregano, parsley, and rosemary. Add flours and salt, and beat at low speed for 4 minutes. Increase mixer speed to medium, and beat for 5 to 6 minutes. (To test if dough is ready, dust a small section of dough with flour. Pinch off a small portion, and slowly stretch to form a thin, translucent sheet. If dough tears, the dough is not ready. Beat 1 minute more before testing again.)


Step 2. Grease a large bowl with oil. Turn out dough onto a heavily floured surface, and shape into a round. Place dough in bowl. Cover with plastic wrap, and let rise in a warm, draft-free place (75°F/24°C) for 2½ hours, folding dough in bowl every 30 minutes. (To fold, use a floured hand to reach under one side of dough, and pull gently over center; repeat with opposite side of dough.)


Step 3. Place 2 (16x12-inch) sheets of parchment paper on a work surface, and generously dust with flour. On a lightly floured surface, turn out dough, and shape into a 14x10½-inch rectangle; dimple surface with fingertips. Using a bench scraper, cut dough in half lengthwise; transfer halves to prepared parchment sheets.


Step 4. Gently stretch each portion of dough into a 15½x5-inch rectangle. Dimple surface again with fingertips. Cover with plastic wrap, and let rise for 1 hour.


Step 5. Preheat oven to 425°F (220°C). Line 2 baking sheets with parchment paper.


Step 6. Quickly turn out each portion of dough onto a prepared pan.


Step 7. Bake until golden and an instant-read thermometer inserted in center registers 205°F (96°C), 12 to 15 minutes. Let cool completely on wire racks.


In partnership with Bake From Scratch.
Notes
If you do not have white whole wheat flour on hand, the same amount of bread flour or regular whole wheat flour can be used instead.