Double Chocolate Kokosh Cake (+ video)
Kokosh cake is best described as a flatter, richer version of babka. This recipe relies on chocolate hazelnut spread to add richness and depth of flavor.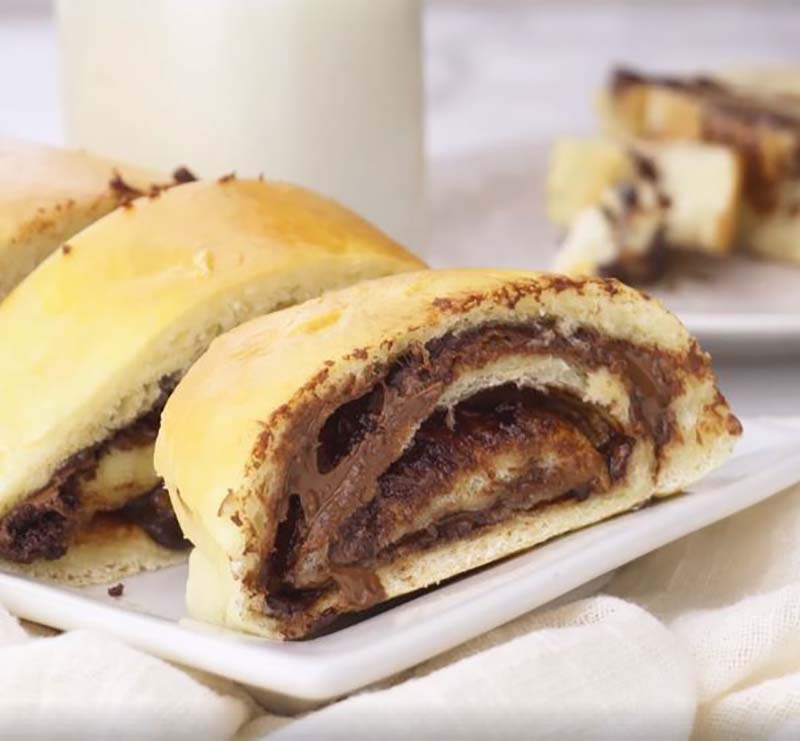 Ingredients
For the sponge:
1 cup warm water
1 cup all-purpose flour
2 packages (4½ tsp, ½oz, 14g) RED STAR Platinum Superior Baking Yeast
1 tsp kosher salt
For the dough:
½ cup sugar
½ cup extra virgin olive oil
1 Tbsp vanilla extract
3 whole eggs plus 2 egg yolks
4 cups all-purpose flour
Egg wash: 1 egg whisked with 2 teaspoons water
For the filling:
1 cup chocolate hazelnut spread
2 cups sugar
½ cup cocoa powder
Pinch of kosher salt
1 Tbsp instant espresso powder (optional)
Instructions
Make the sponge:
In the bowl of a stand mixer, stir together water, flour, yeast, and salt. Allow mixture to sit in a warm place for at least 30 minutes and up to 2 hours. The surface should look bubbly and like a sponge!


Make the dough:
With a dough fitted to the mixer and the machine on low, add sugar, oil, vanilla extract, eggs and yolks.


Add remaining flour, ½ cup at a time and knead until the dough is smooth and tacky, but not too wet or sticky.


Cover and allow dough to rest for 1 hour in a warm place, or until it doubles in size. Alternatively, you can cover and allow it to slowly rise in the refrigerator overnight.


Prepare kokosh:
Line 2 baking sheets with parchment paper. (You can fit two kokosh cakes lengthwise onto one tray, just keep them a few inches apart.)


Once dough doubles in size, punch down and divide into three equal pieces. (If refrigerated overnight, allow dough to come to room temperature before proceeding.)


Preheat oven to 350°F.


Roll each piece into approximately a 10x14-inch rectangle. Spread ⅓ cup of chocolate spread over dough.


Make filling: Combine sugar, cocoa, salt and coffee (optional) in a small bowl. Sprinkle ½-⅔ cups over each section of dough.


Roll dough starting from the shorter side and pinch edges to seal. Use a rolling pin to slightly flatten the kokosh cake. Place on prepared baking sheets.


Brush with egg wash and bake for 20-25 minutes, until light golden brown.


In partnership with Joy of Kosher.