Cranberry, Raisin, Date and Nut Bread
"My inspiration for this recipe comes from my love of fruit and nut breads and a cooking class I attended in the bay area many years ago. I have since lost the recipe from the class and have been trying to recreate it from memory. Some breads I have made are too sweet or the texture isn't right, but this one hits the spot nicely with the varied fruits and crunchy nuts! I like to serve simply with butter or toasted with sliced banana!" Paula Nolan, People's Choice winner of the 2016 Strolling of the Heifers' Great American Bread Recipe Contest.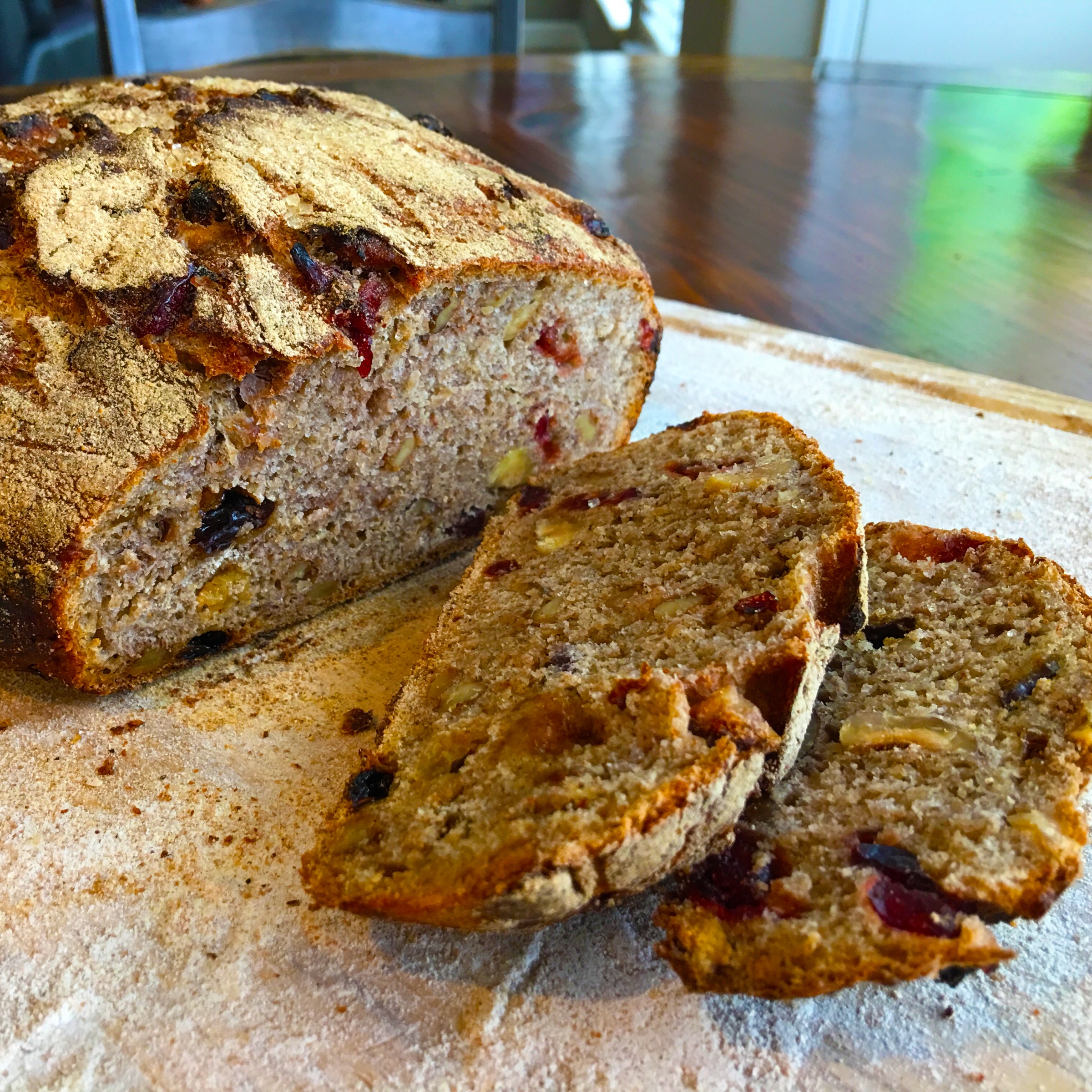 Ingredients
6 cups King Arthur all-purpose flour (plus more for dusting)
3 cups King Arthur whole wheat flour
2 Tbsp kosher salt
1 tsp (1/2 package) RED STAR Active Dry Yeast
½ cup light brown sugar
2 cups dried sweetened cranberries
½ cup golden raisins
½ cup pitted dates, chopped
1 cup roasted hazelnuts, chopped
1 cup walnuts, chopped
3 tsp ground cinnamon
1 tsp ground allspice
41/2 cups lukewarm water
¼ cup turbinado sugar
Instructions
In a very large bowl, stir together the flours, salt, yeast and brown sugar. Add cranberries, raisins, dates, hazelnuts & walnuts. Add cinnamon and allspice. Stir to combine.


Measure 41/2 cups of lukewarm water and add to flour mixture stirring with your hands to incorporate (the dough will be super sticky). Divide dough into two equal ball portions and place second dough ball into a separate bowl.


Cover bowls with plastic wrap and allow dough to stand at room temperature overnight. They will puff up slightly.


Flour a large board thoroughly then place one of the dough balls on it and knead by hand for 3-5 minutes until dough soft and smooth.


Sprinkle dough with flour and cover again with plastic wrap and allow to sit at room temperature for another 2 hours. Repeat with the second dough ball.


Place a Dutch Oven into a cold oven and then set temperature of oven to 500°F.


Taking one of the dough balls at a time, dust dough with a generous amount of flour on top and bottom then sprinkle with turbinado sugar on top.


Place dough into preheated Dutch Oven pot and cover. Bake for 30 minutes. Uncover and bake for another 10-15 minutes. Remove and allow to cool completely on wire rack. Repeat for second loaf.


Once cooled, slice and enjoy!