Country Herb Rolls
These rolls are a delicious and savory addition to any meal.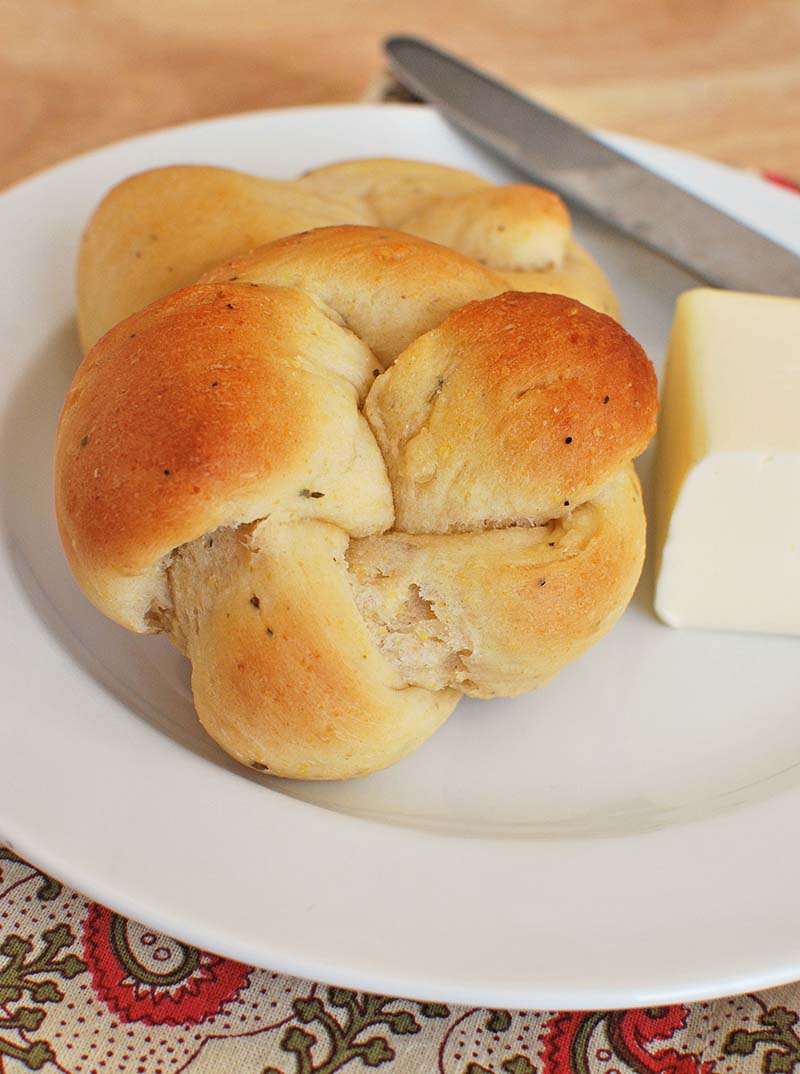 Ingredients
3 Tbsp oil or melted butter
1 cup water
½ cup milk
3 Tbsp sugar
1 package (2¼ tsp, ¼oz, 7g) RED STAR Active Dry Yeast
1 egg
3½ cups bread flour
½ cup cornmeal
1 tsp dried minced onion
½ tsp garlic salt
1 tsp Italian seasoning
Instructions
In large pot over medium heat, or microwave-safe bowl, add oil (or butter), water and milk. Heat to 110-115°F. Pour into a mixing bowl.


Add sugar and egg; stir in yeast. Whisk until mixture is smooth.


Add flour, cornmeal, onion, salt and seasoning. Stir with heavy wooden spoon. If necessary, work in a little additional flour with your hands until the dough is no longer sticky. Knead on floured surface for 2 to 3 minutes. Place dough in lightly oiled bowl and turn to grease top. Cover; let rise until dough tests ripe.


Punch down, cover and let rest 10 minutes. Turn out onto a lightly floured surface. Divide into 24 portions (cut dough into 4 pieces, the cut each of those into 6 pieces). To shape, roll each piece into a 6 inch long rope. Tie in loose knot. Place rolls into greased 9x13-inch pan. Cover and let rise until indentation remains after lightly touching.


Preheat oven to 375°F. Brush tops with 2 tbsp melted butter or oil. Bake 15 to 20 minutes or until golden brown. Cool on wire rack.


**You can substitute Instant (fast-rising) yeast in place of Active Dry Yeast. When using Instant Yeast, expect your dough to rise faster. Always let your dough rise until ripe. Traditional methods: use equal amounts; Bread Machine: use ½ tsp Instant Yeast OR ¾ tsp Active Dry Yeast per cup of flour in your recipe. Visit our Lessons in Yeast & Baking for more information.


Recipe featured at Fake Ginger.