Corn Cheddar Bubble Loaf
A marvelous pull-apart bubble loaf that can be made the day before, refrigerated overnight and baked before serving. Great for summer barbecues or serve with hearty winter soups.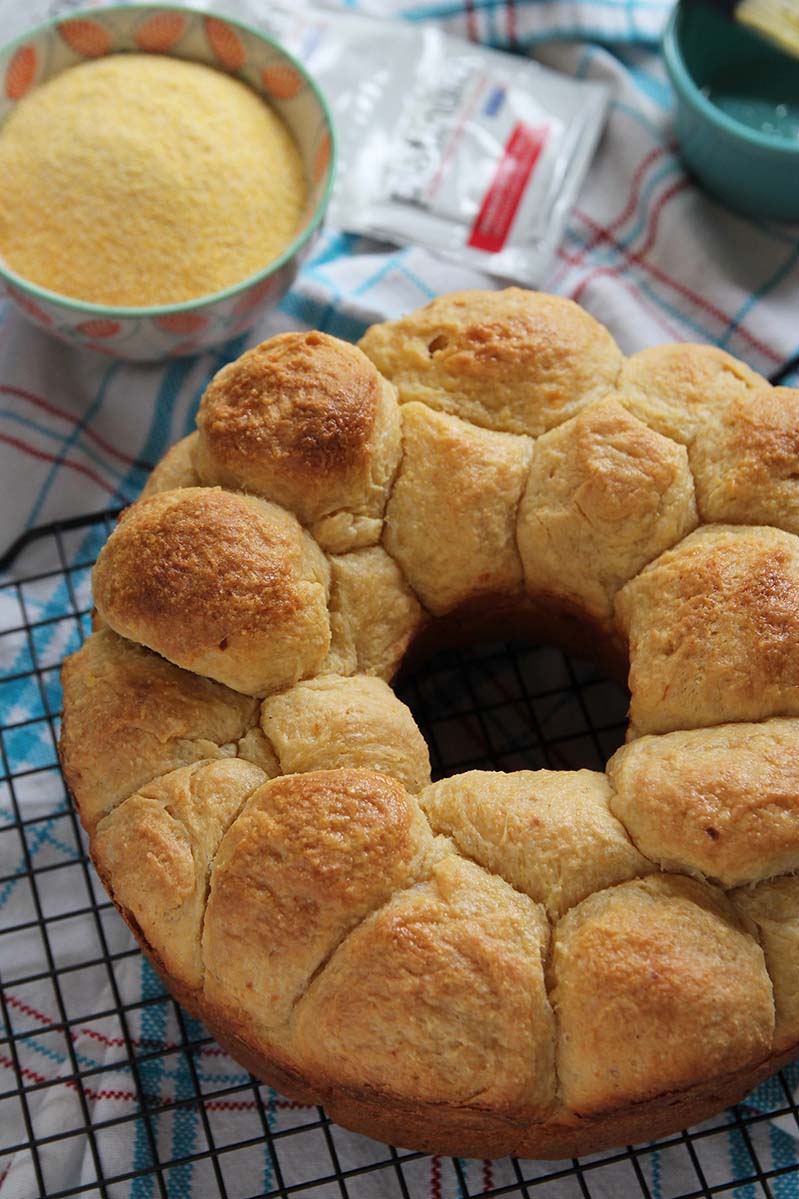 Yield:
One 10-inch bubble loaf
Ingredients
4¾ to 5¼ cups all-purpose flour
2 packages (4½ tsp) RED STAR Platinum Superior Baking Yeast
1 cup cornmeal
2 Tbsp sugar
2 tsp salt
1¾ cups milk
½ cup water
2 Tbsp butter or margarine
½ cup shredded sharp Cheddar cheese
⅓ cup butter or margarine, melted (for dipping)
Instructions
In large mixer bowl, combine 1½ cups flour, yeast, cornmeal, sugar and salt; mix well. In saucepan or microwave-safe bowl, heat milk, water and 2 Tbsp butter until warm (120-130°F; butter does not need to melt). Add to flour mixture. Blend at low speed until moistened; mix 3 minutes at medium speed. By hand, gradually stir in cheese and enough of the remaining flour to make a firm dough. Knead on floured surface 5 to 8 minutes until smooth and elastic. Place in greased bowl, turning to grease top. Cover; let rise in warm place until double, about 1 hour.


Punch down dough and turn out on lightly floured surface; divide into 4 parts. Divide each fourth into 10 pieces. Shape each piece into a smooth ball; dip in melted butter. Place in greased 10-inch solid bottom tubed cake pan or a 12-cup Bundt® pan. Cover; refrigerate 2 to 24 hours. Bake at 375°F for 55 to 60 minutes until golden brown. Remove from pan; brush with butter. Serve warm.


Recipe featured at Stephie Cooks.