Coconut Roasted Carrot Hot Cross Buns with Pineapple Ginger Icing
A new take on a Good Friday classic. Soft, light, and with a sweet earthiness from the carrots, these are sure to be an Easter classic.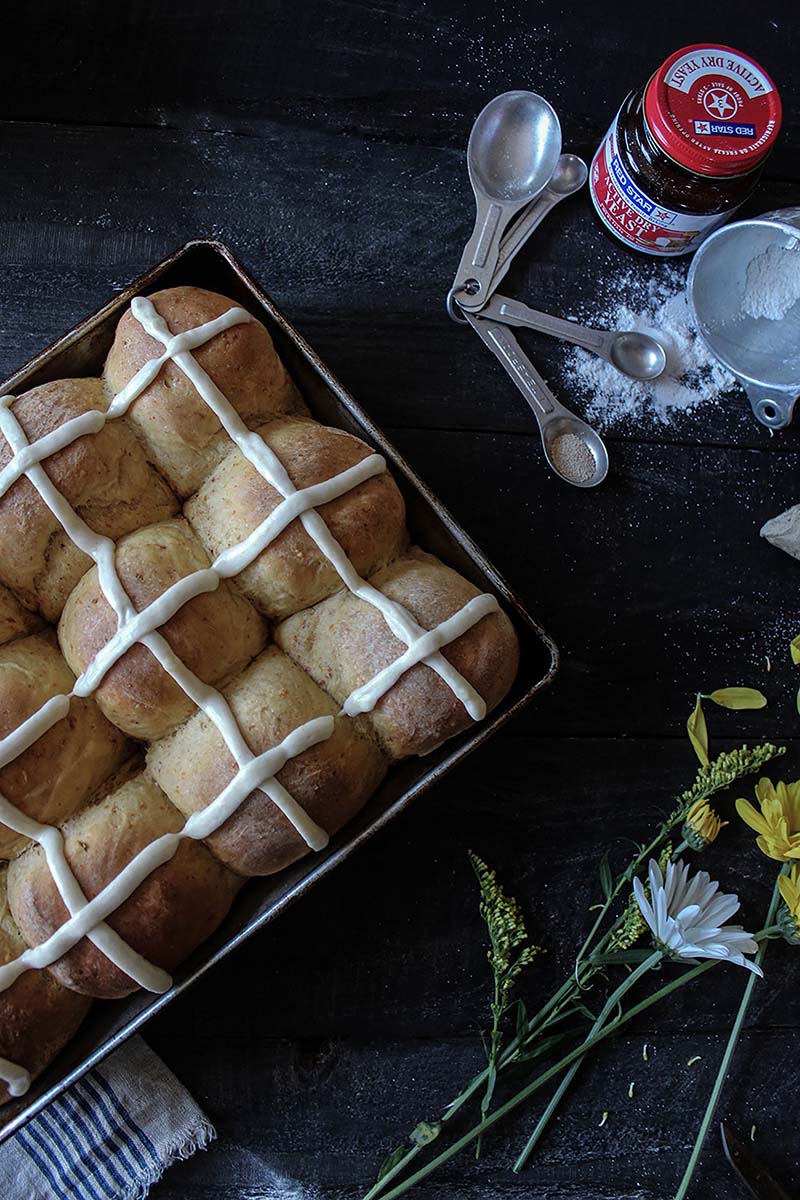 Ingredients
Roasted Carrot Puree:
5-8 carrots, cleaned
3 Tbsp coconut oil, melted
¼ cup brown sugar, packed
½ Tbsp olive oil
¼ tsp black pepper
¼ tsp salt
Coconut-Roasted Carrot Hot Cross Buns:
2 cups water, warm to the touch (110-115°F)
4½ tsp (2 packages) RED STAR Active Dry Yeast
½ cup white sugar, packed
1½ tsp salt
1 cup roasted carrot puree (above)
1 egg
2 Tbsp softened butter
½ Tbsp of orange zest
4½ - 6 cups all-purpose flour
Pineapple Ginger Icing:
4 oz cream cheese, softened
½ tsp ground ginger
2 Tbsp pineapple juice
2 cups confectioners' sugar
Instructions
Directions for the Roasted Carrot Puree:
Preheat oven to 425°F and prepare a pan with aluminum foil. Lay carrots on foiled pan, spread out. In a small measuring cup, whisk coconut oil, sugar, olive oil, pepper, and salt. Pour mixture over carrots and stir with a wooden spoon to coat. Roast for 25-35 minutes or until browned, tender, and a little caramelized. Let cool and puree in a food processor.


Directions for Coconut-Roasted Carrot Hot Cross Buns:
In the bowl of a stand mixer, fitted with a paddle attachment, add water, yeast, sugar. Let sit for five minutes. Stir in salt. Add carrot puree, egg, butter and orange zest. Turn mixer on low to mix all ingredients together. Keeping the mixer on, begin adding flour, one cup at a time. Keep adding flour until dough begins to pull away from sides of bowl.


Turn dough out onto a floured work surface and knead for 3-5 minutes until soft and elastic. Place in a well-oiled bowl, turning once. Cover with a towel and let sit for an hour in a warm, dry place until doubled in size.


Turn back out onto floured surface and punch down slightly. Cut into 12 or 18 equal pieces (depending on the roll size you desire) and place well-oiled pan. Cover with a towel and allow to rise for 20 minutes.


While rising, preheat oven to 350°F. Bake for 25-32 minutes or until golden brown on top.
Allow to cool slightly before icing tops of rolls with crosses.


Directions for Pineapple Ginger Icing:
In the bowl of a stand mixer, fitted with a whisk attachment, mix cream cheese, ginger, and pineapple juice on medium-high until well incorporated. With mixer reduced to a medium-low speed, begin adding confectioners' sugar, a half-cup at a time until icing is a desired thickness, with no lumps. Spoon icing into a piping bag and pipe crosses onto cooled buns. Allow to sit for two minutes. Enjoy!


Recipe created by Fig and Bleu.