Cocoa Sourdough Bagels
Whether you're a chocolate lover or not, you'll find that these cocoa sourdough bagels are the perfect addition to your breakfast menu. They are great with cream cheese, butter and jam, or some almond butter.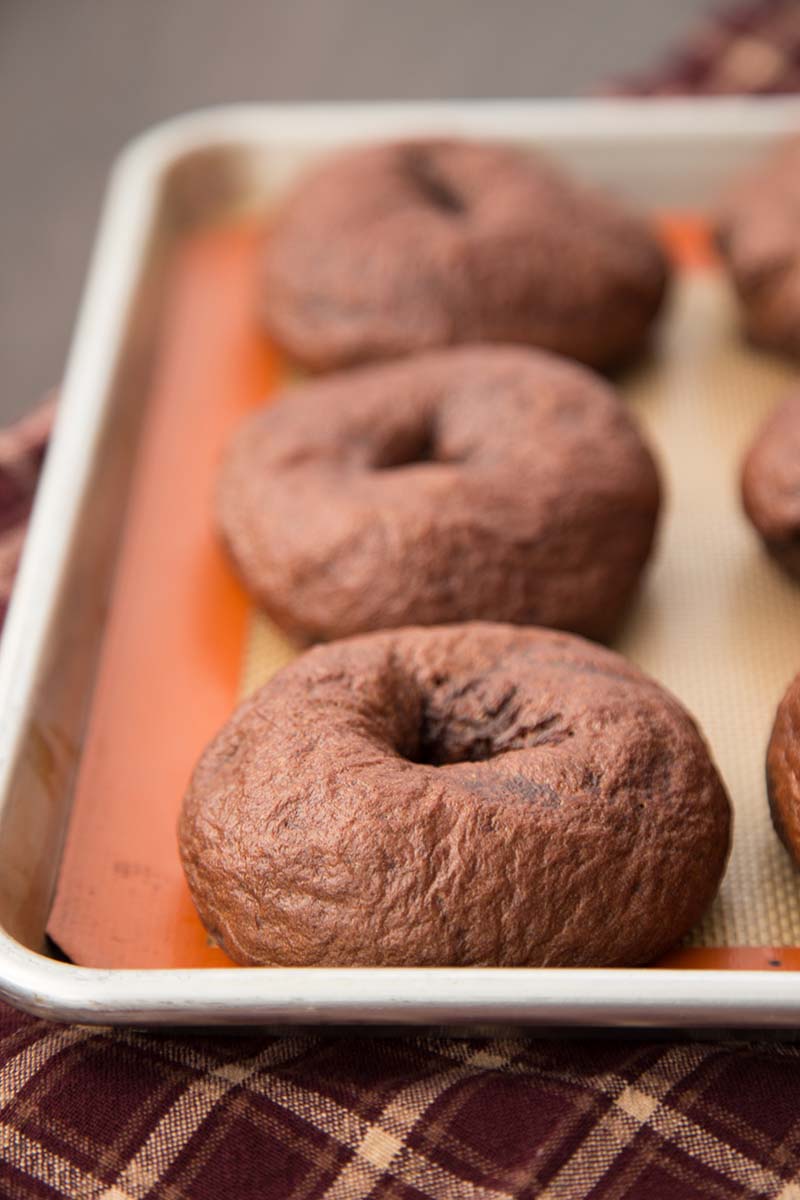 Ingredients
1 cup milk
¼ cup (4 tablespoons) unsalted butter
1 cup sourdough starter (click for recipe) (from the fridge)
1 egg
½ cup cocoa powder
¼ cup dark brown sugar
1 package (2¼ tsp, ¼oz, 7g) RED STAR Platinum Superior Baking Yeast
1 tsp salt
3 - 3 ½ cups bread flour
1 tsp sugar or honey (optional)
Instructions
Combine the milk and butter in a microwaveable bowl. Microwave for about 1 minute, until the
milk is warm and the butter is softened. Transfer the milk and butter to the bowl of your stand
mixer. Add the sourdough starter, egg, cocoa powder, brown sugar, yeast, salt, and 1 cup of
bread flour.


Using the beater blade, mix on medium speed for 2 - 3 minutes, until the mixture is smooth.
Switch to the dough hook and add an additional 2 cups of bread flour. Mix on the lowest speed
until the dough comes together and forms a smooth ball. If the dough seems overly sticky, add
an additional ¼ - ½ cup of flour. Allow the dough to knead in the mixer for about 2 minutes.


Transfer the dough to a lightly greased bowl and cover. Let the dough rise until it has just about doubled in size and the imprint of two fingers remains.


After the dough has risen, punch it down to remove an y air bubbles and transfer it to a lightly
floured surface. Divide the dough into 12 equal portions. Shape each portion into a ball and let it rest for about 10 minutes.


While the dough rests, bring a large pot of water to a boil. If desired, add a teaspoon or two of
sugar or honey to the water. Preheat the oven to 425°F.


Meanwhile, shape the bagels by pushing a lightly floured finger through the center of the ball
and stretching it in each direction to form a ring. Transfer the shaped bagels to a baking sheet
lined with parchment or a silicone mat.


Working in batches, transfer the bagels to the boiling water. Boil for 90 seconds on each side,
then return the bagels back to the baking sheet. If the bagels are overly wet, they can be dried
off with a clean kitchen towel or a paper towel.


Bake the bagels for 22 - 25 minutes. Allow the bagels to cool on the pan for 10 minutes, then
transfer them to a wire rack to cool completely before slicing.


Recipe created by My Kitchen Addiction.