Cinnamon Sugar Pecan Challah Braid
This cinnamon sugar pecan challah braid is a light and airy bread with a sweet and slightly crunchy outer crust that would make the perfect addition to your next brunch holiday celebration.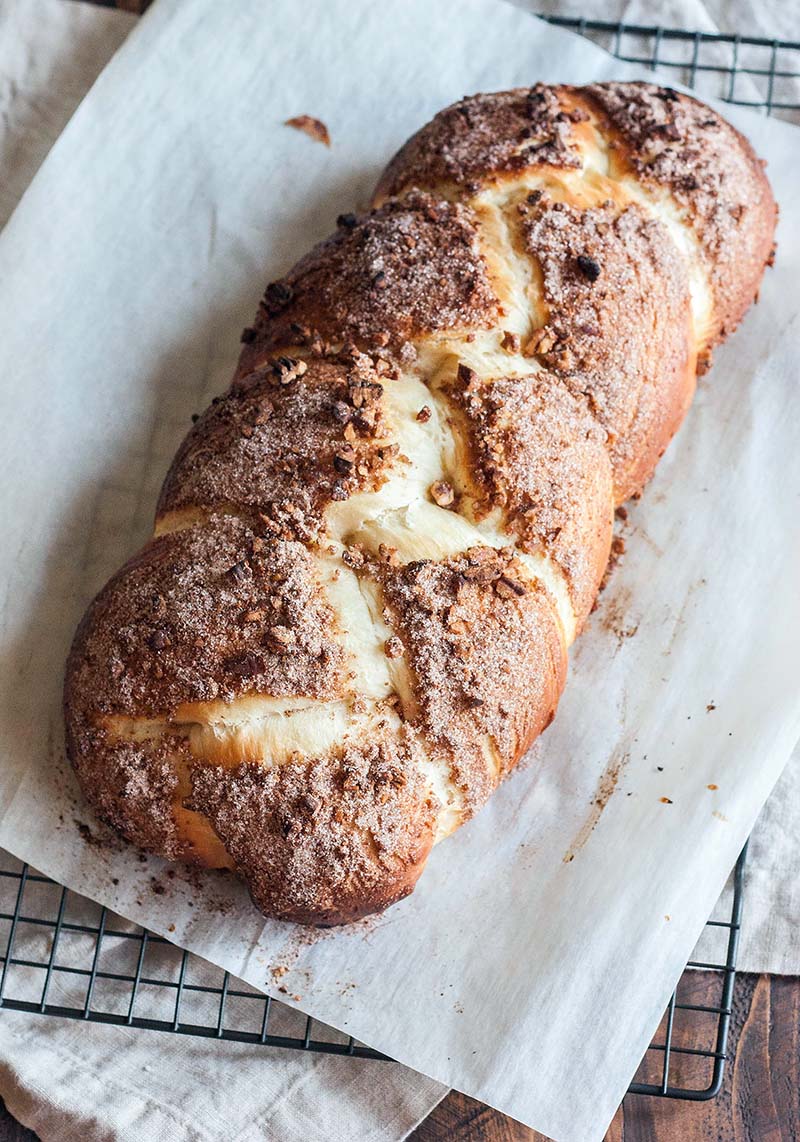 Ingredients
For the dough:
1 cup warm tap water, 110-115°F
1 package (2¼ tsp, ¼oz, 7g) RED STAR Active Dry Yeast
2 eggs, at room temperature
1½ Tbsp vegetable oil
3 cups bread flour (plus more for kneading)
2 Tbsp sugar
For the egg wash:
1 egg, mostly the egg yolk
½ tsp water
For the topping:
¼ pecan, chopped
½ cup sugar
1 Tbsp cinnamon
Instructions
Start by microwaving the water to warm it to 110-115°F, about 1 minute. Remove water from microwave, stir in yeast and allow to sit for 5 minutes, or until foamy at the top.


In a small bowl combine eggs and vegetable oil and whisk together with a fork. Pour in the yeast and water mixture and stir a few times until combined.


In the bowl of a stand mixer fitted with a dough hook, add the flour and sugar. Gently pour in the liquid egg/oil/yeast mixture and let mixer run for 5 minutes at speed 2, until well combined and a sticky dough forms.


Generously flour a surface, remove dough from the mixing bowl and knead it by hand for 2-3 minutes, then place in a greased bowl and cover with plastic wrap. Allow to rest for about an hour, or until doubled in size.


Turn dough out onto floured surface and cut into three pieces. Roll each piece of dough out so that there are three equally long pieces (about 18 inches in length each.) Then pinch the top edges together and braid the three pieces (when you start the braid, first the left side will go over, then the right side over that, and then the center.) Pinch finished ends together. Place braid on parchment paper lined baking sheet.


Make the egg wash by cracking an egg in a bowl and using mostly the egg yolk and a ½ teaspoon of water, whisk together, and then brush on top of the braid.


Make the Topping: Chop up the pecans and stir together with the cinnamon and sugar and sprinkle the mixture on top of the egg wash.


Cover braid with a towel, and let rise for 30 minutes. Preheat oven to 400°F and bake for 20-25 minutes, until the top of the bread is golden brown. Remove from oven and allow to cool, then slice and enjoy!


Recipe created by Sweet Phi Blog.