Cinnamon Buns (+ video)
Make these cinnamon rolls a weekend morning tradition. This recipe makes a large batch - perfect for sharing with your loved ones!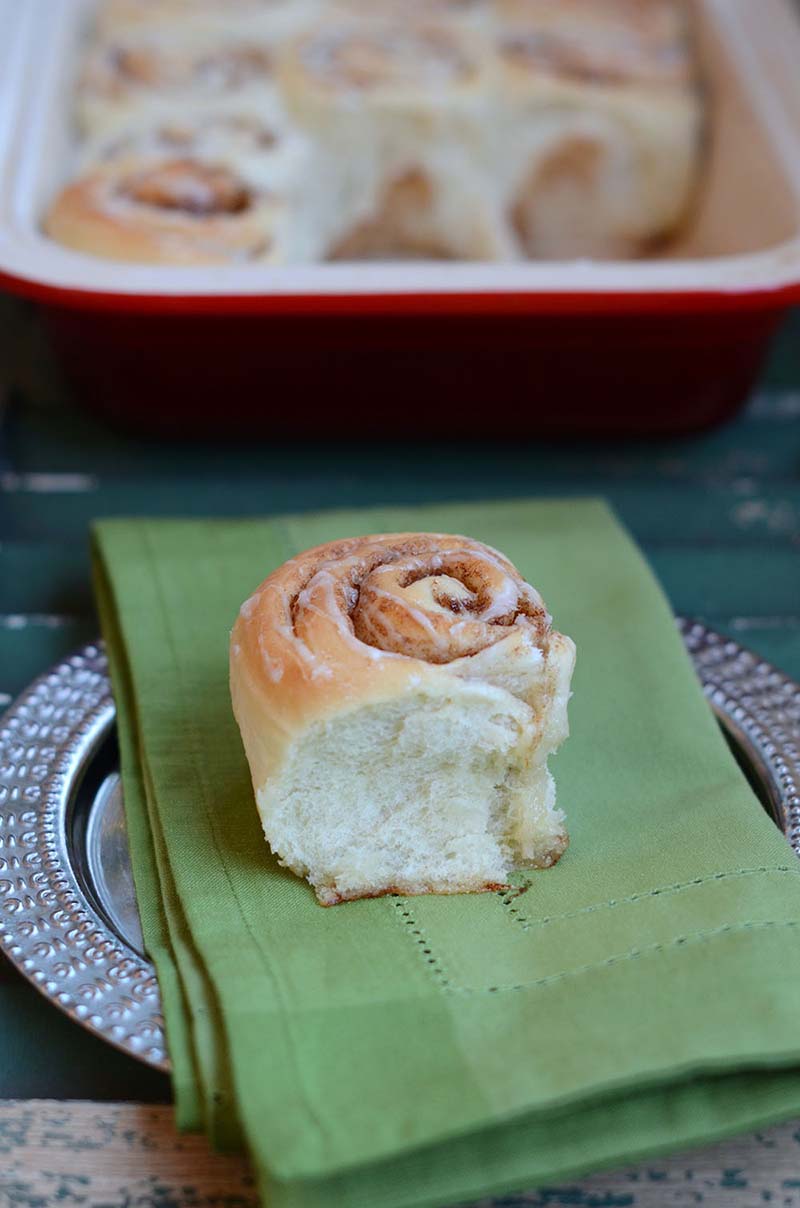 Ingredients
For the dough:
2 cups warm tap water
1 cup milk (warmed to 110-115°F)
⅓ cup sugar
1 large egg
⅓ cup melted butter or oil
3 packages (6¾ tsp, ¾oz, 21g) RED STAR Active Dry Yeast
8 cups bread flour
2 tsp salt
For the filling:
½ cup sugar
½ cup, packed brown sugar
2 Tbsp cinnamon
½ cup melted butter
For the glaze:
1 cup confectioners' sugar
2 Tbsp milk
Instructions
Watch How-To Video below.


Grease two 9 x 13-inch pans; set aside.


In large bowl, dissolve 1 tsp sugar in warm water. Stir in Yeast; let stand for 10 minutes, or until foamy. Whisk in warm milk, sugar, egg and butter.


Add 3 cups flour and salt; mix until smooth. Add another 4½ cups flour. Stir briskly with wooden spoon until well mixed. If necessary, gradually add remaining ½ cup flour to make soft dough. On lightly floured surface, knead dough about 8 - 10 minutes, until smooth and elastic. Cover; let rest in warm place 10 minutes.


In small bowl, combine sugars and cinnamon; set aside


After 10 minute rising of dough, turn out onto lightly floured surface. Divide into 4 portions. Roll a portion of dough into 15 x 10-inch rectangle. Brush with melted butter and sprinkle with cinnamon sugar mixture. Roll up tightly as for jelly roll, beginning at wide side. Pinch seam to seal. With sharp knife, slice roll into 1½ -inch pieces. Place cut sides up in prepared pan. Repeat with remaining dough portions. Cover and let rise in warm place until indentation remains after lightly touching, about about 45 minutes.


Preheat oven to 375°F. Bake 20 minutes or until done. Remove from pans to wire rack to cool. In small bowl, combine icing sugar and milk; stir until smooth. Adjust sugar/milk to get desired consistency. Drizzle warm rolls with glaze.


*You can substitute Instant (fast-rising) yeast in place of Active Dry Yeast. When using Instant Yeast, expect your dough to rise faster. Always let your dough rise until ripe. Traditional methods: use equal amounts; Bread Machine: use ½ tsp Instant Yeast OR ¾ tsp Active Dry Yeast per cup of flour in your recipe. Visit our Lessons in Yeast & Baking for more information.


This recipe is featured on Food Wanderings.