Chocolate Vegan Danish Braid
A perfectly tender and sweet vegan Danish braid, with a rich chocolate filling!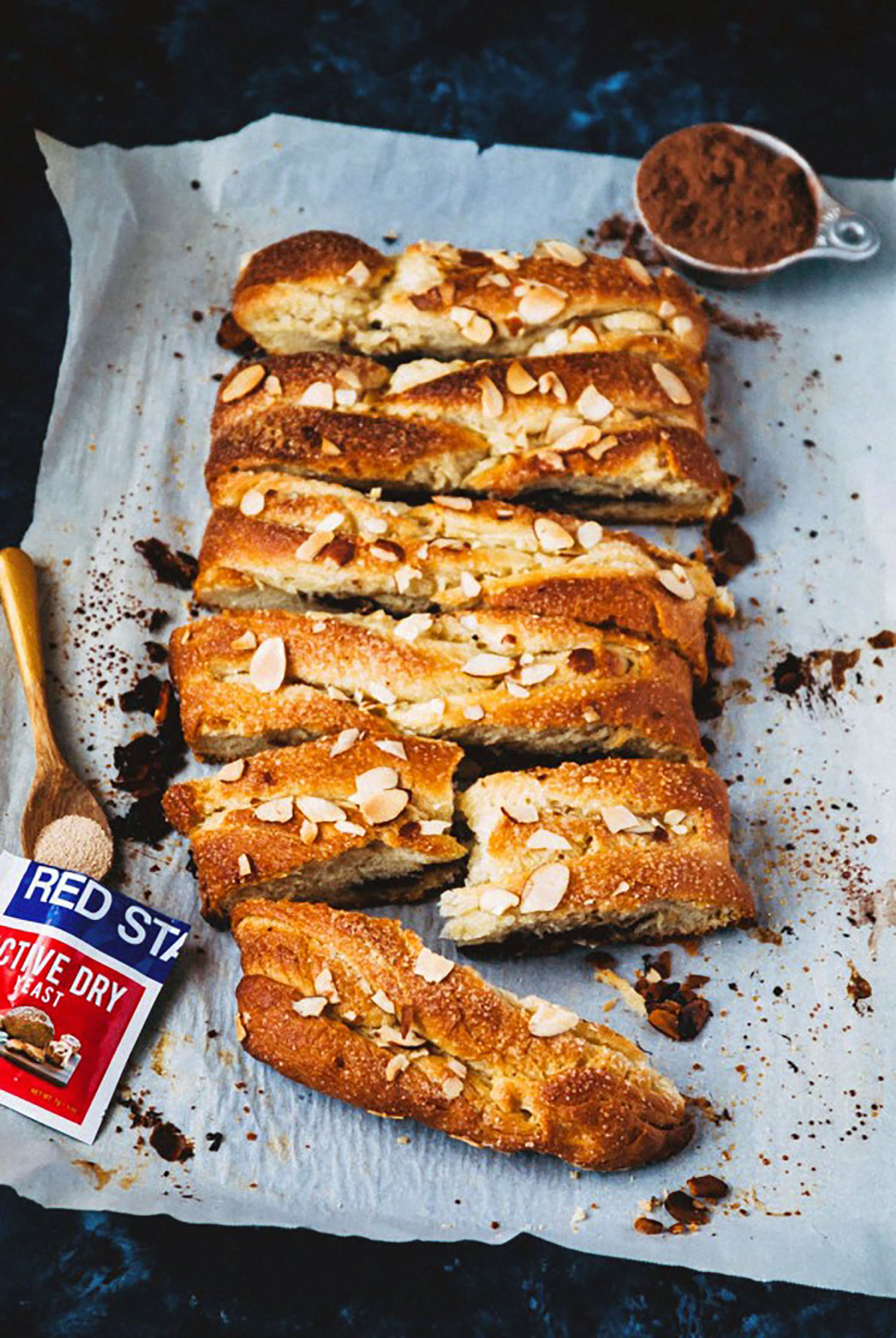 Ingredients
For the dough:
2 packages (4½ tsp, ½oz, 14g) RED STAR Active Dry Yeast
⅓ cup cane sugar
½ cup warm water (110-115°F)
1 tsp salt
1 cup olive oil
3 Tbsp warm water
1 Tbsp cornstarch
1 cup cashew milk
½ tsp vanilla extract
4 cups all-purpose flour
For the chocolate filling:
½ cup cane sugar
¼ cup all-purpose flour
2 Tbsp cocoa powder
1 tsp ground cinnamon
2 Tbsp olive oil
For the vegan egg wash:
1 Tbsp cashew milk
1 tsp agave nectar
For the topping:
2 Tbsp cane sugar
3 Tbsp sliced almonds
Instructions
To make the dough:
In a small bowl, combine the yeast, sugar, and ½ cup warm water. Set aside for 5 minutes, or until foamy.


In a large bowl, whisk together the salt, olive oil, 3 tablespoons warm water, cornstarch, cashew milk, and vanilla extract. Stir in the yeast mixture. Mix in the flour until dough starts to form and come together easily. Cover bowl with plastic wrap and set aside at room temperature to rise for at least 4 hours, or overnight.


Line a rimmed baking sheet with parchment paper and set aside. Prepare filling by stirring together all of the filling ingredients in a small bowl and set aside.


After dough has risen, roll out dough on a well floured surface into a rectangle that is 9x16-inches. If dough starts to stick or pull, sprinkle additional flour on dough and continue to roll out. Transfer the rectangle to prepared baking sheet. Spread the prepared chocolate filling down the middle third of the dough.


Using a sharp knife, make cuts on both sides of the rectangle, at a diagonal angle, measuring 1 inch wide and about 2-3 inches long. Start to alternately overlap the strips over the middle section, then fold both ends over. Cover the braid with a towel and let rise for 30 minutes.


After braid has risen, whisk together the ingredients for the vegan egg wash (cashew milk and agave nectar) and lightly brush it on top of braid. Sprinkle evenly with the cane sugar and sliced almonds.


Preheat oven to 375°F and bake for 15 minutes. Reduce heat to 350°F and bake for another 15 minutes. Cover with tented foil if braid is getting too dark. After braid has baked, remove from oven and allow to cool slightly before slicing. Store in a sealed container for up to 3 days.


Recipe created by Heart of a Baker.