Chocolate Glazed Pumpkin Yeast Doughnuts
Fresh homemade doughnuts filled with and cream cheese pumpkin spice frosting and covered in a chocolate glaze.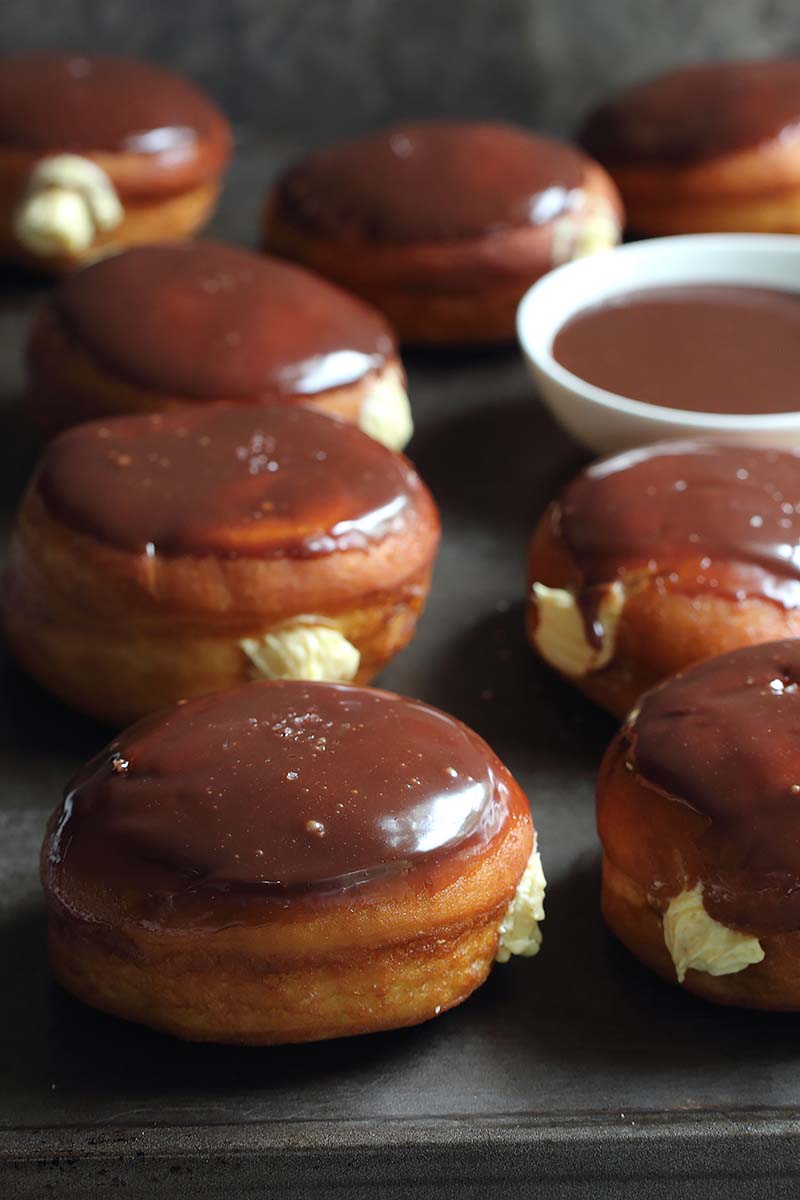 Ingredients
For the dough:
2 packages (4½ tsp, ½oz, 14g) RED STAR Quick Rise Yeast
4 Tbsp warm water (110-115°F)
6½ cups all-purpose flour
2 cups milk
1 stick (4 oz) butter at room temperature
6 egg yolks
6 Tbsp sugar
1 tsp pumpkin pie spice
1 quart vegetable/canola oil for frying
For the cream filling:
Two 8 oz packages cream cheese at room temperature
2 cups powdered sugar
½ cup pumpkin puree
½ tsp pumpkin pie spice
For the chocolate glaze:
1 cup heavy cream
10 oz chocolate chips
Instructions
In a bowl, whisk the yeast and warm water. Let rest for about 7 minutes until it gets frothy.


In a stand mixer, combine the flour, milk, butter, yolks, sugar, spice and yeast mixture. Mix until the dough comes together and then mix for about 4-5 more minutes.


Transfer the dough to a lightly oiled bowl. Cover with a towel and let rise in a warm area.


When the dough has doubled in size, turn it out onto a floured work surface and roll it out until it's about 1-inch thick.


Using a 3-inch diameter cookie or scone cutter, cut the doughnuts out and transfer them to a few parchment lined baking sheets.


Cover them with a towel and let rise for about an hour or until risen and puffy.


Heat the oil to 375°F using a candy thermometer for accuracy.


Fry the donuts for 40 seconds on each side and transfer to a plate covered with paper towel to soak up any oil. Use a slotted spoon to transfer doughnuts.


Beat the cream cheese, powdered sugar, pumpkin and spice on low at first. Gradually speed it up until you can beat on high until there are no lumps and the cream is light and fluffy.


In a small pot, heat the heavy cream until warm, add the chocolate chips and let melt, stirring until the sauce is smooth. Let cool for 20-30 minutes.


Using the handle of a wooden spoon, poke each doughnut making a hole inside. Fill a nozzle fitted piping bag with the cream filling and fill each doughnut until the cream starts to come out of the hole.


Finally dip the doughnut into the chocolate glaze and wipe off the excess.


Let the glaze set and serve. Best eaten on the day they are made.


Recipe created by Foodness Gracious.