Chewy Pretzel Buns
This easy recipe for chewy, flavorful pretzel buns will wow the entire family. Serve them with dinner or use as a sandwich roll!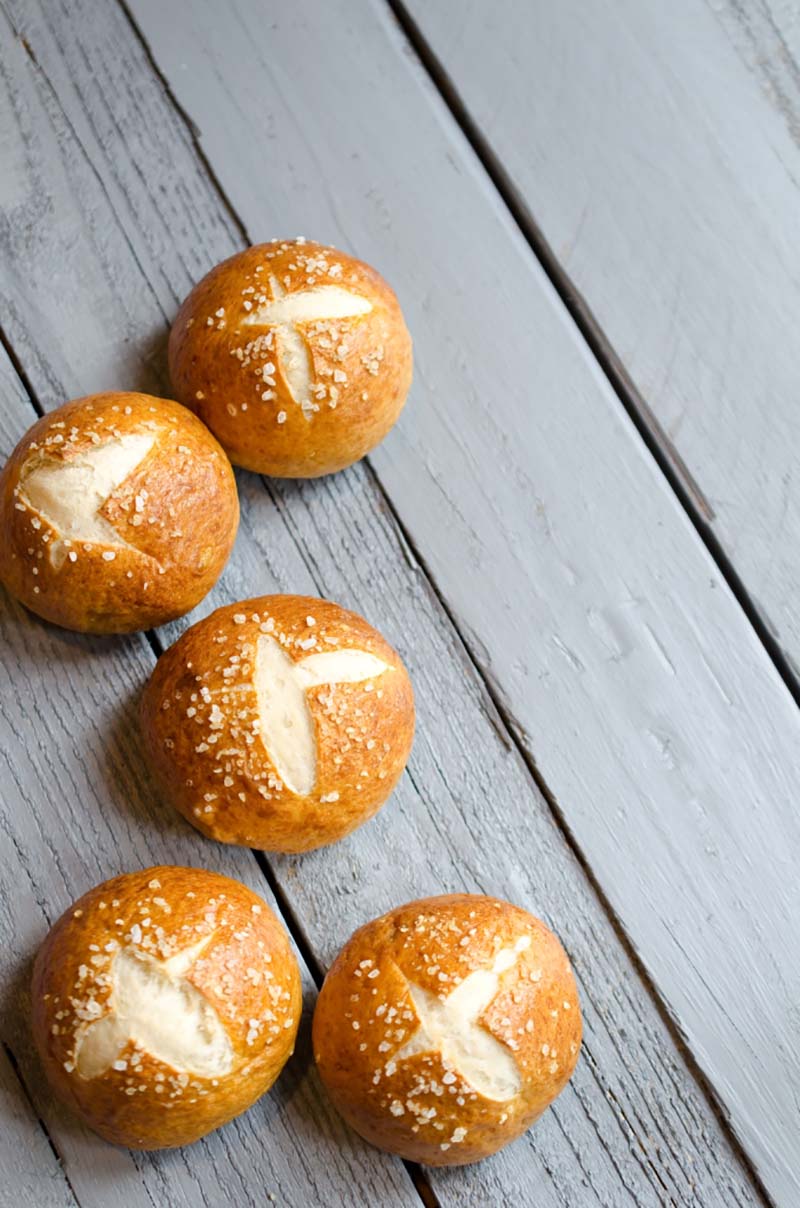 Ingredients
For the dough:
1 cup warm water (110-115°F)
1 package (2¼ tsp, ¼oz, 7g) RED STAR Active Dry Yeast
1 Tbsp granulated sugar
2¾ cups bread flour
1½ tsp sea salt
For the pretzel bath:
4 quarts water
¼ cup baking soda
For the topping:
1 large egg
1 Tbsp water
Coarse sea salt, enough to sprinkle over 8 rolls
Instructions
Whisk together the 1 cup of water, yeast and sugar in the bowl of a stand mixer. Allow the mixture to proof for 6 minutes.


While the yeast is proofing, whisk/sift together the flour and 1½ tsp sea salt.


Attach the dough hook to the stand mixer. Add the flour mixture to the yeast mixture. Mix on low speed until the dough comes together and then turn the speed up to medium-low and mix for 3 minutes. Turn the speed up to medium and mix for another 2 minutes.


Form the dough into a tight ball and place into a lightly greased bowl. Cover with a clean kitchen towel and allow the dough to double in size, approximately 40 minutes. Remove the towel and punch down the dough.


Lightly grease a baking sheet. Using a kitchen scale, divide the dough into eight 3-ounce balls (one will be slightly under 3 ounces). If you don't have a scale, divide dough in 8 equal parts. Roll each ball tightly and pinch the bottoms. Place the balls pinched side down on the baking sheet, cover with a towel and allow the dough to rise for 20 minutes.


Preheat the oven to 425°F. Bring the 4 quarts of water to a boil with the baking soda. In batches, cook the rolls for 30 seconds per side. Remove with a slotted spoon and place onto a clean, greased baking sheet (do not use parchment paper or the rolls will stick).


Whisk together the egg with a tablespoon of water. Brush the egg wash on top of each roll and sprinkle generously with coarse sea salt.


Using a sharp knife, slice an X in the top of each roll (optional).


Bake for 15-17 minutes or until golden brown on top.


Recipe created by Savory Simple.