Cherry 'n Cheese Lattice Coffee Cake
A sweet bread dough filled with cream cheese and cherries, "braided" and baked until it's golden brown, then finished with sweet icing drizzled prettily over the bread.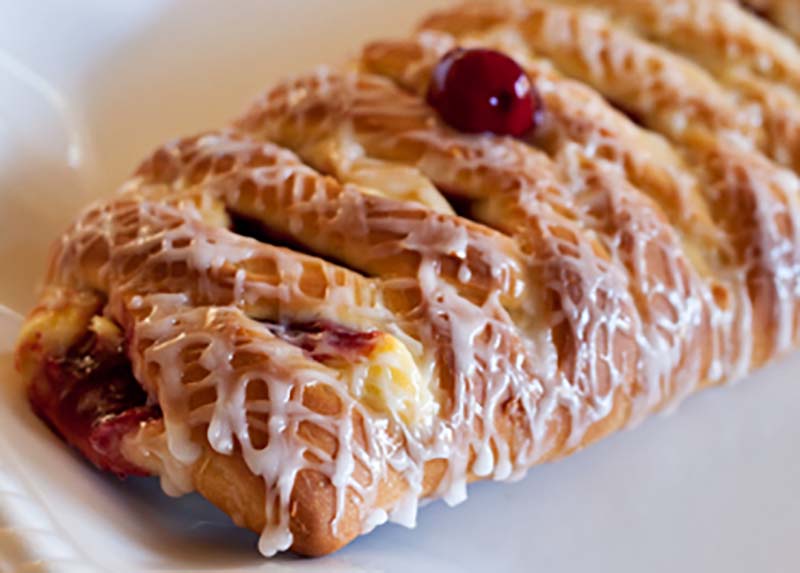 Ingredients
For the dough:
¼ cup water
½ cup sour cream
3 Tbsp butter
2 eggs
1 tsp vanilla
3 cups bread flour
1½ tsp salt
3 Tbsp sugar
1 package (2¼ tsp, ¼oz, 7g) RED STAR Active Dry Yeast
For the filling:
2 packages (3oz. each) cream cheese, room temperature
1 egg
1 Tbsp sugar
⅛ tsp salt
1 can (1 lb. 5 oz.) cherry pie filling
For the icing:
2 to 3 Tbsp water
1¼ cup powdered sugar
Instructions
Preheat oven to 350ºF


Bread Machine Method
Have liquid ingredients at 80º F and all other ingredients at room temperature. Place dough ingredients in pan in the order listed. Select dough/manual cycle. Do not use the delay. Check dough consistency after 5 minutes of kneading. The dough should be in a soft, tacky ball. If it is dry and stiff, add water, ½ to 1 tablespoon at a time. If it is too wet and sticky, add 1 tablespoon of flour at a time. When cycle is complete, remove dough and follow directions under the Shaping, Rising and Baking section. See our Bread Machine section for more helpful tips and information.
Traditional Method
In mixing bowl, combine yeast, 1 cup flour, salt and sugar. Heat water, sour cream and butter to 120º to 130º F; add to dry ingredients. With mixer, beat 2 to 3 minutes on medium speed. Add eggs and vanilla; beat 1 minute. Gradually add remaining flour by hand or with a mixer that has dough hook(s); knead for 5 to 7 minutes until smooth and elastic. Place dough in lightly oiled bowl and turn to grease top. Cover; let rise until dough tests ripe, approximately 30 to 40 minutes.


Shaping, Rising and Baking
To prepare filling: cream together cream cheese, egg, sugar, and salt.


Punch down dough and divide in half. On a lightly floured surface, roll each half to a 12x17-inch rectangle. Spread half of filling lengthwise over center third of dough. Top with approximately half of pie filling. (Save a few cherries from filling to decorate coffee cake after it is baked.) On each long side, cut 1-inch wide strips, 2 inches long. Starting at one end, fold strips at an angle across filling, alternately from side to side. Place coffee cake on greased baking sheet. Cover; let rise until indentation remains after lightly touching the side of the coffee cake, approximately 30 minutes. Bake in preheated oven 30 to 35 minutes. Cool on wire rack.


Prepare icing: Mix water and powdered sugar together. Add more/less powdered sugar to achieve desired consistency. Drizzle cooled coffee cake with icing; place a few cherries on small lattice openings to decorate.


*You can substitute Instant (fast-rising) yeast in place of Active Dry Yeast. When using Instant Yeast, expect your dough to rise faster. Always let your dough rise until ripe. Traditional methods: use equal amounts; Bread Machine: use ½ tsp Instant Yeast OR ¾ tsp Active Dry Yeast per cup of flour in your recipe. Visit our Lessons in Yeast & Baking for more information on baking.


Recipe featured at Barbara Bakes.