Cheesy Garlic Breadsticks
Soft and fluffy garlic infused breadsticks covered in melted cheese. Dunk the cheesy goodness into marinara sauce, serve alongside a pan of lasagna, a pot of chili, or a bowl of Caesar salad. You and your family are going to fall in love with this breadstick recipe!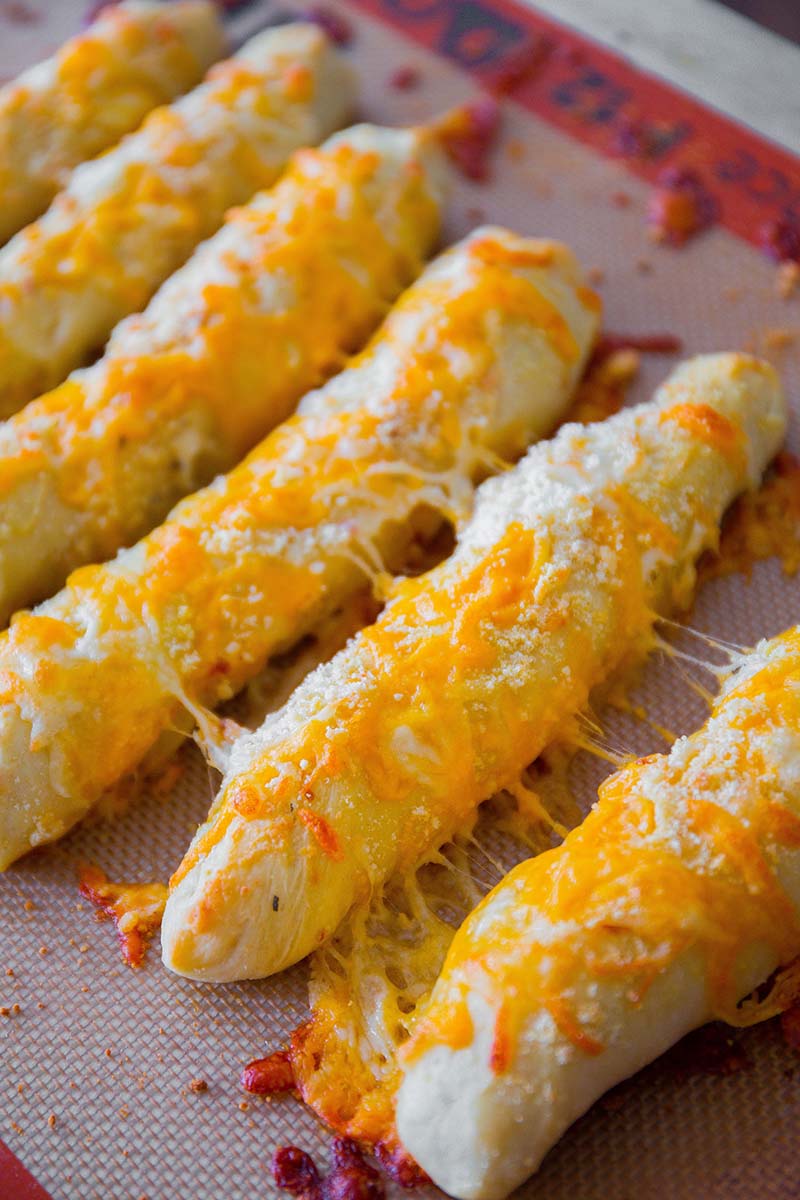 Ingredients
For the dough:
1 package (2¼ tsp, ¼oz, 7g) RED STAR Platinum Superior Baking Yeast
1⅓ cups warm water (110-115°F)
3½ cups unbleached all-purpose flour
2 Tbsp olive oil
¾ tsp salt
1 Tbsp granulated sugar
For the topping:
1 small head garlic
¼ cup unsalted butter, melted
Ground pepper and sea salt to taste
½ cup grated Parmesan cheese
1 cup shredded cheese (1/2 cup cheddar, ½ cup mozzarella)
Instructions
Roast the head of garlic: Slice off the top so the cloves are exposed inside. Place, clove side up, in a baking pan, pie dish or on a baking sheet and drizzle with a bit of olive oil. Top it with some fresh ground pepper and sea salt. Cover with aluminum foil and roast at 375°F degrees for about 35-40 minutes. The cloves will be very soft inside. Set aside.


Make the dough: In a large mixing bowl or the bowl of your stand mixer fitted with a hook attachment, combine the yeast and warm water. Stir it around and let sit for 5 minutes of until the yeast is foamy and dissolved. Add flour, olive oil, salt, and sugar. Mix by hand with a wooden spoon or with the mixer on low speed for 1 minute.


Once all of the ingredients are mixed, knead for 7 minutes by hand or with your mixer on low-medium speed. If your dough is too wet, slowly add up to ¼ cup more flour. After kneading, your dough should be smooth and elastic. Poke it with your finger - if it slowly bounces back, your dough is ready to rise. If not, keep kneading.


Shape the dough into a ball and place in a large bowl that has been coated lightly with olive oil. Turn it over to coat all sides. Cover tightly with plastic wrap and allow to rise in a warm environment to rise, about 1½ hours or until doubled in size.


Punch the dough down to release the air. Divide the dough into two. Roll each half into a ball and let rest in two separate bowls, lightly covered, for 10 minutes.


Preheat oven to 375°F degrees. Line two large baking sheets with parchment paper or silicone baking mats. Set aside. Chop up the roasted garlic and combine it with the melted butter in a small bowl. Add salt and pepper to taste. Set aside.


Assemble: Roll each ball of dough out into a 7x10-inch rectangle on a lightly floured surface or on a silicone baking mat. Top each dough rectangle with melted butter/roasted garlic mixture. Then top with grated Parmesan. Using a very sharp knife or pizza cutter, cut rectangles into long strips, about 1½ inches in width. Then, twist each strip up and top with a little more Parmesan cheese if desired. Twisting is optional.


Bake breadsticks in two batches - 7 breadsticks per baking sheet. Bake for 16-17 minutes. Then, remove from the oven, push the 7 breadsticks together so they're all touching, and top with ½ cup of shredded cheese. Return to the oven for about 4-5 more minutes or until they've reached your desired doneness. Like them extra brown and toasty? Keep in for a few minutes longer. Repeat with second batch and remaining ½ cup of cheese. (If you don't want cheese on top of them, then just bake the breadsticks for 20-25 minutes or until they've reached your desired doneness.)


Remove from the oven and enjoy! Cover leftover breadsticks tightly and keep at room temperature for up to 2 days. Baked breadsticks freeze well - up to 2 months.


Recipe created by Sally's Baking Addiction.