Cheddar-Chunk and Chive Sandwich Bread
This savory bread is studded with chunks of cheddar cheese. Try it with your favorite sandwich meats or BLTs.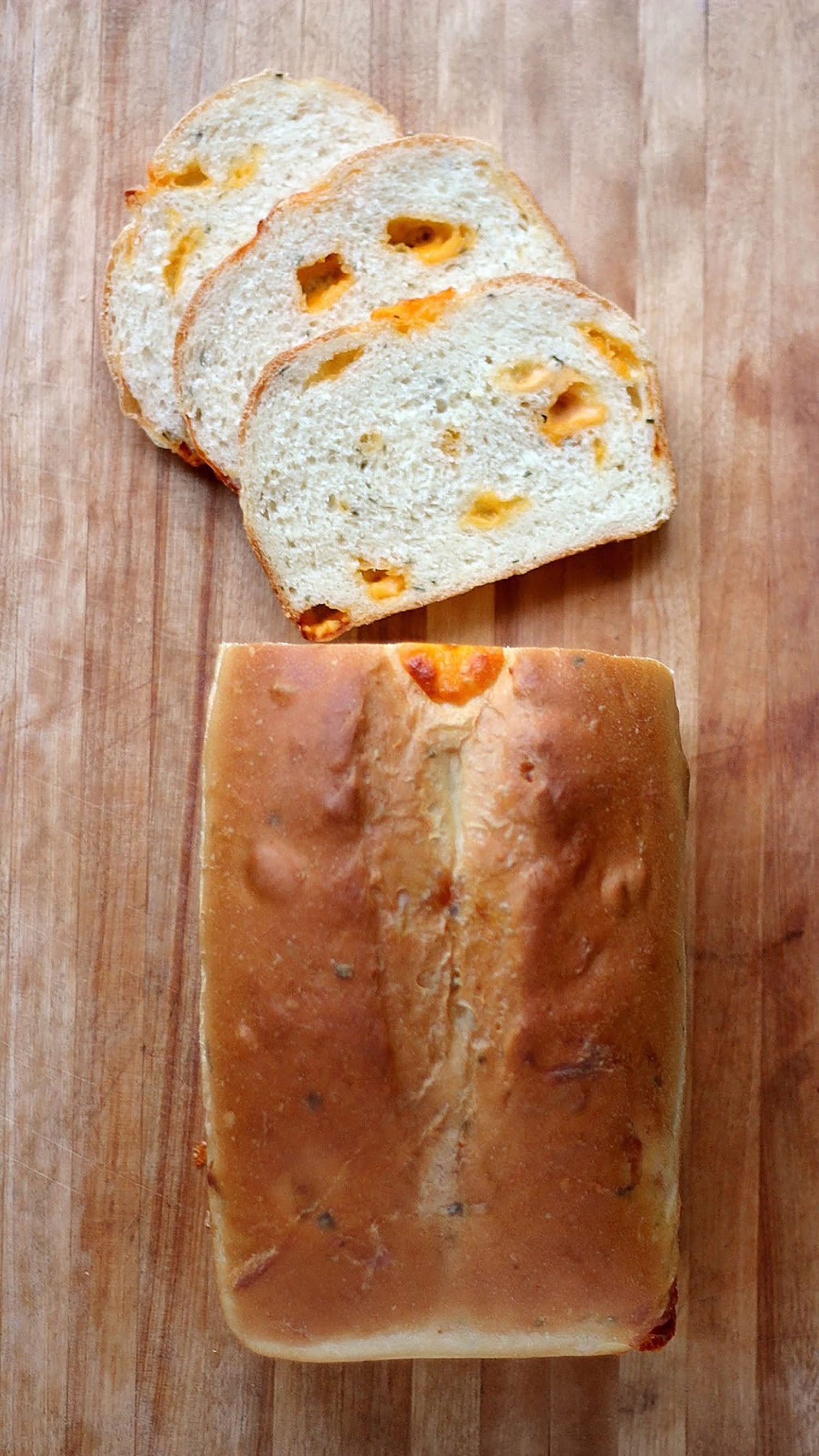 Ingredients
1 cup water, 120-130°F
1 package (2¼ tsp, ¼oz, 7g) RED STAR Active Dry Yeast
1 Tbsp sugar
3 cups bread flour
1 tsp kosher salt
¼ cup regular mayonnaise
4 oz. cheddar cheese, cut into ¼-inch cubes
1 Tbsp dry chives
Instructions
Combine the warm water, yeast, sugar, flour, salt and mayonnaise in the bowl of your stand mixer fitted with the dough hook. Mix slowly until the ingredients are combined, then increase speed to medium and continue kneading until the dough is soft and elastic.


You can also knead by hand, if you like.


Add the cheese and chives and continue mixing until both are well-distributed throughout the dough. If the cheese seems to be breaking up as you mix, you can do this by hand.


Cover the bowl and set aside until the dough has doubled in size, about 1 hour and 15 minutes.


When the dough has risen, flour your work surface lightly and spray a 9x5-inch bread pan with oil or baking spray.


Turn out the dough and form it into a log about 8 inches long. Try to keep most of the chunks of cheese from poking through the dough. Place the log, seam-side down, in the prepared bread pan. Cover the pan with plastic wrap and set aside to rise until the dough rises slightly about the rim of the pan, about 40 minutes.


While the dough is rising, preheat the oven to 350°F. Remove the plastic wrap and bake the loaf until it's nicely browned, about 40 minutes.


Remove the bread from the pan and let it cool completely on a rack before slicing.


Recipe created by Cookistry.
Notes
If you toast a slice, be careful because the cheese will melt and make a mess of your toaster. On the other hand, if you toast it in a skillet, that cheese will get nice and brown and crisp.