Caraway Rye Bread
Slice this loaf as part of a deli-style sandwich or enjoy a piece toasted and spread with cream cheese.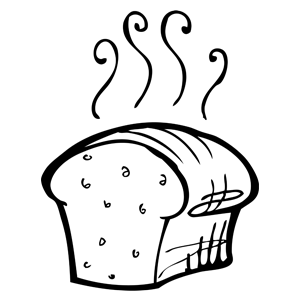 Ingredients
1 tsp sugar
1 cup warm water (110-115°F)
2 packages (4½ tsp, ½oz, 14g) RED STAR Active Dry Yeast
1 cup warm milk (110°-115°F)
¼ cup fancy molasses
¼ cup vegetable oil
1 Tbsp vinegar
½ tsp salt
2 Tbsp unsweetened cocoa powder
2 Tbsp caraway seeds
2 cups dark rye flour
4 cups bread flour
2 Tbsp dried onion flakes (see note)
Instructions
In large mixing bowl, dissolve 1 tsp sugar in warm water. Stir in yeast; let stand for 10 minutes, or until foamy. Whisk in milk, molasses, oil, vinegar and salt.


Gradually beat in cocoa, caraway seeds and rye flour until smooth. Using wooden spoon, gradually stir in enough bread flour to make soft dough. Turn out onto lightly floured surface; knead for 7-10 minutes or until smooth and elastic, adding more flour if necessary.


Place dough in greased bowl, turning to coat all over. Cover with plastic wrap; let rise in warm draft-free place for 1 to 1½ hours or until dough tests ripe.


Punch down dough; turn out onto lightly floured surface. Knead into ball. Divide dough in half; form each portion into round ball. Place on lightly greased or parchment paper lined baking sheet and flatten slightly. Cover and let rise in warm draft-free place for about 1 hour or until doubled in size.


Dust with bread flour. Cut 3 parallel slashes about ¼-inch deep across the top of each loaf; then cut 3 additional slashes in the opposite direction.


Bake in center of 400°F oven for about 30-35 minutes or until loaves sound hollow when tapped on bottom. Remove from pans; let cool on rack.


*You can substitute Instant (fast-rising) yeast in place of Active Dry Yeast. When using Instant Yeast, expect your dough to rise faster. Always let your dough rise until ripe. Traditional methods: use equal amounts; Bread Machine: use ½ tsp Instant Yeast OR ¾ tsp Active Dry Yeast per cup of flour in your recipe. Visit our Lessons in Yeast & Baking for more information.
Notes
The onion flakes are optional, and can be used as a topping on the loaves. If desired, sprinkle on after slashing the loaves.