Caramel Pecan Cinnamon Rolls
Caramel pecan cinnamon rolls are perfect for fall and holiday baking! Featuring a brown sugar-pecan filling, these sweet rolls are drizzled with homemade salted caramel sauce and make a scrumptious treat for weekend brunch or your next family gathering.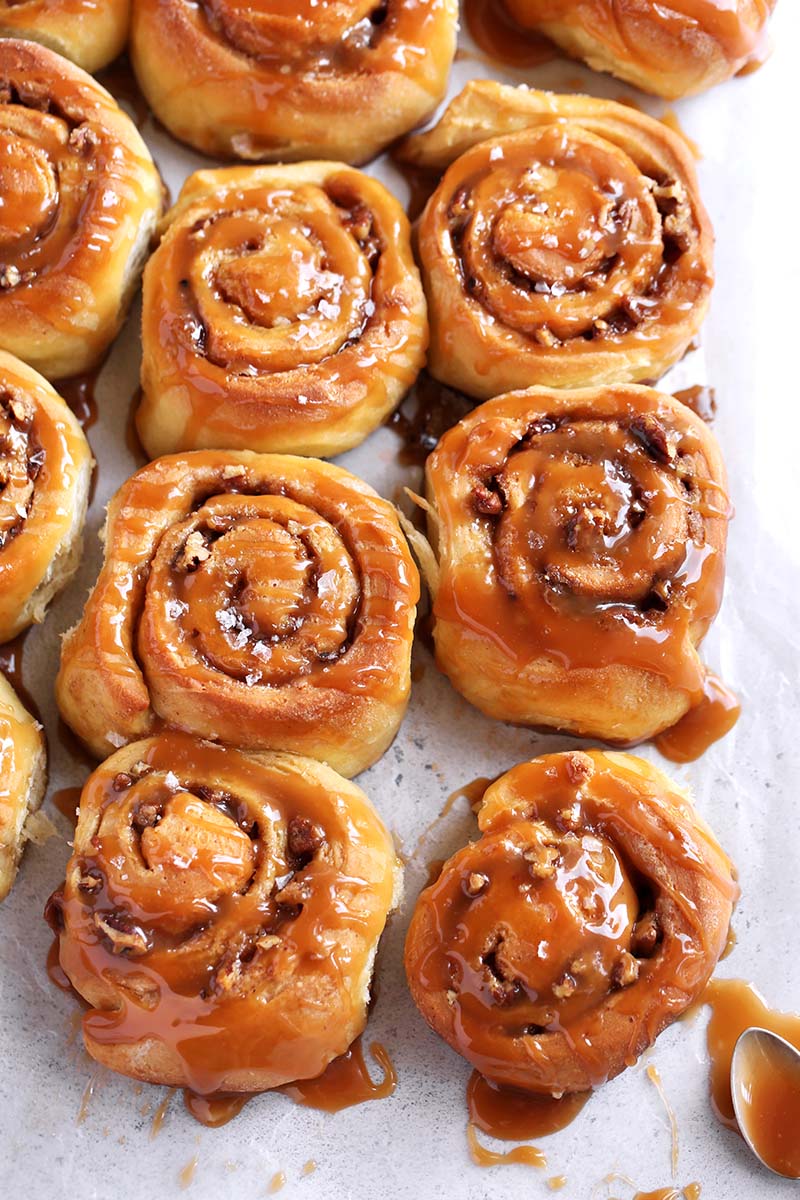 Ingredients
For the dough:
3½ cups (490 g) all-purpose flour, divided
1 package (2¼ tsp, ¼oz, 7g) RED STAR Platinum Superior Baking Yeast
¼ cup (48 g) sugar
½ tsp salt
1 cup (240 g) low-fat milk
¼ cup (56 g) unsalted butter, at room temperature
1 large egg, at room temperature
For the filling:
¼ cup (56 g) unsalted butter, softened
½ cup (90 g) light brown sugar
2 Tbsp (24 g) sugar
½ tsp cinnamon
⅛ tsp salt
1 cup (114 grams) toasted chopped pecans
For the salted caramel sauce:
1 cup (200 g) sugar
¼ cup (56 g) unsalted butter, at room temperature and cubed
½ cup (120 g) heavy cream, at room temperature
½ tsp vanilla extract
¼ tsp salt
Flaky salt, for topping
Instructions
Combine 2 cups (280 g) flour, yeast, sugar, and salt in a large mixer bowl; mix on low speed
until incorporated. Heat milk in a microwave-safe measuring cup for 45 seconds to 1 minute,
until very warm (120-130°F). Add warm milk, butter, and egg to flour mixture and mix until
combined; mix in remaining 1½ cups (210 g) flour. Switch out the flat beater for a dough
hook, and knead dough for 5 minutes until smooth and elastic. The dough is ready when it
feels tacky but doesn't stick to your fingers (if necessary, add additional flour 1 tablespoon at a
time while kneading).


Place dough in a large bowl coated with nonstick spray and cover with plastic. Let the dough
rise in a warm place until doubled in size, about 40 minutes. To check if dough has doubled,
lightly flour two fingers and press them down into center of dough. If indentations remain,
gently press down dough; cover and let rest 5 minutes. Spray a 13 x 9-inch baking dish (or two
-inch round pans) with nonstick spray.


Turn dough out on a lightly floured board and roll into an 18 x 12-inch rectangle. Spread dough
with softened butter, leaving a ¼-inch border. Combine sugars, cinnamon, and salt; sprinkle
over dough and top with chopped pecans, pressing gently into dough with rolling pin. Carefully
roll dough up into a tight log and pinch edges to seal.


Trim off uneven ends and score dough into 12 equal slices. Use unflavored dental floss to slice
dough crosswise (slip a long slice of floss under log of dough and cross on top to cut slices
cleanly). Place rolls cut side up into prepared baking dish. Cover loosely with plastic and let
rise in a warm place until doubled in size, about 30 minutes.


While the rolls rise, preheat oven to 350°F and make salted caramel sauce. Cook sugar in a
heavy saucepan over medium heat, stirring constantly with a heat-resistant spatula. Continue
cooking until sugar forms clumps and melts into a light amber colored liquid, about 4-5
minutes. Once the sugar is melted, carefully add butter a few pieces at a time, whisking
constantly until incorporated. Slowly drizzle in heavy cream while whisking constantly. Let
mixture boil for 1 minute, then remove from heat and pour into a glass bowl. Stir in vanilla and
salt; let cool to room temperature.


Once the rolls have doubled in size, bake for 25 to 30 minutes, or until golden. Remove from
oven and place on a wire rack to cool for 20 minutes. Drizzle salted caramel sauce over rolls
before serving. If desired, sprinkle with flaky salt.


Recipe created by Tutti Dolci.