Caramel Apple Braided Bread
Apples and caramel, the ultimate flavor combination of fall, come together in this beautiful braided bread.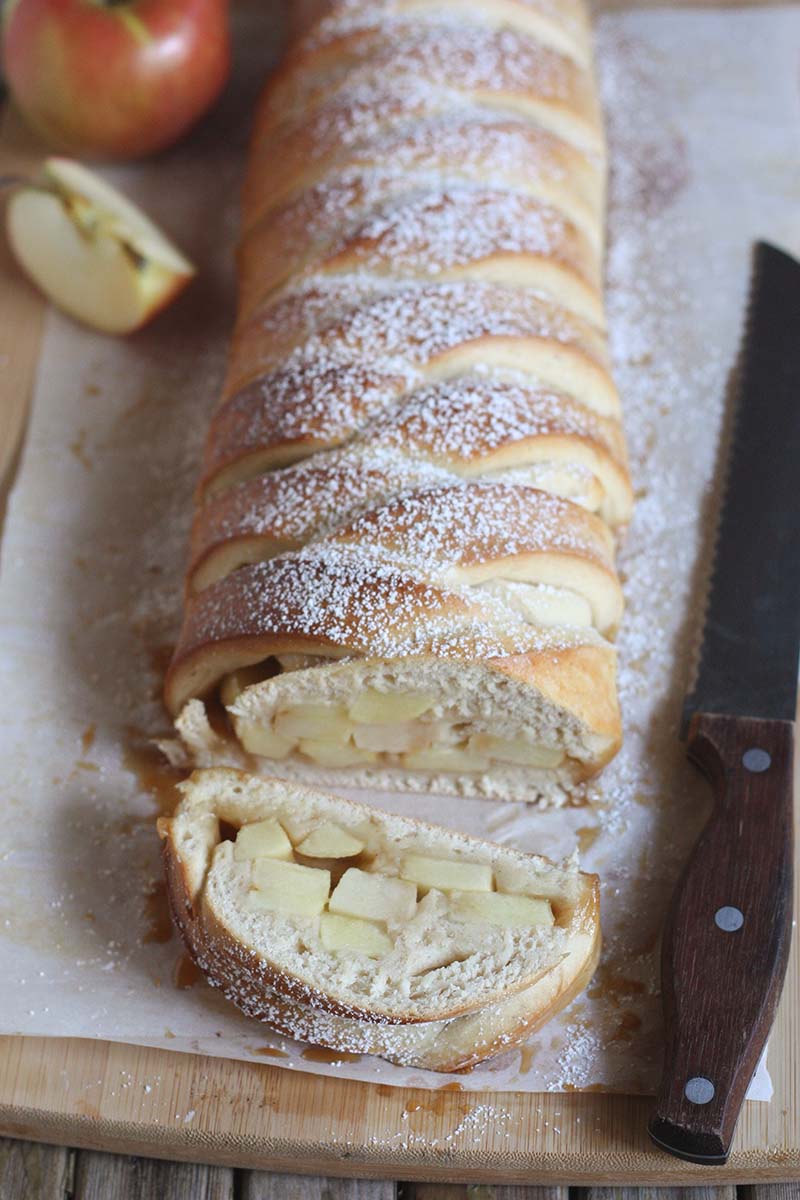 Ingredients
For the dough:
¼ cup water
½ cup whole milk
¼ cup unsalted butter
3½ cups all-purpose flour
½ cup granulated sugar
½ tsp ground cinnamon
½ tsp salt
1 package (2¼ tsp, ¼oz, 7g) RED STAR Active Dry Yeast
1 large egg
For the filling:
½ cup brown sugar
½ cup heavy cream
2 Tbsp unsalted butter
Pinch of salt
1 tsp vanilla
3 medium apples, peeled and sliced
Egg wash (1 egg + 1 Tbsp water) for brushing
Powdered sugar for dusting
Instructions
To make the dough:
Combine the water, milk, and butter in a small saucepan over medium heat. When butter is completely melted, remove from heat and cool for about 5 minutes (to 120-130°F).


In the bowl of a stand mixer fitted with a dough hook attachment (you may also use a large bowl and mix by hand with a wooden spoon), combine 1½ cups flour with the sugar, cinnamon, salt, and yeast. Add the liquids and mix until combined. Add the egg.


Add the remaining flour ¼ cup at a time until dough clears the bowl and is still sticky to the touch without coming off on your hands. Continue kneading dough with either the dough hook or by hand until dough is smooth and elastic, about 7-10 minutes.


Put dough in a greased bowl, cover with plastic wrap and place in a warm spot. Let rise until doubled, about 1-2 hours.


To make filling:
While the bread is rising, combine the brown sugar, heavy cream, butter, and salt in a saucepan over medium heat. Stir until butter is melted and mixture is smooth. Bring to a boil and let simmer until thickened, stirring frequently, about 5-7 minutes. Remove from heat and add the vanilla.


Let cool to a spreadable consistency. If the caramel becomes too hard, return it to medium low heat to melt it a little before spreading it on the dough.


To prepare the braided loaf:
Gently punch down dough to release gases and knead by hand a few times. Let sit for a few minutes.


Roll dough out on a clean surface to about 15 x 10-inch rectangle. Transfer to a sheet pan lined with parchment paper. Divide dough in thirds lengthwise and cut 1-inch strips crosswise down the length of the outer thirds.


Spread the cooled caramel in the center third. Top with the sliced apples. Fold the cut strips over the filling at a diagonal, alternating side to side.


Brush the loaf with the egg wash. Cover with plastic wrap and let rise while oven preheats to 350°F. Bake until golden brown, about 25-30 minutes. Some of the caramel may ooze out during baking. Let cool on pan for about 5 minutes, then transfer to a cooling rack or serving plate. Dust with powdered sugar.


This recipe was created by Completely Delicious.
Notes
This loaf is best the day it is baked. If you want to make-ahead, prepare the braided loaf as directed and refrigerate overnight. Let come to room temperature 30 minutes before baking the next day.