Buttery Jam Biscuits
Buttery Jam Biscuits are much like angel biscuits in the way they use both yeast and chemical leavening. Anyone can make them since this recipe is practically no-­fail! The result is a supremely buttery, light biscuit with a pocket of jam nestled inside. Use your favorite flavor jam or choose one that fits the current season!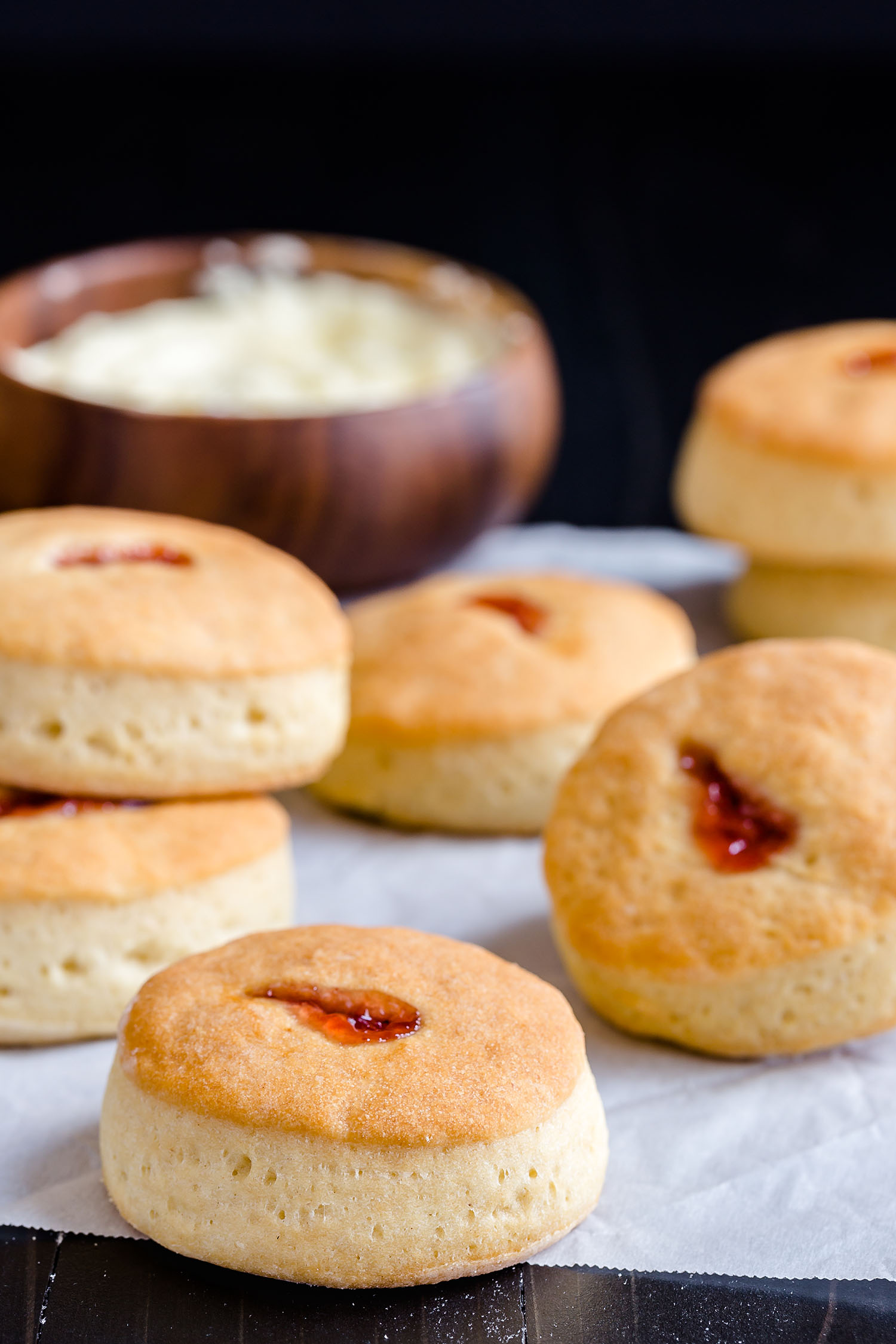 Ingredients
2½ cups all­-purpose flour
2 Tbsp granulated sugar
1½ tsp baking powder
½ tsp baking soda
½ tsp salt
1 package (2¼ tsp, ¼oz, 7g) RED STAR Quick·Rise Yeast
½ cup unsalted butter, slightly cooler than room temperature
1 cup buttermilk, warmed to 120-130°F
¼ cup jam
Instructions
(See recipe video below)


In a large mixing bowl, combine the flour, sugar, baking powder, baking soda, salt, and yeast. (Put salt and yeast on opposite sides of the bowl.) Stir with a whisk to combine.


Using a pastry blender, cut the butter into the flour until it resembles coarse crumbs. Make a well in the center and pour in half of the warm buttermilk. Stir with a wooden spoon to combine. Gradually stir in enough of the remaining buttermilk to form a damp, shaggy dough. You may not need the entire cup of buttermilk. (Note: buttermilk may look curdled and lumpy after warming -- this is ok.)


Transfer dough to a well­-floured surface and with well­-floured hands, knead the dough until it is soft and elastic, about 4-6 minutes. Roll the dough out to a ½-inch thickness, fold it in half, and roll it out to a ⅔-inch thickness. Dip a 2­-inch biscuit cutter in flour and cut out biscuits by pressing the cutter all the way through the dough without twisting it.*


Place biscuits one inch apart on a parchment-­lined baking sheet. Cut a 1-­inch slit at an angle halfway through the center of each biscuit. Using a piping bag, pipe about 1 teaspoon of jam into the slit. Cover and let rise in a warm place for 10 to 15 minutes.


Preheat the oven to 400°F. Bake biscuits for 12­-15 minutes or until golden brown. Serve warm.


Recipe created by Baked by an Introvert.
Notes
When cutting the biscuits, take care not to twist the cutter as you cut. Twisting will pinch the seams and the biscuits will bake up misshapen.