Buttermilk Ranch Sandwich Bread
Light and tender sandwich bread flavored with buttermilk and fresh herbs.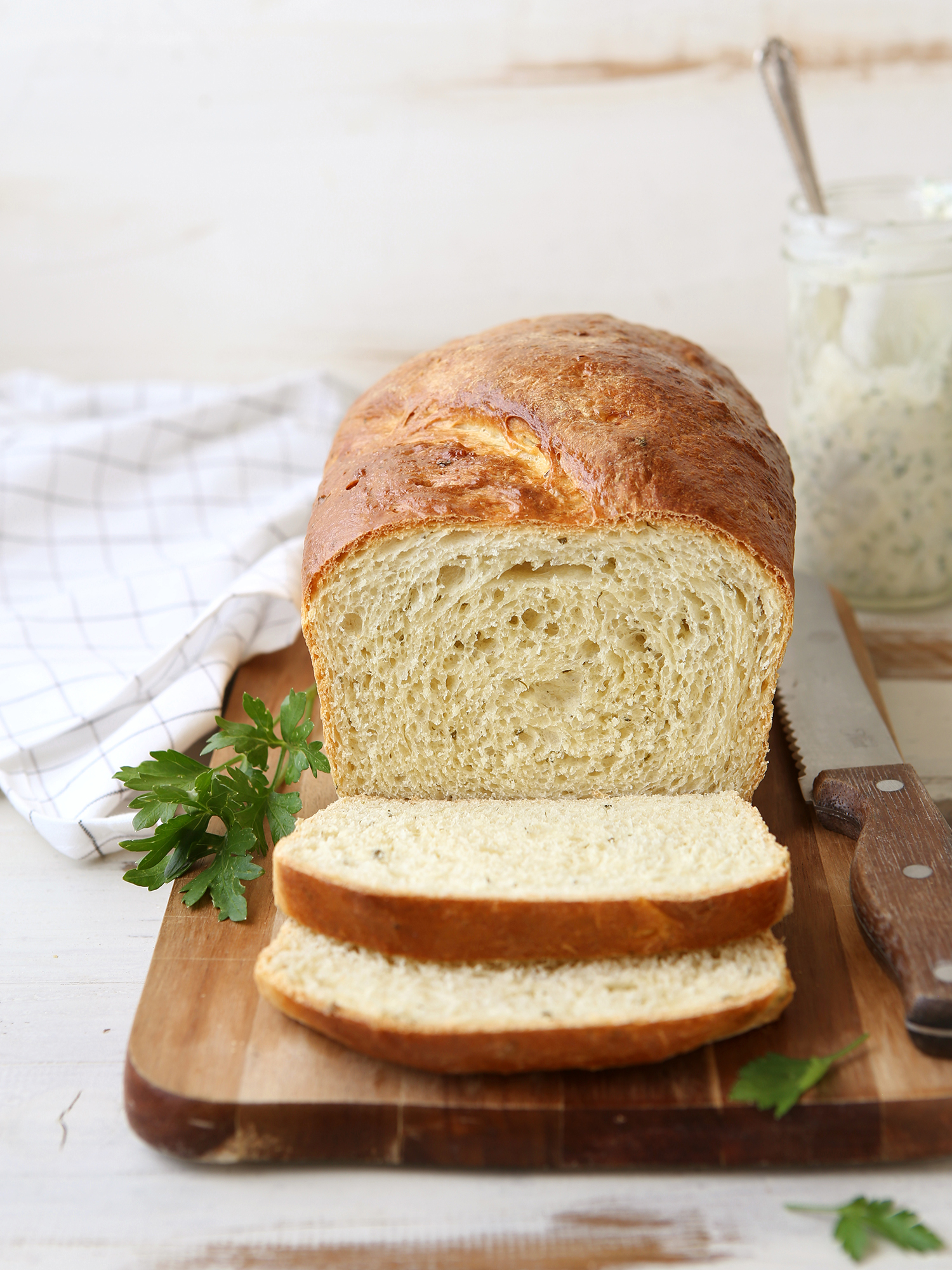 Ingredients
1⅓ cups (330 ml) buttermilk
3 Tbsp unsalted butter
4 cups (480 grams) all-purpose flour
1½ tsp salt
2 Tbsp granulated sugar
2 packages (4½ tsp, ½oz, 14g) RED STAR Platinum Superior Baking Yeast
2 cloves garlic, minced
1 Tbsp chopped fresh dill or 1 tsp dried
1 Tbsp chopped fresh parsley or 1 tsp dried
1 Tbsp chopped fresh chives or tsp dried
1 large egg + 1 tsp water, whisked together for egg wash
Instructions
Heat buttermilk and butter in a small saucepan set over low heat until butter is melted. Let sit for a few minutes to cool, or until temperature is between 120-130°F.


Add 2½ cups of the flour, salt, sugar, yeast, garlic, and herbs to the bowl of a stand mixer fitted with a dough hook (or a large bowl if you plan to mix and knead by hand). Add the buttermilk mixture and mix until it forms a wet dough. Add remaining flour ¼ cup at a time until the dough clears the sides and no longer sticks to your fingers. Continue kneading with dough hook or by hand until dough is smooth and elastic, about 7-8 minutes.


Form dough into a ball and place in a greased bowl. Cover with plastic wrap and let rise until doubled, about 1 hour. Gently punch down dough and knead a few times to bring it back into a ball.


Roll dough out into a rough 9x15-inch rectangle. Starting at one of the 9-inch ends, roll dough into a log. Place in a greased 9x5-inch loaf pan, cover with plastic wrap, and let rise again until doubled, 45-60 minutes.


Meanwhile, preheat oven to 375°F. Brush loaf with egg wash and bake bread until top is deep golden brown and loaf sounds hollow when tapped, 30-35 minutes. Remove bread from pan immediately and let cool on a wire rack.


Recipe created by Completely Delicious.
Notes
Bread is best the day it is baked, but you can wrap it and store at room temperature for up to 3 days.