Braided Sandwich Ring
It could be called a hero, a submarine, a grinder, a hoagie or a poor boy because it is a huge sandwich heaped with layers of meats, cheeses, tomatoes, lettuce, etc. However, because of the braided circle, it is much more attractive than any other of the same type sandwich. A beautiful way to serve a sandwich to a group.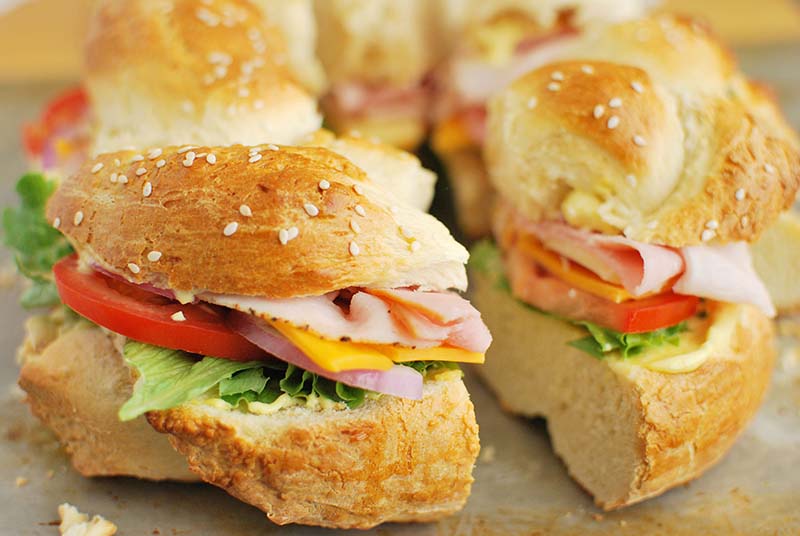 Yield:
1 braided ring, serves 12-18
Ingredients
For the dough:
4 cups bread flour
1½ tsp salt
3 Tbsp sugar
1 package (2¼ tsp, ¼oz, 7g) RED STAR Active Dry Yeast
¾ cup buttermilk
2 eggs, room temperature
2 Tbsp vegetable oil
1 egg + 1 Tbsp milk (for egg wash)
1 Tbsp sesame or poppy seeds (optional, for topping)
Instructions
Bread Machine Method
Place room temperature dough ingredients in pan in order recommended by manufacturer. Select dough/manual cycle. Check dough consistency after 5 minutes of kneading. The dough should be in a soft, tacky ball. If it is dry and stiff, add water, ½ to 1 tablespoon at a time. If it is too wet and sticky, add 1 tablespoon of flour at a time. At end of cycle, remove dough; follow Shaping, Rising and Baking instructions. See our Bread Machine section for more helpful tips and information.
Mixer Methods
Flour mixture: Combine 2 cups flour, salt, sugar and yeast in bowl, whisk to combine; set aside. Heat buttermilk to 120-130°F.


Hand-Held Mixer Method: Combine flour mixture, warm buttermilk, eggs and oil in mixing bowl on low speed. Beat 2 to 3 minutes on medium speed. By hand, stir in enough remaining flour to make a firm dough. Knead on floured surface until smooth and elastic. Place in lightly oiled bowl; turn to grease top. Cover; let rise until dough tests ripe.


Stand Mixer Method: Combine flour mixture, warm buttermilk, eggs and oil in mixer bowl with paddle or beater 4 minutes on medium speed with paddle or beaters. Gradually add remaining flour and knead with dough hook(s) 5 to 7 minutes or until smooth and elastic. Use additional flour if necessary. Place in lightly oiled bowl; turn to grease top. Cover; let rise until dough tests ripe.
Shaping, Rising and Baking
Punch down dough. Divide into three parts. On lightly floured surface, roll each third to a 24-inch rope. On greased cookie sheet lightly sprinkled with cornmeal, loosely braid ropes from center to ends. Shape into a circle; fasten ends by pinching dough together. Cover; let rise until indentation remains after touching.


While dough is rising, make Egg Wash: combine egg and milk. Gently brush risen dough with wash. Sprinkle with sesame or poppy seeds. Bake in preheated 375°F oven for 25 to 35 minutes until golden brown; cool.


To make sandwich ring: Using a serrated knife, slice ring crosswise to create a large sandwich. Spread bottom section with mayonnaise; arrange filling ingredients on top of mayonnaise. Spread top section with Dijon mustard; place on top of Filling. Slice into serving portions. Makes 1 ring.


Suggested Filling:
Mayonnaise
Thinly sliced deli meats (ham, roast beef, prosciutto, salami)
Sliced cheeses (brick, mozzarella, Swiss)
Leaf Lettuce
Sliced Tomatoes
Onion Rings
Sliced Black Olives
Dijon mustard


You can substitute Instant (fast-rising) yeast for Active Dry Yeast. Traditional methods- replace 1:1. Expect your dough to rise faster; always let your dough rise until 'ripe'. Bread Machines- use ½ tsp Instant yeast (or ¾ tsp Active Dry yeast) per cup of flour in your recipe. Visit our Lessons in Yeast & Baking for more information.


Recipe featured at Fake Ginger.
Nutrition Information
Serving size:
1
Calories:
230
Total Fat:
5g
Saturated fat:
1g
Carbohydrates:
38g
Sugar:
4g
Sodium:
330mg
Fiber:
1g
Protein:
8g
Cholesterol:
4g