Braided Challah
Great for sharing with family and friends, this braided celebration bread turns a stunning golden-brown color when baked, making it an ideal centerpiece for any table—and it tastes even better than it looks.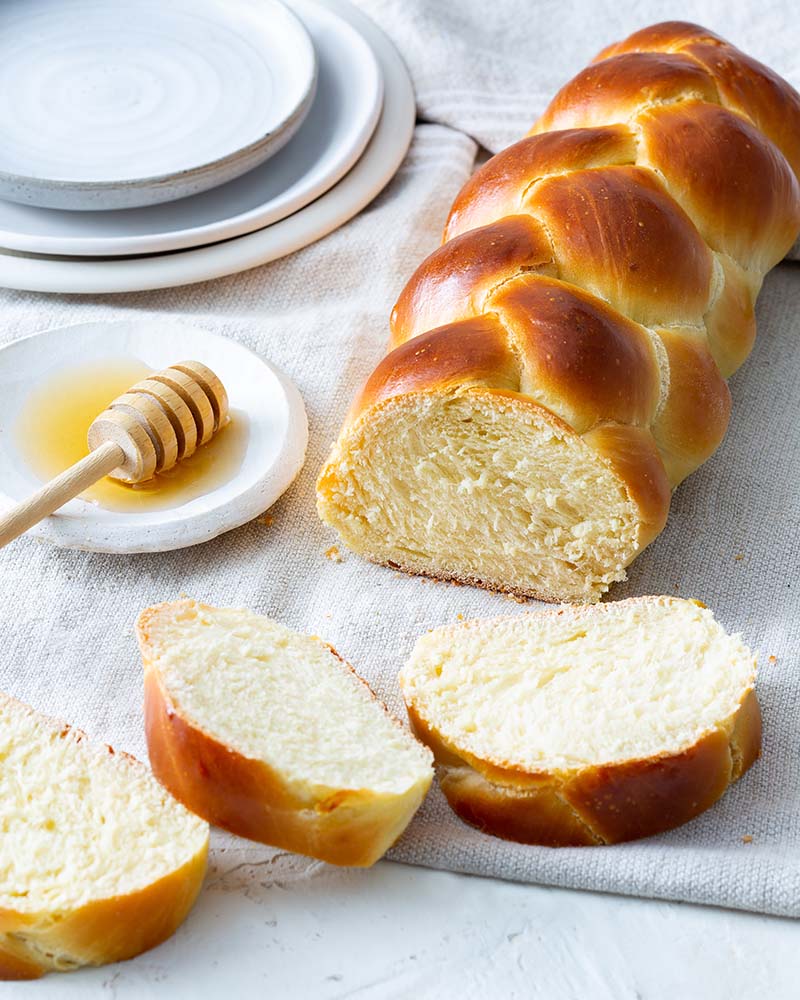 Yield:
2 (1-pound) loaves
Ingredients
6 tablespoons (90 grams) lukewarm water (88°F/31°C)
1 (0.25-ounce) package (7 grams) Platinum Yeast
4¼ cups (540 grams) bread flour, divided
2 tablespoons (24 grams) granulated sugar
1½ tablespoons (14 grams) kosher salt
3 large eggs (150 grams), room temperature and divided
3 large egg yolks (56 grams), room temperature
¼ cup (85 grams) honey
¼ cup (56 grams) vegetable oil
4 tablespoons (60 grams) water, divided
Instructions
STEP 1. In the bowl of a stand mixer fitted with the paddle attachment, whisk together 6 tablespoons (90 grams) lukewarm water and yeast by hand until dissolved. Add 1 cup (127 grams) flour, and beat at low speed until combined, about 30 seconds. Cover and let rise in a warm, draft-free place (75°F/24°C) until doubled in size, 20 to 30 minutes. Add sugar, salt, and remaining 3¼ cups (413 grams) flour. Switch to the dough hook attachment.


STEP 2. In a medium bowl, whisk together 2 eggs (100 grams), egg yolks, honey, oil, and 3 tablespoons (45 grams) water. Add egg mixture to flour mixture, and beat at very low speed until dough comes together, about 2 minutes. Increase mixer speed to low, and beat until smooth, 3 to 4 minutes. Check for proper gluten development using the windowpane test. (See Note.)


STEP 3. Lightly oil a large bowl. Shape dough into a smooth ball, and place in bowl, turning to grease top. Cover and let rise in a warm, draft-free place (75°F/24°C) until doubled in size, 1½ to 2 hours. (See Note).


STEP 4. Line 2 baking sheets with parchment paper.


STEP 5. Divide dough in half. Divide each half into 4 equal portions (about 122 grams each). On a lightly floured surface, roll each portion into a rope about 16 inches long, tapering ends. Place 2 strands end to end horizontally, and place 2 strands end to end vertically, perpendicular to the first so that they meet in the middle to form a plus sign. Pinch ends together in the middle to seal. Start braid by lifting top strand and placing to the left of bottom strand. Move original bottom strand to the top. Then, move left strand to surface above right strand. Move original right strand to the left side. Repeat this pattern until you've reached end of strands. Pinch ends together to seal, and tuck under. Place on one prepared pan. Repeat with remaining dough. Loosely cover with plastic wrap, and let rise in a warm, draft-free place (75°F/24°C) until doubled in size, 1 hour to 1 hour and 15 minutes.


STEP 6. Preheat oven to 325°F (170°C).


STEP 7. In a small bowl, whisk together remaining 1 egg (50 grams) and remaining 1 tablespoon (15 grams) water. Generously brush loaves with egg wash.


STEP 8. Bake until golden brown and an instant-read thermometer inserted in center registers 190°F (88°C), 25 to 30 minutes, covering with foil to prevent excess browning, if necessary. Let cool on pans for 10 minutes. Serve warm or at room temperature.
Notes
To check for proper gluten development, use the windowpane test: Pinch off a small piece of dough, and carefully stretch to a thin sheet. If dough stretches into a translucent sheet without tearing, it is ready. If dough tears, it requires more kneading.

To test for doubling, quickly press the tips of two fingers ½ inch into dough. If dents remain, the dough has doubled in size.