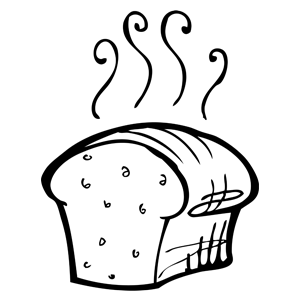 Ingredients
For the dough:
3¾ cups bread flour
½ cup sugar
1 tsp salt
¾ tsp cinnamon
Shredded rind of 1 lemon
¼ cup shortening, soft
1¼ cups water
2 packages (4½ tsp) RED STAR Active Dry Yeast
2 eggs
½ cup currants or seedless raisins, washed and drained


For the topping:
About ¼ cup milk or cream for brushing
2-3 Tbsp granulated sugar to sprinkle on tops of buns


For the icing:
1 cup confectioners' sugar
Pinch of salt
1 to 2 TBSP hot milk or water
Instructions
Have water at 110°-115°F and all other ingredients at room temperature.


Measure the first 6 ingredients into a bowl; blend. Set aside. Pour the water into a mixing bowl; add the yeast. Let stand 3 to 5 minutes; stir. Add the eggs and ½ the flour-mixture. Beat 2 minutes with electric mixer on medium speed, or by hand until smooth. STOP MIXER. Add currants with the rest of the ingredients and beat again with a spoon until smooth...1 to 1-1/2 minutes. Scrape down batter from sides of bowl. Cover. Let rise in warm place until doubled...about 30 minutes. Meanwhile, grease muffin cups. Any size muffin cups may be used; fill only half full.


Beat down raised batter in about 25 strokes. This is a thick, somewhat sticky batter. Spoon into muffin cups, filling no more than half full. Tap pans on table to settle the batter. Let rise until batter reaches tops of cups...20 to 30 minutes. Preheat oven to 400°F. Just before baking, brush tops of buns with milk or cream and sprinkle with sugar. Bake 10 to 15 minutes or until well browned on sides and tops. Remove from pans and cool on racks. Make icing: mix ingredients together to make a thick icing. Put in a zipper bag and snip bottom corner. Pipe crosses on top of rolls with icing.