Banana Date Bread
A rich loaf studded with dates and the full flavor of banana is sure to become a favorite.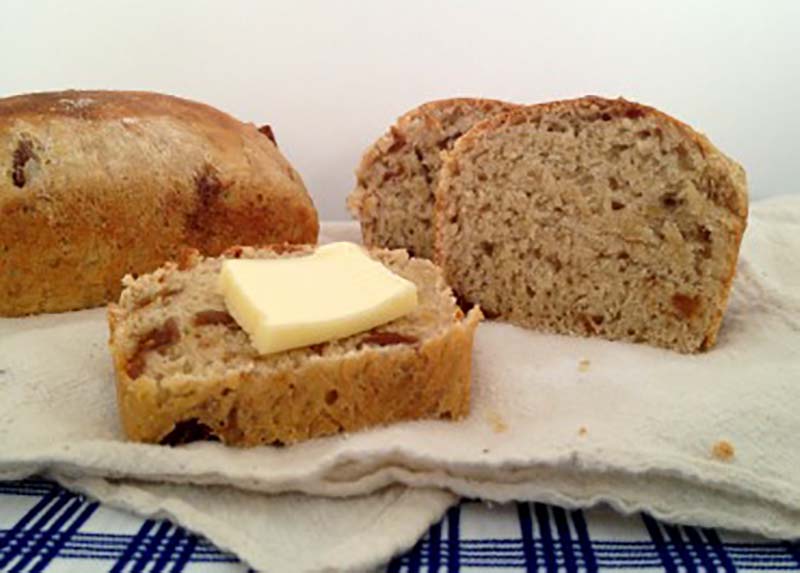 Ingredients
Small Loaf (1 lb. bread machine)
½ cup banana
¼ cup water
1 egg
4 tsp vegetable oil
4 tsp brown sugar, packed
1 tsp salt
2¼ to 2⅓ cups bread flour
1½ tsp RED STAR Active Dry Yeast
¼ cups dates, chopped
Medium Loaf (1½ lb. bread machine)
¾ cup banana
¼ cup water
2 eggs
2 Tbsp vegetable oil
2 Tbsp brown sugar, packed
2 tsp salt
4 cups bread flour
1 Tbsp RED STAR Active Dry Yeast
½ cups dates, chopped
Instructions
Bread Machine Method
Measure ingredients into bread pan in the order listed. Select White/Basic cycle. Select loaf size and Medium crust. Check dough consistency after 5 minutes of kneading. The dough should be in a soft, tacky ball. If it is dry and stiff, add water, ½ to 1 TBSP at a time. If it is too wet and sticky, add 1 TBSP of flour at a time. Add dates 5 minutes before the end of the last kneading cycle. When Bake cycle is completed, remove bread from pan; cool on wire rack. See our Bread Machine section for more helpful tips and information.


Traditional Method
Add yeast to warm tap water (110°F to 115°F). Stir to dissolve. Allow to set until yeast is bubbly and a foam layer appears. In medium mixing bowl, beat egg(s), bananas, sugar, oil, and salt. Add the yeast mixture and 1-cup flour; beat 2 minutes. By hand, stir in dates and enough remaining flour to make firm dough. Knead on floured surface until smooth and elastic, 5 to 7 minutes; add additional flour if necessary. Place in greased bowl; turn to grease top. Cover; let rise in warm place until dough tests "ripe." (Gently stick two fingers in the risen dough up to the second knuckle and take them out. If hole indentations remain, the dough is "ripe.")


Turn dough onto a lightly floured surface; punch down to remove air bubbles. To form a loaf, roll or pat into a 12- x 9-inch or 12- x 8-inch rectangle. Starting with shorter side, roll up tightly, pressing dough into roll with each turn. Pinch edges and ends to seal. Place in lightly greased 9- x 5-inch or 8 ½ - x 4 ½- inch loaf pan. Cover; let rise until indentation remains after touching. Bake in preheated 375°F oven: loaf, 30 to 35 minutes. Remove from pan; cool.


You can substitute Instant (fast-rising) yeast for Active Dry Yeast. Traditional methods- replace 1:1. Expect your dough to rise faster; always let your dough rise until 'ripe'. Bread Machines- use ½ tsp Instant yeast (or ¾ tsp Active Dry yeast) per cup of flour in your recipe. Visit our Lessons in Yeast & Baking for more information.


This recipe is featured at Cooking With Books.