Baba Au Rhum
A rich, no knead yeast cake, baked in a bundt pan and soaked with a rum flavored sugar syrup.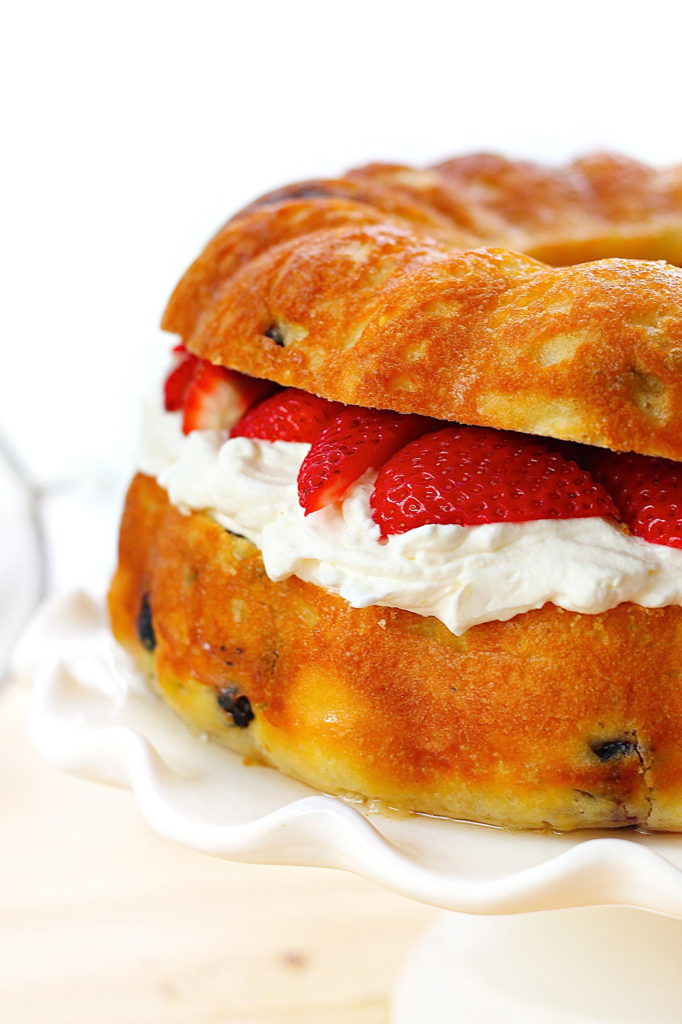 Yield:
1 bundt cake or 12 individual cakes
Ingredients
For the cake:
3 cups all-purpose flour
1 package (2¼ tsp, ¼oz, 7g) RED STAR Active Dry Yeast
¼ cup water
½ cup milk
¾ cup butter
¼ cup sugar
½ tsp salt
4 eggs
½ cup currants, or chopped almonds and currants (or blueberries, pictured)
½ tsp almond extract
For the rum-lemon syrup:
2 cups sugar
4 cups water
4 tsp rum extract
1 tsp lemon juice
For the filling (optional):
1 cup heavy cream
¼ cup sugar
10 oz fresh strawberries, sliced or quartered
Instructions
Measure 1¾ cups of the flour into a large mixer bowl. Add the yeast, blend. Measure water, milk, butter, sugar and salt into a pan. Heat until warm (120°-130°F), stirring constantly. Pour into flour-yeast mixture. Mix until just combined. Add eggs. Beat ½ minute with electric mixer on low speed, scrape bowl. Beat 3 more minutes at high speed. STOP MIXER. Blend in the rest of the flour, currants, and extract. Cover bowl. Let rise in warm place until doubled, about 30 to 45 minutes.


Turn into buttered 12-cup Bundt pan or 2-quart turban mold, OR 12 individual baba or ring molds filling half full. Let rise until doubled, about 45-60 minutes. Bake in preheated 350°F oven for 25 to 35 minutes for large mold, OR 15 to 20 minutes for small molds, or until cake tester comes out clean . Cake will be golden brown. Cool in pan for about 15 minutes. ** Prick cake with fork while in pan, then invert, remove from pan, and prick again. Pour hot Syrup* over cake, a little at a time until Syrup is absorbed.


*Rum-Lemon Syrup - Boil sugar in water for 8 to 10 minutes. Remove from heat and stir in rum extract and lemon juice. Pour syrup over Baba a little at a time and let stand until Syrup is absorbed.


For optional strawberries & cream filling (via A Treats Affair):
Invert cake onto a wire rack and cool completely. While cake is cooling, make syrup (but only use 2 cups water and 1 cup sugar, rum extract and lemon juice are the same amounts). With a spoon, gently pour about ⅓ cup syrup on top of the cake. Let the cake absorb the syrup before pouring another ⅓ cup.


With a serrated knife, cut the cake in half (about 1 inch thick the upper slice). Remove the top slice. With a spoon pour ⅔ cup syrup over the bottom slice. Let the syrup soak in.


In a clean, grease free bowl, add the heavy cream and whisk, on low to medium speed until soft peaks form. Slowly add the sugar and keep mixing until firm peaks form.


With a spatula, spread the cream over the bottom slice. Place the strawberries on top of the cream. Gently, place the top cake slice over the strawberries. Pour the remaining syrup and let the cake soak for an hour or so.


Slice carefully and enjoy!


Recipe featured at A Treats Affair.