Asiago Cheese and Rosemary Bagels
These bagels are just how you would find them in New York. Covered in cheese and studded with fresh rosemary they're perfect for breakfast or lunch. Ready in about 2 hours!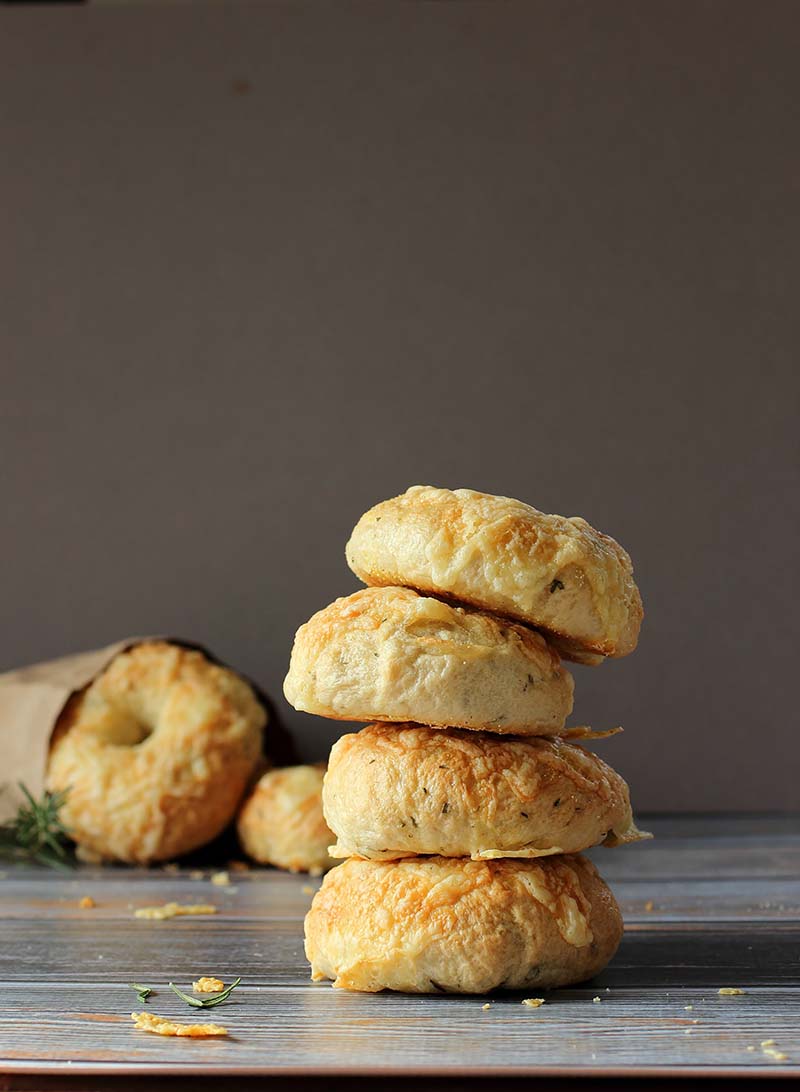 Ingredients
For the bagels
1 Tbsp canola or wegetable oil, for coating rising bowl
Cornmeal - for dusting cooking tray
4 cups bread flour
1 package (2¼ tsp, ¼oz, 7g) RED STAR Quick·Rise Yeast
1½ tsp salt
1 Tbsp brown sugar
1½ cups very warm tap water (120-130°F)
2 Tbsp fresh rosemary, finely chopped
6 ounces grated Asiago cheese
For the water bath
2 quarts water
2 Tbsp brown sugar
1 Tbsp granulated sugar
Instructions
Coat a large mixing bowl (for rising dough) with 1 tablespoon of canola or vegetable oil. Line a cookie tray with parchment paper and dust lightly with the cornmeal. Set aside.


In the bowl of a stand mixer fitted with a dough hook, add the flour, yeast, salt and brown sugar and mix on low speed to combine the ingredients (or whisk before attaching bowl).


Add the warm water and the rosemary to the bowl and mix on low for about 10 minutes, until dough is soft and elastic.


Take the dough from the mixing bowl and roughly knead into a ball shape.


Place the ball into the bowl which was coated with oil. Cover with plastic wrap and let sit in a warm place for 1 hour.


After the dough has risen, take it from the bowl and gently punch it down to get rid of most of the air.


Divide the dough into 8 pieces each weighing about 3.5 ounces. Roll each piece into a ball and place them on the cookie tray.


Cover with a clean towel and let sit for another 20-25 minutes.


Bring the water to a boil and preheat the oven to 425°F.


Take the towel off and gently poke a hole in each dough ball with your thumb, making sure to keep the bagel nice and round with an even hole. Hole can be quite large, as it will shrink when boiled. Place back on the tray.


When they all have holes poked in them and your water is boiling, place 3-4 bagels into the water and boil for 2 minutes. Turn each bagel over and boil for another 1 minute. Scoop the bagels out with a large, slotted spoon and place them back on the cookie tray, right side up.


When all of the bagels have been boiled, sprinkle grated cheese over the tops.


Place the tray into the oven and bake for 25 minutes, or until bagels are a nice golden brown color.


Recipe created by Foodness Gracious.