Apricot-Glazed CoffeeCake
A rich cake-like yeast bread flavored with lemon rind, fruits and almonds that is reminiscent of the Austrian Guglehupf. This special holiday coffeecake glistens with a glaze of apricot preserves. Quick and easy to make, it has only one rise.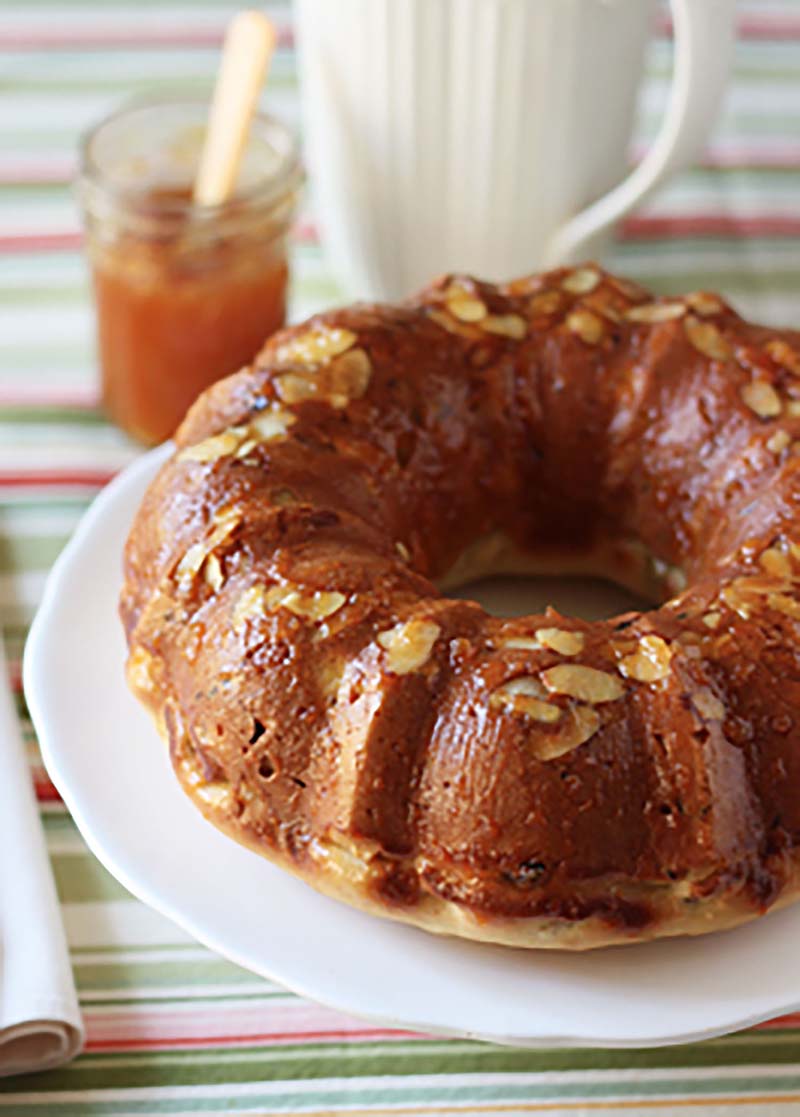 Yield:
One 12-inch bundt cake
Ingredients
Whole or sliced almonds to line Bundt pan
3 to 3½ cups bread flour
1 package (2¼ tsp, ¼oz, 7g) RED STAR Platinum Yeast
½ cup sugar
1 tsp grated lemon rind
½ tsp salt
¾ cup milk
¼ cup water
¼ cup butter or margarine
3 eggs
¼ cup golden raisins
¼ cup chopped dried apricots
¼ cup chopped red and green candied cherries
¼ cup chopped almonds
¼ cup apricot preserves
Instructions
Arrange almonds in each section of a well-greased 12-cup Bundt pan. In a large mixer bowl, combine 2 cups flour, yeast, sugar, lemon rind, and salt; mix well. Heat milk and water until very warm (120-130°F); add to flour mixture. Add butter and eggs. Blend at low speed until moistened; beat 3 minutes at medium speed. Mix fruits and almonds with ¼ cup flour; stir into batter. Gradually stir in enough remaining flour to make a stiff batter. Spoon batter carefully into pan. Cover; let rise in warm place about 30 minutes. Bake at 350°F for 40 to 45 minutes until golden brown. Cool 10 minutes in pan; invert onto serving plate.


Heat apricot preserves; brush coffee cake. Serve warm or cold.


TIP: Coffee cake may be baked in a 9- inch fluted Coppertone Guglehupf mold.


*You can substitute Instant (fast-rising) in place of Active Dry Yeast in batter/no knead recipes. When using Instant Yeast, expect your batter/dough to rise faster - about 50% faster. Adjust your rise times accordingly. Traditional methods: use equal amounts; Bread Machine: use ½ tsp Instant Yeast OR ¾ tsp Active Dry Yeast per cup of flour in your recipe. Visit our Lessons in Yeast & Baking for more information.


This recipe is featured at Tutti Dolci.