Apple Crisp Sweet Roll Coffee Cakes
When you combine apple crisp with a sweet roll, you get a beautiful, delicious coffee cake that's loaded with apples, topped with a crumbly streusel topping piled high on a tender, buttery sweet roll.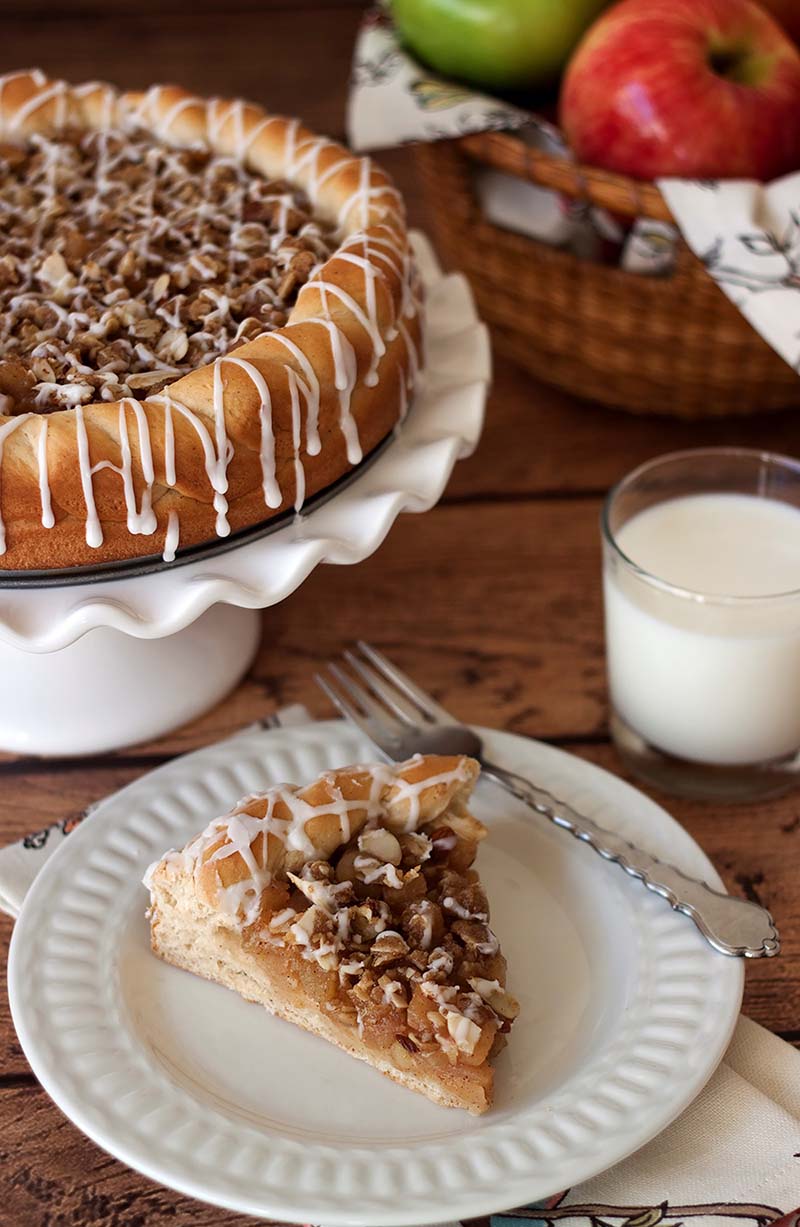 Yield:
Two 8-serving coffee cakes
Ingredients
For the dough:
2 to 2½ cups unbleached all-purpose flour
1 cup whole wheat pastry flour
¼ cup sugar
One package (2¼ tsp, ¼oz, 7g) RED STAR Platinum Superior Baking Yeast
½ tsp salt
¼ tsp cinnamon
¾ cup milk
¼ cup unsalted butter, cut in to pieces
2 large eggs, room temperature
For the apple filling:
2 granny smith apples, peeled, cored, diced
2 honey crisp apples, peeled, cored, diced
½ cup sugar
1 tsp ground cinnamon
¼ cup fresh lemon juice
3 Tbsp unsalted butter
For the streusel topping:
⅓ cup packed light brown sugar
⅓ cup all-purpose flour
¼ cup old-fashioned rolled oats (not quick-cooking)
¼ cup sliced almonds
¼ teaspoon cinnamon
⅛ teaspoon salt
3 tablespoons butter, melted
For the icing:
1 cup powdered sugar
1 Tbsp milk (add more/less to achieve desired consistency)
Instructions
In the bowl of a stand mixer, using the paddle attachment, combine 1 cup flour, 1 cup whole wheat pastry flour, sugar, yeast, salt, and cinnamon.


In a microwave safe dish, heat milk and butter until warm (120°-130°F). Add heated milk and butter to flour mixture. Mix in eggs. Blend at low speed until moistened. Beat 3 minutes at medium speed.


Switch to the dough hook and mix in the remaining flour a little at a time, to make a soft dough, adding more or less flour as needed. Knead the dough for 5 minutes. Place in greased bowl, turning to grease top. Cover; let rest until doubled, about an hour.


While the dough is rising, prepare the apple filling: In a large bowl, or Ziploc bag, combine apples, ½ cup sugar, lemon juice, and cinnamon. Melt 3 tablespoons butter in a sauté pan. Add the apple mixture and sauté over medium heat until apples are tender and juices are thickened, about 10 minutes. Remove from heat and cool to room temperature before using.


Prepare streusel topping: In a large bowl combine brown sugar, flour, oats, almonds, cinnamon, and salt. Add melted butter and mix with a fork or your hands until mixture forms large crumbs.


Coat a 9-inch springform pan with non-stick cooking spray, or cut 2 pieces of parchment to fit 2 9-inch round cake pans. Sprays pans, line with parchment, and spray parchment.


Divide dough in half and keep remaining half covered with plastic wrap.


Divide the dough again in to two pieces – a smaller piece ⅓ of the dough and a larger piece ⅔ of the dough. Shape the larger piece into a ball, then on a lightly floured surface, roll the dough in to a 9-inch round. Put the round in to the bottom of the springform pan. If necessary, use your fingers to press the dough to fit the pan.


Divide the smaller piece in to four pieces. Use your hands to roll each piece in to a 16-inch long rope. Twist two ropes together and place it on top of the dough in the pan, along the outside to create an decorative border. Repeat with the remaining two ropes and join the twists together in the pan. Cover.


Repeat with remaining half of the dough.


Place half of the apple filling in the middle of each coffee cake and spread to the border. Top the apple filling with streusel topping.


Cover; let rise in warm place until doubled in size, about 45 minutes.


Preheat oven to 350°F. Uncover coffee cakes. Bake 20 to 25 minutes or until golden brown. Cool 5 minutes. Carefully remove from pan; place on serving plate.


Icing: In a small bowl, whisk together the powdered sugar and milk until smooth. Drizzle over warm coffee cakes.


Recipe created by Barbara Bakes.