Apple Cinnamon Walnut Bread
The epitome of American comfort food with apples, cinnamon, walnuts and white bread.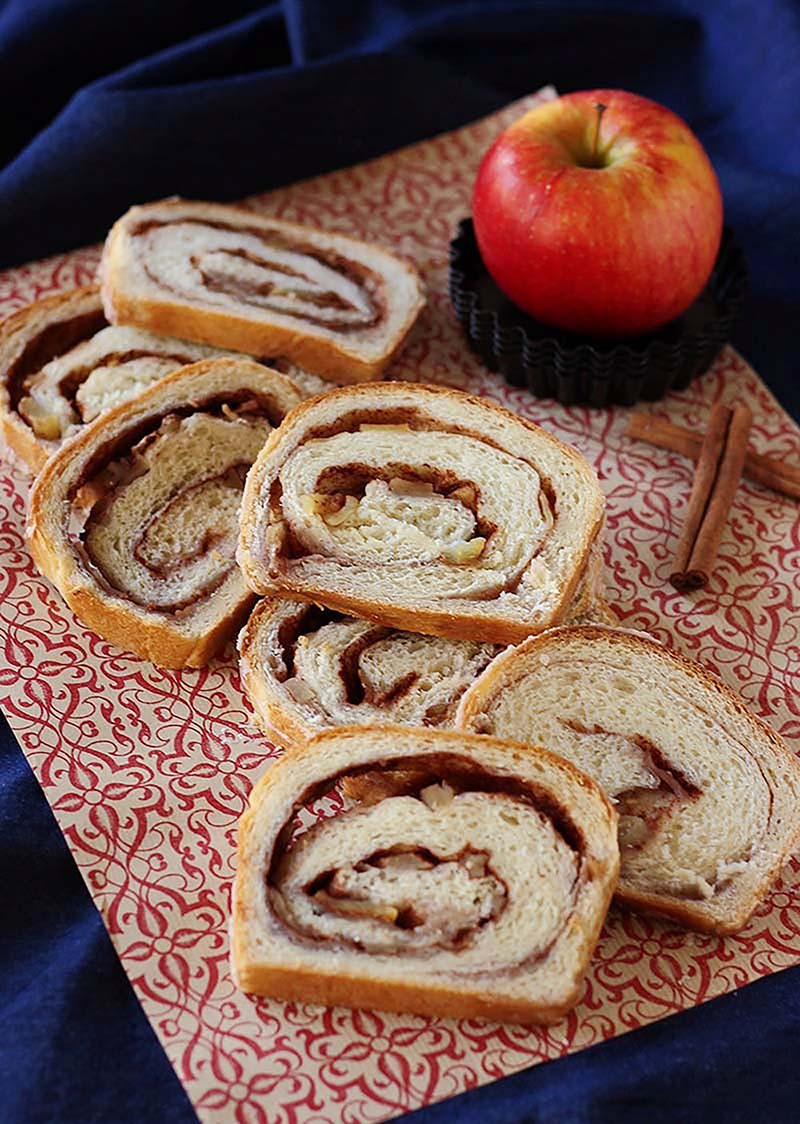 Ingredients
For the dough:
4 cups bread flour
1 package (2¼ tsp, ¼oz, 7g) RED STAR Active Dry Yeast
2 tsp salt
¼ cup sugar
1 cup water
½ cup milk
¼ cup butter
For the filling:
⅔ cup sugar
4 tsp cinnamon
2 Tbsp butter, melted
2 cups apples, peeled, cored and thinly sliced
1 cup walnuts
For the glaze:
1 cup powdered sugar
2 Tbsp lemon juice (or milk)
Instructions
Combine 1 cup bread flour, yeast, salt, and sugar in a large mixer bowl; mix on low speed with a paddle attachment until incorporated. Heat water, milk and butter until very warm (120-130°F). Add warm milk mixture to flour mixture and mix until combined.


Add remaining bread flour 1 cup at a time, mixing just until combined. Switch to a dough hook, and knead dough for 5 minutes until smooth and elastic (if dough is sticking, add additional flour, 1 tablespoon at a time. The dough is ready when smooth and tacky (dough will stick to the finger, then release).


Placed dough in lightly oiled bowl and turn to grease top. Cover; let rise until dough tests ripe. Turn dough onto lightly floured surface; punch down to remove air bubbles. Divide dough into 2 sections. Let rest 10 minutes.


Prepare filling: Combine sugar and cinnamon in small bowl.


Roll or pat each dough into a 12x8-inch rectangle. Brush one dough with melted butter; sprinkle with half of cinnamon mixture. Place half the apple pieces and walnuts evenly over dough. With a rolling pin, push apples, walnuts and cinnamon sugar lightly into the dough. Roll dough tightly, starting with the short (8-inch) end; pinch edges to seal. Repeat with the second dough.


The dough is very soft and sticky. Carefully lift and place pieces into greased 8½ x 4½-inch loaf pans. Press dough to fit pan, and smooth top. Cover; let rise until almost double in size, or until indentation remains after touching.


Bake in a preheated 350°F oven for 35-40 minutes, until golden brown. Place a tented piece of aluminum foil over breads during the last 15 minutes to prevent over-browning. Remove from oven after baking and brush tops of loaves with remaining melted butter. Remove from pans; cool on wire rack 10-20 minutes. Combine glaze ingredients; drizzle on loaves.


Delicious when served warm.


*You can substitute Instant (fast-rising) yeast in place of Active Dry Yeast. When using Instant Yeast, expect your dough to rise faster. Always let your dough rise until ripe. Traditional methods: use equal amounts; Bread Machine: use ½ tsp Instant Yeast OR ¾ tsp Active Dry Yeast per cup of flour in your recipe. Visit our Lessons in Yeast & Baking for more information.


Recipe featured at Tutti Dolci.