Apple Cinnamon Babka

Author: Sally McKenney Quinn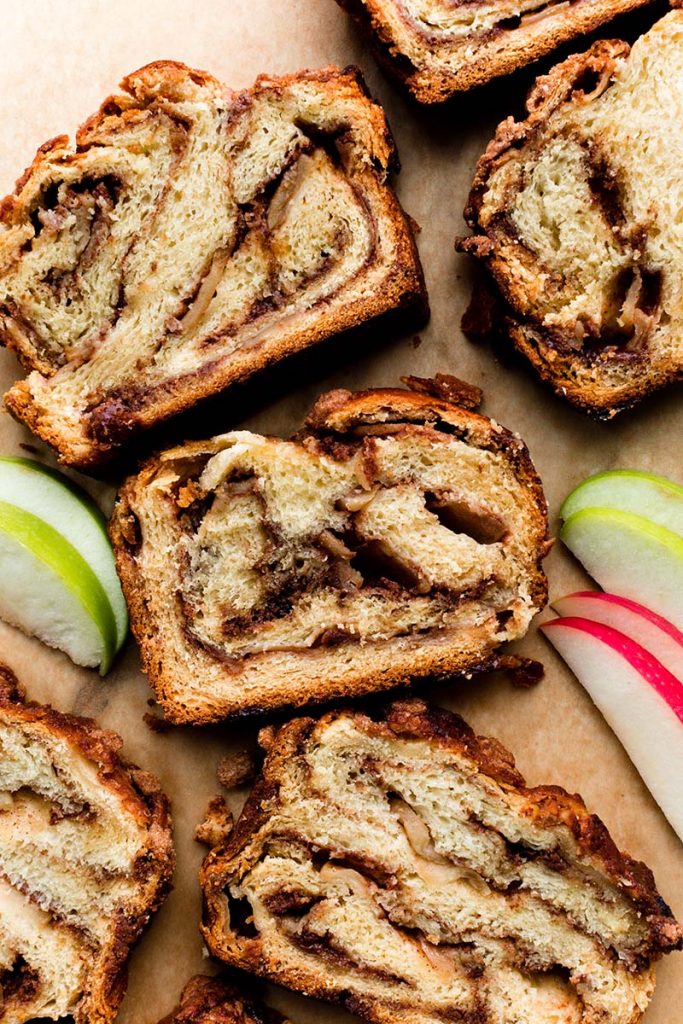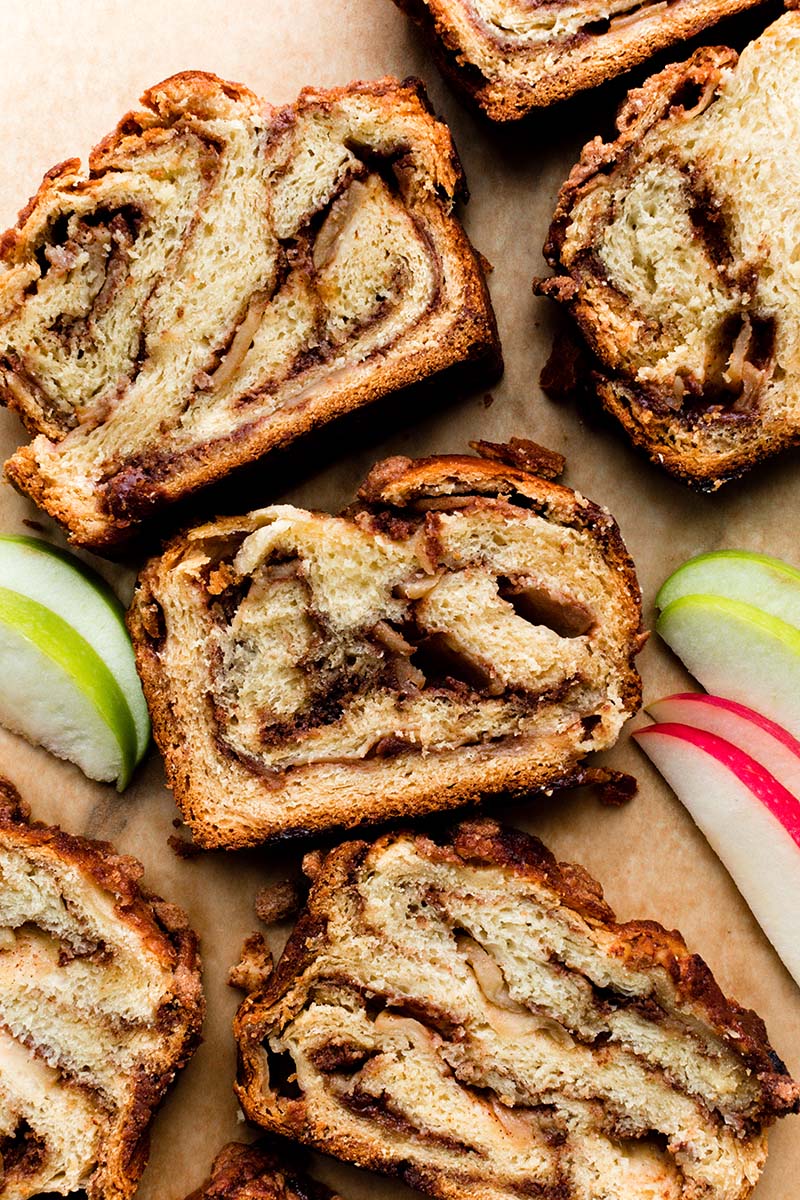 If there's one treat you bake during the fall season, let it be this homemade babka!
Sweet apples, cinnamon filling, buttery rich dough, and a brown sugar cinnamon crumble come together in this apple cinnamon babka recipe. It's loaded with irresistible apple cinnamon swirls and smells incredible as it bakes.
While the ingredients are pretty straightforward and simple (butter, flour, eggs, sugar, etc), the entire process takes a little extra effort. Let me share a few success tips to help you get started.
For a strong dough that will hold in all this apple cinnamon filling, use quality yeast. I recommend Platinum Yeast from Red Star, an instant yeast that is blended with natural dough improvers.
As you prepare the dough, use only as much flour as you need to bring it together. Adding too much flour can dry out the babka. Expect a very soft and buttery dough.
With milk, butter, and egg yolks, this dough is rich with fat. It will take longer than other doughs to rise. Don't be nervous if it's been nearly 4 hours and the dough still hasn't doubled in size. It will, I promise!
Shaping the babka can get messy, but take your time. Roll the dough out into a 12×16 inch rectangle, spread on the cinnamon filling, arrange the apples on top, then roll it up into a tight 16-inch log. Fold it in half, then twist it to form a figure 8.
The crumble topping is optional, but adds another layer of decadence. Plus, it uses some of the same ingredients you need for the dough and filling, so why not?
To prevent the layers from separating, poke several holes into the top of the loaf before baking.
This last success tip definitely requires some self control, but try to wait for the babka to cool completely before cutting into it. The slices stay intact much better after the babka has cooled.
Here are some step-by-step photos. Scroll down for printable recipe and how-to video.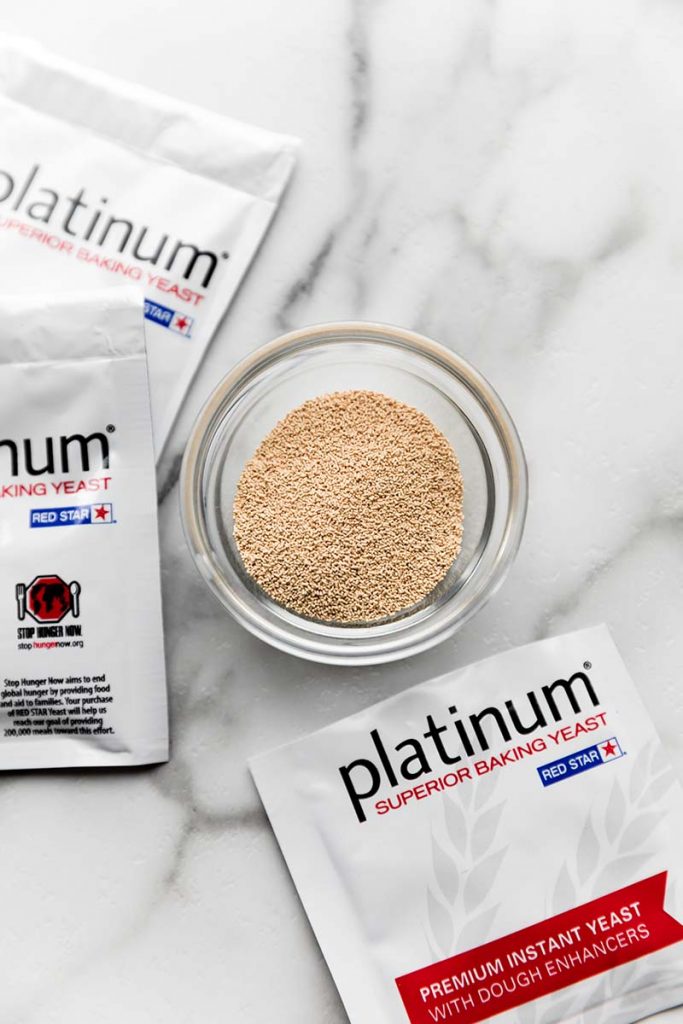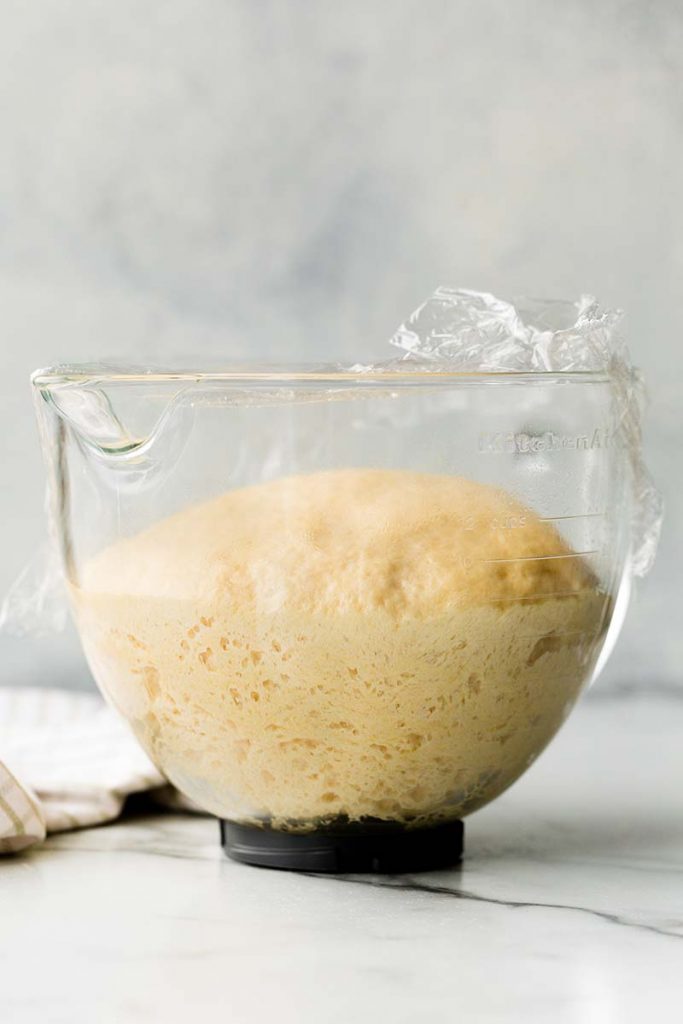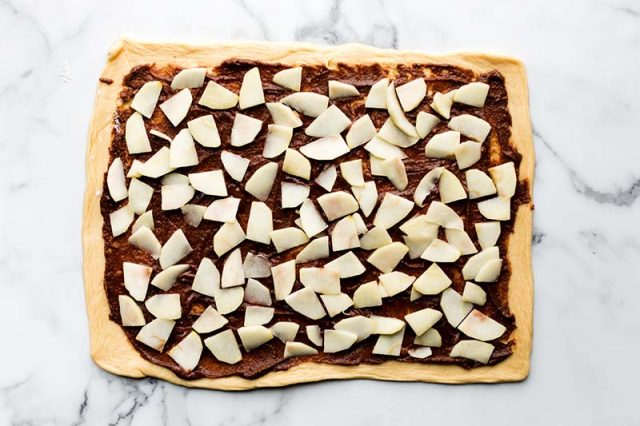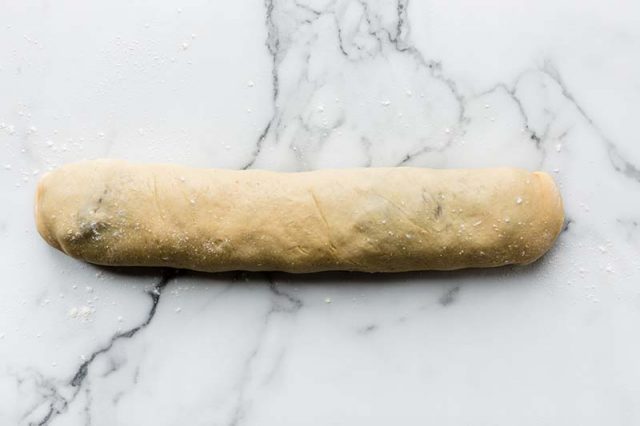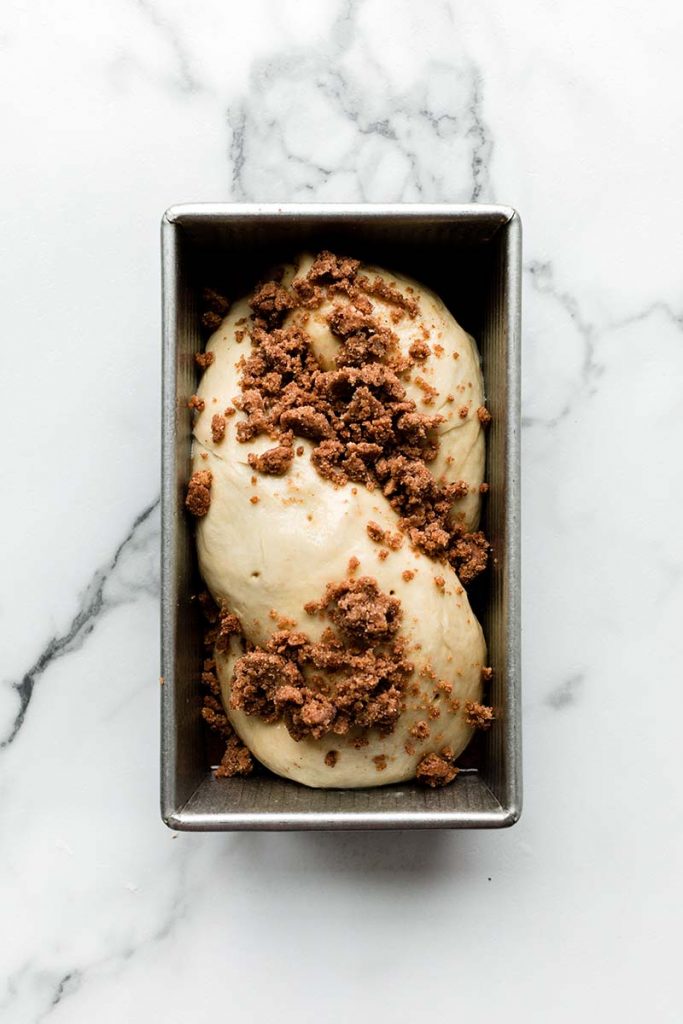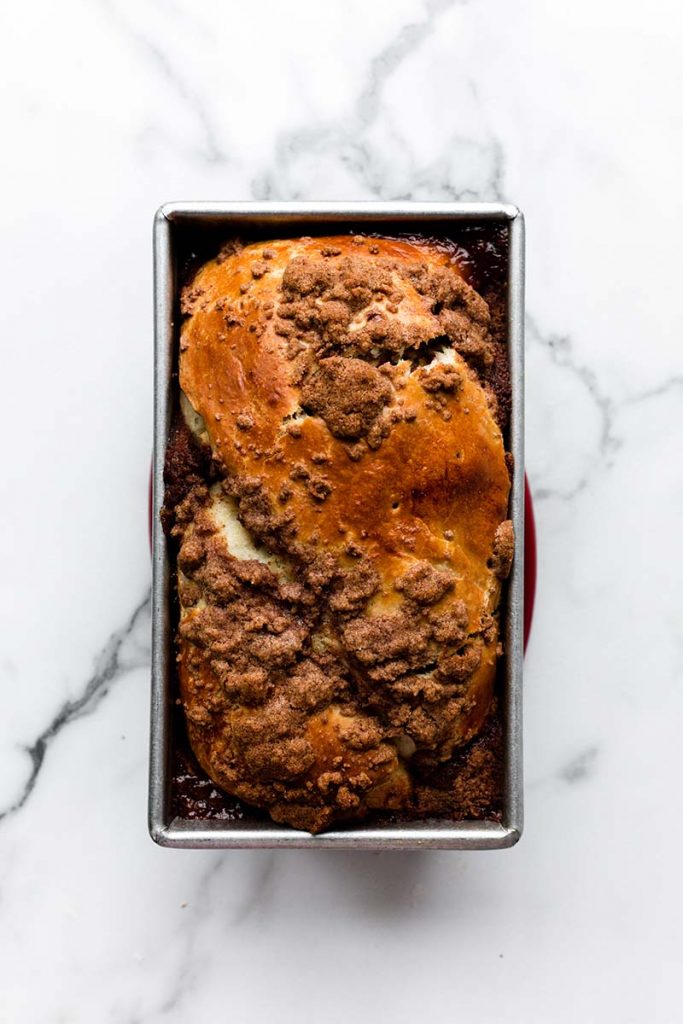 Is it bread? Is it breakfast? Is it dessert? With flaky buttery bread, sweet cinnamon apples, and brown sugar crumble on top, this apple cinnamon babka is EVERYTHING!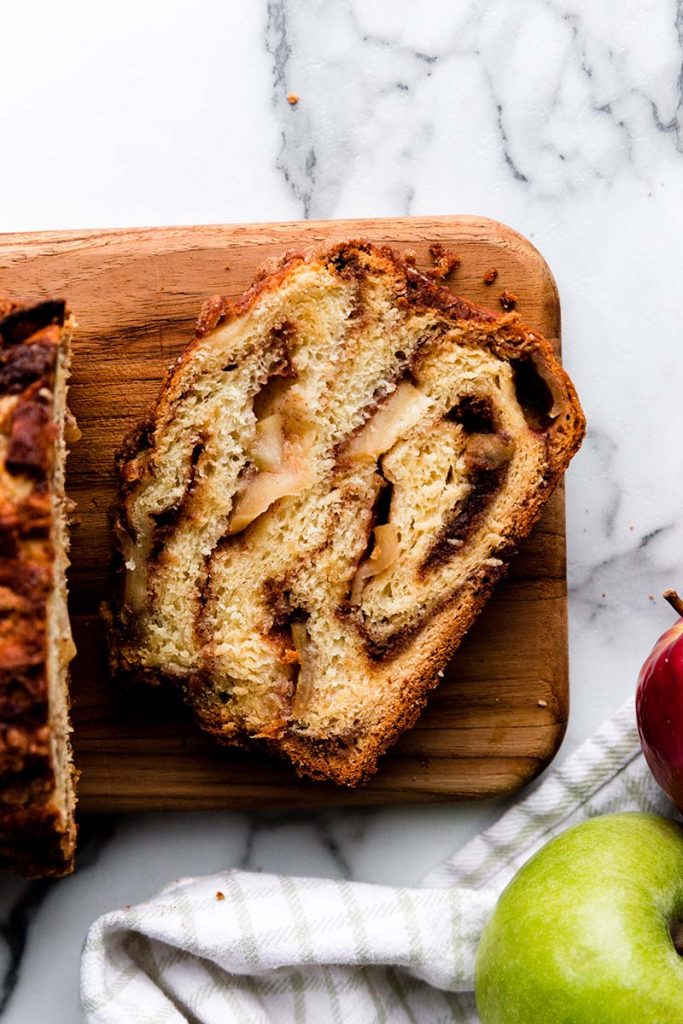 Apple Cinnamon Babka Video Tutorial

Apple Cinnamon Babka
This apple cinnamon babka features sweet apples and a thick cinnamon filling twisted inside a rich and buttery yeasted dough. See recipe notes for overnight instructions.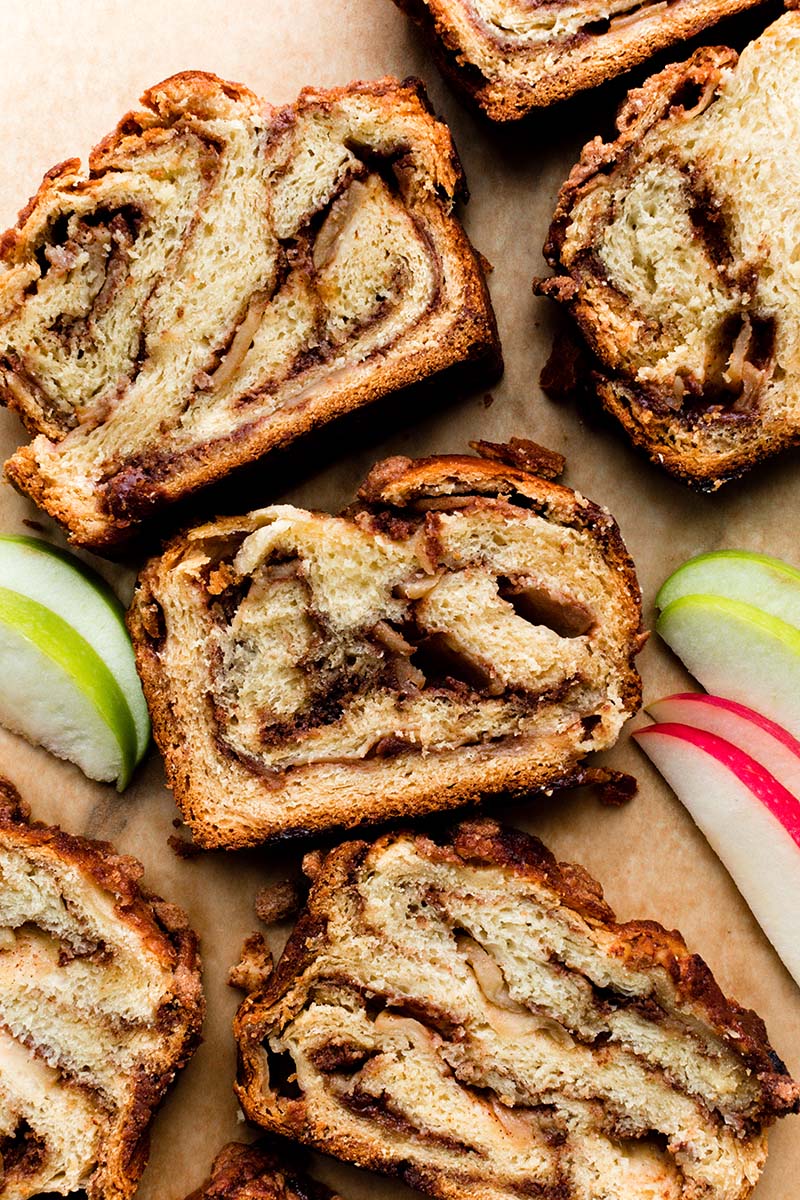 Ingredients
For the dough:
⅔ cup whole milk, warmed to about 110°F
1 package (7g) or 2 and ¼ teaspoons Platinum Yeast
⅓ cup granulated sugar, divided
5 Tablespoons unsalted butter, sliced into 1 Tbsp size pieces and softened to room temperature
2 large egg yolks (reserve 2 egg whites for filling and topping)
1 teaspoon salt
2 and ⅔ cups all-purpose flour, plus more as needed and extra for work surface and hands
For the filling:
3 Tablespoons unsalted butter, divided
2 large apples, peeled and thinly sliced into bite-size pieces (2-2.5 cups)
1 teaspoon lemon juice
1 cup packed light or dark brown sugar
¼ cup all-purpose flour
2 and ½ teaspoons ground cinnamon
¼ teaspoon salt
1 and ½ teaspoons pure vanilla extract
1 large egg white (reserved from dough)
For the crumble topping:
2 Tablespoons packed light or dark brown sugar
2 Tablespoons all-purpose flour
¼ teaspoon ground cinnamon
2 Tablespoons unsalted butter, cold and cubed
For the egg wash
1 egg white (reserved from the dough)
Instructions
Step 1. Prepare the dough: Whisk the milk, yeast, and 1 Tablespoon of sugar together in the bowl of your stand mixer fitted with a dough hook or paddle attachment. Cover and allow to sit for 5 minutes.


Step 2. Add the remaining sugar, the butter, egg yolks, salt, and 1 cup flour. Beat on low speed for 30 seconds, scrape down the sides of the bowl with a rubber spatula, then add another cup of flour. Beat on medium speed until relatively incorporated. Scrape down the sides of the bowl with a rubber spatula. Add ½ cup of flour and beat on medium speed until the dough begins to come together. As the mixer runs, add another 2-4 Tablespoons of flour depending on how wet the dough looks. This should be a very soft and almost creamy-feeling dough. Do not add more flour than you need.


Step 3. Knead the dough: Keep the dough in the mixer and beat for an additional 3 minutes or knead by hand on a lightly floured work surface for 3 minutes.


Step 4. 1st Rise: Lightly grease a large bowl with nonstick spray. Place the dough in the bowl, turning it to coat all sides. Cover the bowl and allow the dough to rise in a relatively warm environment for 3-4 hours or until nearly double in size. This dough is rich with fat, so it takes longer than other doughs to rise.


Step 5. Towards the end of rise time, you can prepare the filling: Melt 1 Tablespoon of butter in a large skillet on the stove over medium heat. Add the apples. Stir and cook until the apples are slightly softened, about 3 minutes. Remove from heat and stir in lemon juice to help prevent browning. Set aside. For the rest of the filling in this step, make sure you don't prepare it too far in advance because the butter will solidify and spreading onto the dough will be difficult. Melt remaining 2 Tablespoons of butter in a medium heatproof bowl in the microwave (or use the stove). Stir in brown sugar, flour, cinnamon, salt, and vanilla extract until crumbly and combined. Stir in the egg white. Set aside.


Step 6. Grease a 9×5 inch loaf pan.


Step 7. Shape the dough: After the dough rises, punch it down to release the air. Flour a work surface, your hands, and a rolling pin. Roll the dough out into a 12x16 inch rectangle. Carefully and slowly spread the cinnamon filling mixture on top. Add the apples in a single layer. Using floured hands, tightly roll up the dough to form a 16-inch long log. Place the log on its seam. Fold in half, then twist it to form a figure 8. Pinch the ends together.


Step 8. 2nd Rise: Cover shaped babka and allow to rise until it's puffy and nearly reaches the top of the loaf pan, about 1-1.5 hours.


Step 9. Towards the end of rise time, you can prepare the crumble topping: Mix the brown sugar, flour, and cinnamon together. Add the cold butter and using a pastry cutter or a fork, cut butter into the brown sugar mixture until small crumbles form. Refrigerate until ready to use.


Step 10. Preheat oven to 350°F. Place a baking sheet on a lower oven rack to catch any juices or crumbles that may drip/drop down.


Step 11. Carefully brush the surface of the babka with last remaining egg white. Using a toothpick, poke 10-12 holes all over the top of the loaf. Sprinkle crumble topping on top.


Step 12. Bake: Bake for 60-65 minutes or until golden brown on top. If you gently tap on the loaf, it should sound hollow. If you notice the top browning too quickly, loosely tent the pan with aluminum foil. Remove from the oven and allow bread to cool in the pan for at least 30 minutes before slicing and serving. For extra neat slices, I recommend cooling completely before slicing.
Notes
1. Freezing Instructions: Baked babka freezes wonderfully. Wrap the cooled loaf in plastic wrap, then a layer of aluminum foil. Freeze for up to 3 months. Thaw wrapped loaf overnight in the refrigerator or at room temperature, then warm to your liking.

2. Overnight Instructions: Prepare the dough through step 3. Place into a greased bowl (use nonstick spray to grease). Cover tightly and place in the refrigerator for up to 24 hours. Remove from the refrigerator and allow the dough to come to room temperature, then let it rise until doubled in size, about 3 hours. Continue with step 5. I don't recommend shaping the bread the night before as it will puff up too much overnight.

3. Apples: Use your favorite variety of apple. I typically use Granny Smith, Fuji, or Honeycrisp.
---
Baking enthusiast Sally McKenney Quinn is the blogger and photographer behind Sally's Baking Addiction, as well as the author of best-selling cookbooks Sally's Baking Addiction and Sally's Candy Addiction. The kitchen is where her creative juices flow and she enjoys sharing recipes with her millions of fans around the world. When Sally isn't in the kitchen or behind the camera, she enjoys practicing yoga, running off all those cookies, and hiking with her husband, Kevin, and their dog, Jude.