Our Favorite Red Star® Platinum Recipes
Red Star® Platinum can be used in any recipe calling for yeast. Try our wonderful
Oatmeal Walnut Bread recipe found here or any of the great recipes from our blogger/baker friends found below.
Platinum is so simple to use. It can be used in any recipe calling for yeast.
OATMEAL WALNUT BREAD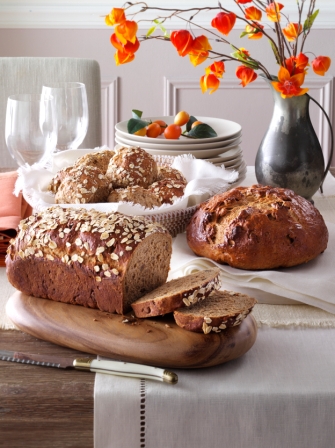 The crunch of walnuts, the rich molasses and the nutty flavors of whole wheat and oats create a wonderful whole-grain loaf. Serve it with pride anytime.
2 cups — Bread Flour.

1 package (1/4 oz.) — Red Star Platinum

1 ½ tsp — Salt

1 cup — Water

4 TBSP — Molasses

2 TBSP — Vegetable Oil

1/2 cup — Quick rolled oats

1 cup — Whole wheat flour

3/4 cup — Walnuts, chopped

Egg, water and rolled oats for topping
Oven 375°F
Makes 1 Loaf or 9 Rolls
In large mixing bowl, combine 1 ¼ cups bread flour, yeast and salt; blend well. Heat 1 cup water, molasses, vegetable oil and rolled oats until warm (120°-130°F). Add to flour mixture. Blend at low speed until moistened; beat 3 minutes at medium speed. By hand, gradually stir in whole wheat flour, nuts and enough remaining bread flour to make a firm dough. Knead on floured surface 5-8 minutes or until dough is smooth and elastic. Use additional flour if necessary. Place dough in lightly oiled bowl and turn to grease top. Cover; let rise in warm place about 15 – 20 minutes.
Turn dough onto lightly floured surface; punch down to remove air bubbles. Roll or pat dough to a rectangle, approximately 14×7. Starting with shorter side, roll up tightly, pressing dough into roll with each turn. Pinch edges and ends to seal. Place in a greased 8 x 4-inch loaf pan. Cover; let rise until indentation remains after lightly touching the side of the loaf, about 30-40 minutes. Combine egg and 1 tablespoon water; brush top of loaf. Sprinkle with rolled oats. Bake in preheated 375°F oven 30 to 40 minutes. Remove from pan; cool.
*Baker's tip: This recipe makes wonderful dinner rolls or a round loaf of bread. To make pan rolls, divide dough into 9 rolls and place them in a greased 8-inch square pan. To make a round loaf, shape into a round loaf and place on a greased cookie sheet. Proceed as above.
VISIT THESE BLOGS FOR MORE GREAT RECIPES
MADE WITH PLATINUM YEAST:
Try Red Star Platinum in any of the many wonderful recipes
found in the Our Best Recipes section of our main website!
PROFESSIONAL RESULTS EVERY TIME!