Oatmeal Walnut Bread
People of Scottish heritage have always highly regarded the use of oats in their baked goods. It is evident in this mellow, whole-grain loaf that the early immigrants brought to the New World.

THIS RECIPE MAKES 1 LOAF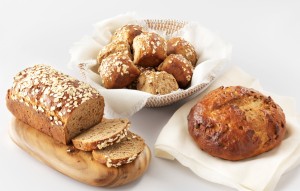 Ingredients
Small
½ cup, plus 1 TBSP Water
1 TBSP Vegetable Oil
3 TBSP Molasses
1 tsp Salt
⅓ cup Oatmeal
⅔ cup Whole wheat flour
1+1/3 cups Bread Flour
1+1/2 tsp Active Dry Yeast
½ cup Walnuts


Medium
1 cup Water
2 TBSP Vegetable Oil
4 TBSP Molasses
1+1/2 tsp Salt
½ cup Oatmeal
1 cup Whole wheat flour
2 cups Bread Flour
2+1/4 tsp Active Dry Yeast
¾ cup Walnuts


Large
1+1/4 cup, plus 2 TBSP Water
3 TBSP Vegetable Oil
5 TBSP Molasses
2 tsp Salt
⅔ cup Oatmeal
1+1/3 cup Whole wheat flour
2+2/3 cups Bread Flour
1 TBSP Active Dry Yeast
1 cup Walnuts
Instructions
Recipe featured at My Kitchen Addiction.


BREAD MACHINE METHOD


Have liquid ingredients at 80°F and all other ingredients at room temperature. Place ingredients in pan in the order specified in your owner's manual. Select basic cycle and medium/normal crust. Walnuts can be added 5 minutes before the end of the last kneading cycle. Check dough consistency after 5 minutes of kneading. The dough should be in a soft, tacky ball. If it is dry and stiff, add water, ½ to 1 TBSP at a time. If it is too wet and sticky, add 1 TBSP of flour at a time. See our Bread Machine section for more helpful tips and information.


MIXER METHODS


Use ingredient amounts listed for medium loaf, combine yeast, 1 cup bread flour, and other dry ingredients except whole wheat flour and walnuts. Combine liquids and heat to 120°-130°F.


Hand-Held Mixer Method: Combine dry mixture and liquid ingredients in mixing bowl on low speed. Beat 2 to 3 minutes on medium speed. By hand, stir in whole wheat flour, walnuts, and enough of the remaining bread flour to make a firm dough. Knead on floured surface 5 to 7 minutes or until smooth and elastic. Use additional flour if necessary.


Stand Mixer Method: Combine dry mixture and liquid ingredients in mixing bowl with paddle or beaters for 4 minutes on medium speed. Gradually add whole wheat flour, walnuts and remaining bread flour and knead with dough hook(s) 5 to 7 minutes until smooth and elastic.


Food Processor Method: Put dry mixture in processing bowl with steel blade. While motor is running, add liquid ingredients. Process until mixed. Continue processing, adding whole wheat flour and remaining bread flour until dough forms a ball. Add walnuts; pulse just until mixed.


RISING, SHAPING AND BAKING


Place dough in lightly oiled bowl and turn to grease top. Cover; let rise until dough tests ripe. Turn dough onto lightly floured surface; punch down to remove air bubbles. Shape into a round loaf. Place on greased cookie sheet. Cover; let rise until indentation remains after touching. Combine 1 egg and 1 tablespoon water; brush top of loaf. Sprinkle with oatmeal. Bake in preheated 375°F oven 30 to 40 minutes. Remove from cookie sheet; cool.


You can substitute Instant (fast-rising) yeast for Active Dry Yeast. Traditional methods- replace 1:1. Expect your dough to rise faster; always let your dough rise until 'ripe'. Bread Machines- use ½ tsp Instant yeast (or ¾ tsp Active Dry yeast) per cup of flour in your recipe. Visit our Lessons in Yeast & Baking for more information.