Rising & Ripe Test (First Rise)
When making yeast bread, the kneaded dough has to have some rise time. During rising, the yeast ferments (eats) the sugar and develops the dough. Rising also improves the flavor and texture of the bread.
After kneading, round your dough into a ball. Place the dough ball in a lightly oiled, large mixing bowl. The dough should be turned over to oil the top so that it doesn't dry out. Cover the bowl loosely with plastic wrap, foil, or a towel. Let the dough rise in a warm, draft-free location. Ideal rise temperatures are between 80°F – 90°F; higher temperatures may kill the yeast and keep the dough from rising; lower temperatures will slow the yeast activity which will increase your rise time.
Suggested Rising Methods
1.  Oven Rising
The oven is an ideal place for rising. For an electric oven or a gas oven with the electronic ignition, heat the oven at the lowest setting for one or two minutes, then TURN IT OFF. In other gas ovens, the pilot light will provide enough warmth, so you don't need to turn it on at all. The oven temperature should not exceed 90°F during the rising time. Place a pan of very warm water toward the back of the oven to provide moisture, which keeps the dough soft during rising. Place the covered bowl or pan of dough on the center rack and close the door.
2.  Microwave Rising
The microwave oven can also be used for the first rising of doughs. Place 1 cup of water in a glass measuring cup in the microwave. Heat on high for 2 minutes. This creates a moist environment to keep the dough soft during rising. Place covered bowl of dough in microwave and close the door.
3.  Warming Drawer Rising
Put 1 cup of very hot water in a glass measuring cup or small bowl in warming drawer. This adds moisture and will keep the dough soft during rising. Turn knob to low or "proof". Place covered bowl of dough in warming drawer and close door.
Ripe test  (First Rise)
Many factors, including the recipe, room temperature, and humidity, will determine how long it takes for your dough to rise. Yeast dough is considered "ripe" when it has risen enough – usually doubling in size. The ripe test determines if the dough is ready to be punched down and shaped.
Gently stick two fingers in the risen dough up to the second knuckle and then take them out.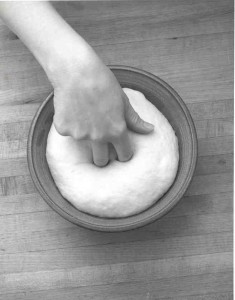 (Click on picture for larger view)
If the indentations remain the dough is "ripe" and ready for punch down. If not, cover and let the dough rise longer. Repeat test.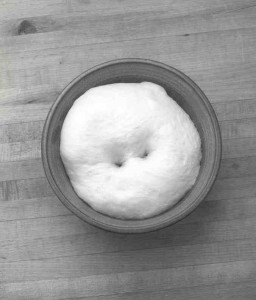 (Click on picture for larger view)
See Proofing & Ripe Test (2nd rise) for additional information on rising.