Whole Wheat Sourdough Sandwich Bread
Don't let the whole wheat flour fool you. This sandwich bread is light and fluffy with just a hint of sourdough to give it great bought-at-the-local-bakery flavor. It's fancy enough for company but still perfect for PB&J during the week.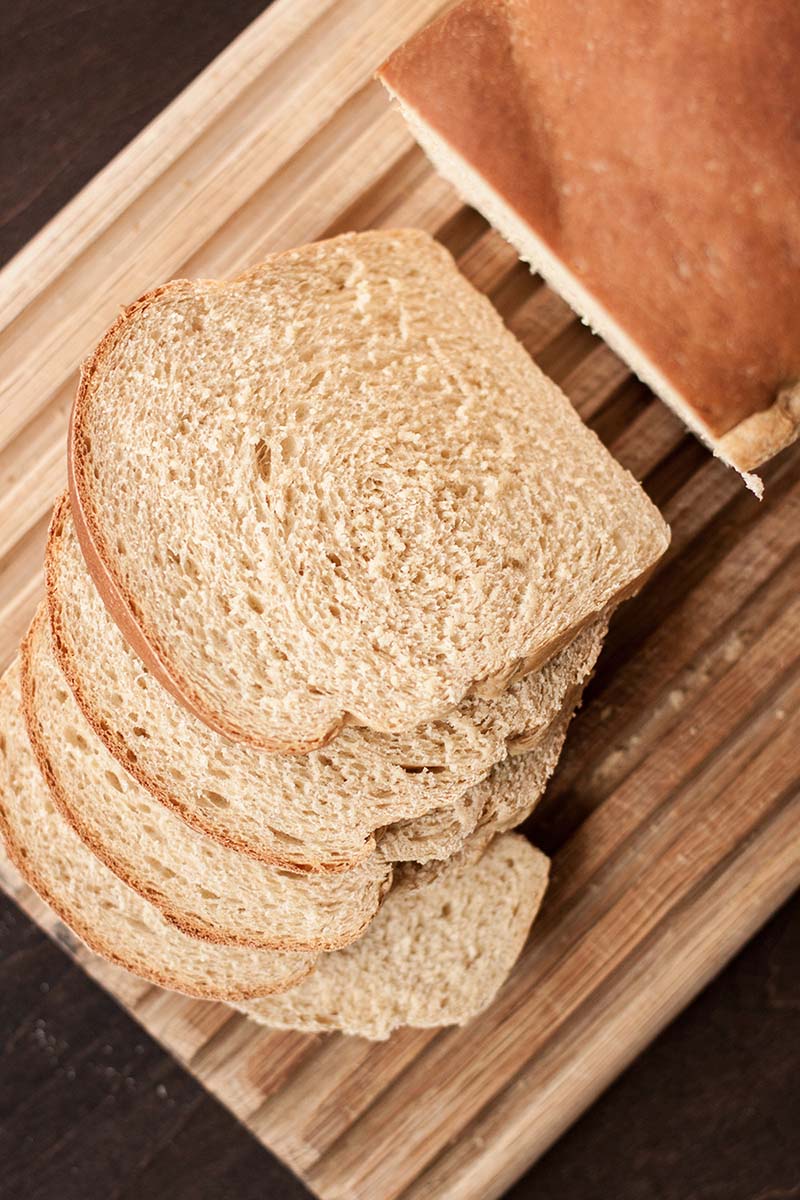 Ingredients
2 cups whole milk
½ cup (1 stick) unsalted butter, cut into 8-10 pieces
2 cups bread flour
1 cup sourdough starter (straight from the fridge)
2 eggs
2 packages (1½ Tbsp, ½oz, 14g) RED STAR Platinum Superior Baking Yeast
¼ cup pure maple syrup
1 Tbsp fine sea salt
4 ½ - 5 cups white whole wheat flour
Instructions
Combine the milk and butter in a microwaveable bowl or glass measuring cup. Microwave on high for 1 - 1 ½ minutes, until the milk is warm to the touch and the butter is very soft. (It's OK if the butter doesn't melt completely.) Pour into the bowl of your stand mixer.


Add the bread flour, sourdough starter, eggs, yeast, maple syrup, and sea salt to the mixer bowl. Using the beater blade, mix on low for about 30 seconds, until the ingredients are well combined. Then, increase the speed to medium, and mix for an additional 2 minutes, until a smooth batter forms.


Add 4 cups of the white whole wheat flour to the bowl. Switch to the dough hook and mix on the lowest (stir) setting on the mixer. A soft dough ball should begin to form after a few minutes. Gradually add just enough remaining flour so that the dough is not sticky to the touch (though, it will still be quite soft). Once the dough is smooth (approximately 3 - 4 minutes), transfer the dough to a lightly greased bowl.


Cover with a damp towel and let the dough rise until it has almost doubled in volume and the imprint of two finger remains in the dough.


Meanwhile, lightly grease two 9 by 5-inch loaf pans. Preheat the oven to 350F.


Punch down the dough and divide it into two equal pieces. Roll each half of the dough out into a rectangle approximately 9 inches wide and 12 inches long. Tightly roll up the dough to form a loaf that is approximately 9 inches wide. Tuck in the ends and place the seam side down in the prepared loaf pan. Cover with a damp towel and let the loaves rest again until the tops are just above the top of the pans and the loaves look slightly puffy.


Bake the loaves for 45 minutes. Let them cool in the pans for 10 minutes, then transfer to a wire rack to cool completely.


Recipe created by My Kitchen Addiction.