Vegan Hazelnut Chocolate-Filled Doughnuts
These vegan doughnuts are easy to make and perfectly filled with homemade hazelnut-chocolate spread!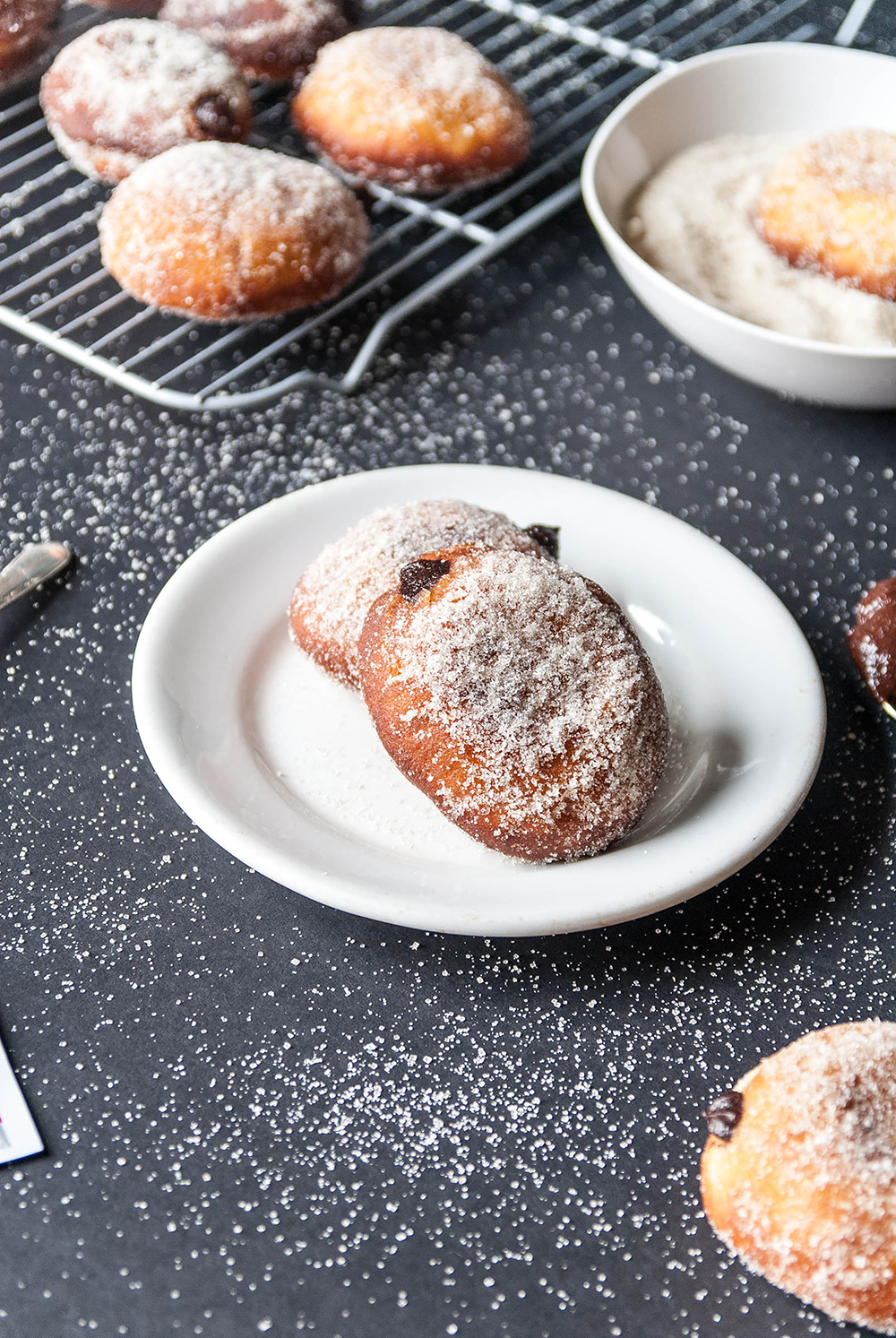 Ingredients
1 package (2¼ tsp, ¼oz, 7g) RED STAR Active Dry Yeast
1 cup warm water plus ¼ cup additional water
¼ cup plus 1 tsp cane sugar, divided
2 ½ cups all-purpose flour
1 tsp salt
½ tsp baking powder
3 Tbsp vegan buttery spread, melted
2 cups olive oil
1 cup cane sugar
⅓ cup homemade vegan Nutella (see below)
Homemade Vegan Hazelnut Chocolate Spread
1 cup hazelnuts, unsalted
6-8 dates, pitted
⅓ cup cocoa powder
¾ cup maple syrup
½ cup almond milk (or non-dairy milk of your choice)
1 Tbsp vanilla extract
Instructions
In a small bowl, mix together the packet of yeast, warm water and 1 tsp. of sugar. Let stand until foamy, about 5 minutes.


In a large bowl, whisk together the ¼ cup cane sugar, all purpose flour, salt, and baking powder. Add in the yeast mixture and stir until dough starts to come together. Add in the ¼ cup water and melted buttery spread and stir until combined.


Turn the dough out onto a well floured surface and knead until smooth, for about 5-6 minutes. If dough becomes sticky while kneading, continue adding flour to allow kneading to continue. Transfer dough to a well-oiled bowl and allow to rise for 2 hours, until the size of the dough has doubled.


Make homemade hazelnut-chocolate spread: In a high powdered blender or food processor fitted with a blade attachment, blend all the ingredients together until smooth and creamy. If needed, add a bit more milk to keep the mixture going until blended. (You can store in the refrigerator for up to a month.)


After dough has risen, turn dough out onto counter top. Shape the dough into 2 inch round balls, flattening as you lay them out onto a greased cookie sheet. Allow to rise for 15 more minutes.


Heat the olive oil in a small dutch oven or large skillet over medium high heat (use a candy thermometer, oil should reach 350°F). Make sure the oil isn't too hot or it will start to smoke. Fry the doughnuts in batches, 2-3 at a time for 2 minutes on each side, or until they are golden brown. Using a slotted spoon, transfer doughnuts to a cooling rack lined with paper towels. After all the doughnuts have been fried, roll them in the cup of cane sugar. Poke a hole in one end and pipe the homemade hazelnut-chocolate spread into doughnuts. Serve immediately.


Recipe created by Heart of a Baker.