Sweet Potato Marshmallow Cinnamon Rolls
These rolls have a subtle sweet potato flavor with gooey marshmallows melted inside, mixed with brown sugar and butter. Topped off with a drizzle of marshmallow glaze.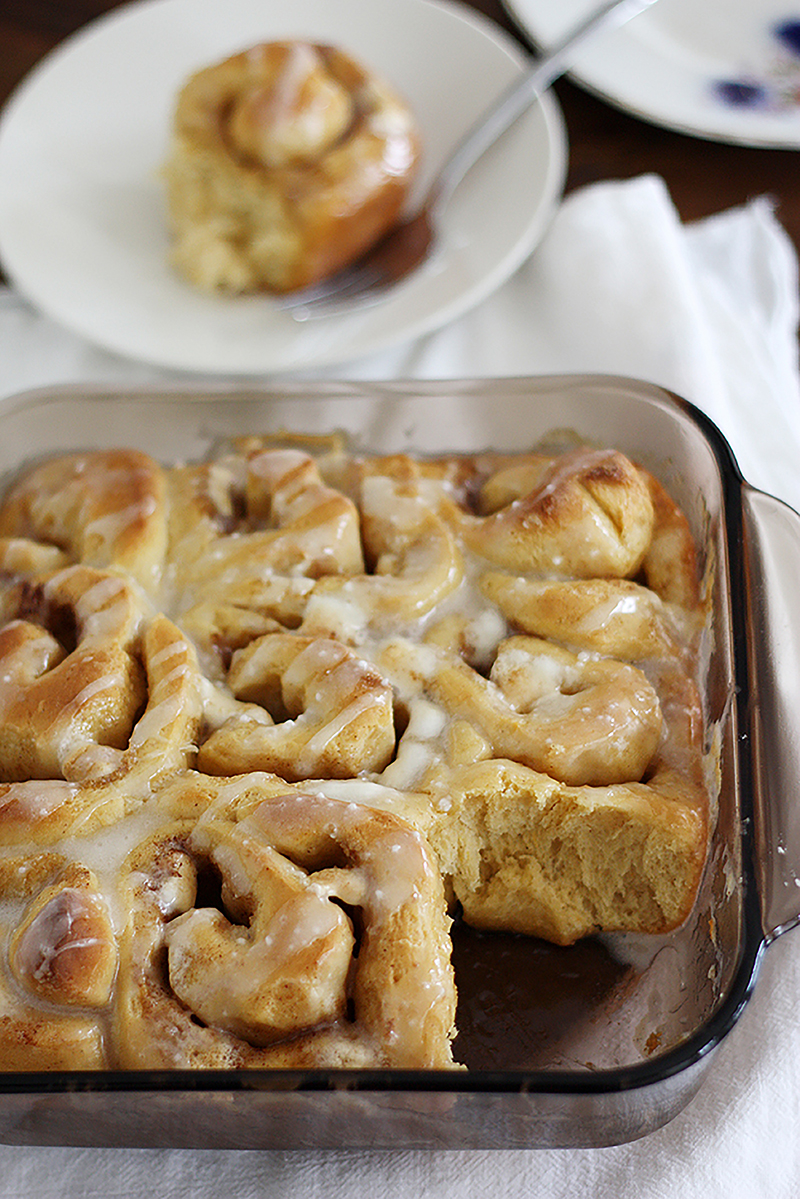 Ingredients
For the rolls:
⅓ cup milk
2 Tbsp unsalted butter
1 package (2¼ tsp, ¼oz, 7g) RED STAR Active Dry Yeast
¼ cup mashed sweet potato
1 egg
2 cups unbleached all-purpose flour
¼ cup granulated sugar
1½ tsp cinnamon
½ tsp nutmeg
½ tsp salt
For the filling:
2 Tbsp unsalted butter, melted
¼ cup brown sugar
2 tsp cinnamon
1 cup mini marshmallows
For the glaze:
¾ cup powdered sugar
½ tsp vanilla
Pinch salt
1½ Tbsp unsalted butter
¼ cup water
1 cup mini marshmallows
Instructions
In a small saucepan over medium-low heat, heat milk and butter until butter is just melted. Remove from heat; cool to about 100-110°F. Stir in yeast to dissolve; let sit 10 minutes until slightly foamy.


Meanwhile, in a large bowl or bowl of a stand mixer, stir together mashed sweet potato and egg.


In a separate large bowl, whisk together flour, sugar, cinnamon, nutmeg and salt.


Add flour mixture to mashed sweet potato mixture; stir to combine. Slowly add yeast mixture, stirring on low speed. Knead dough by hand on a lightly floured countertop 8 to 10 minutes, adding more flour as needed to make a smooth, soft and slightly sticky dough OR knead dough in stand mixer with dough hook attachment on medium speed 6 minutes, adding more flour as needed to make a smooth, soft and slightly sticky dough.


Shape dough into a ball; transfer to a large, lightly greased bowl, turning to coat. Cover with plastic wrap and let rise in a warm place 1 hour to 1 hour 15 minutes, until doubled.


Heat oven to 350°F. Punch down risen dough, then transfer to a lightly floured countertop. Roll or pat out into a 9x9-inch square. Brush top with melted butter, then sprinkle evenly with brown sugar and cinnamon. Top with marshmallows.


Roll dough up tightly into a log; pinch seam to seal. Use a sharp knife to slice log into 9 equal rolls. Place each roll, cut-side up, in a lightly greased 9x9-inch pan. Cover with plastic wrap and let rise 20 to 30 minutes until slightly puffy.


Bake rolls 25 to 30 minutes until golden brown and baked through. Transfer to a cooling rack.


Meanwhile, make the glaze: In a medium bowl, combine powdered sugar, vanilla and salt. In a medium saucepan over medium-high heat, combine butter and water. Stir until butter melts, then add mini marshmallows. Stir until melted, then whisk into sugar mixture.


Pour glaze evenly over warm rolls. Serve warm or room temperature.


Recipe created by Girl Versus Dough.