Sun-Dried Tomato Gluten-Free Focaccia
A savory gluten-free focaccia with sun-dried tomatoes, garlic, and Italian herbs. Perfect for dipping into balsamic and olive oil.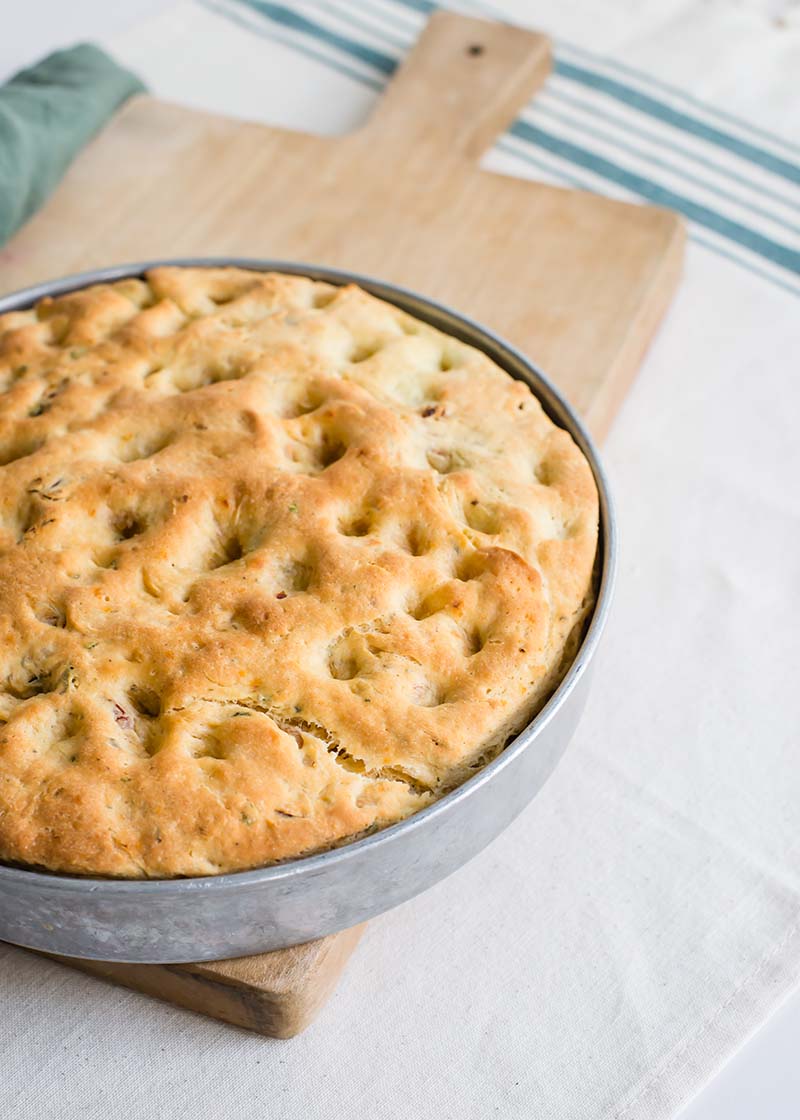 Yield:
1 focaccia (8 servings)
Ingredients
1 cup warm water (110-115°F)
¼ tsp sugar
1 package (2¼ tsp, ¼oz, 7g) RED STAR Active Dry Yeast
2 large eggs
¼ cup, plus 2 Tbsp extra virgin olive oil, divided
1 Tbsp honey
1 Tbsp dried Italian herbs
1 tsp mild rice vinegar
2 tsp salt
2 garlic cloves, minced
¼ tsp fresh ground black pepper
3 cups gluten free flour blend (see below)
¼ cup chopped sun-dried tomatoes


Gluten Free Flour Blend
1 cup millet or sorghum flour
1 cup white rice flour
⅔ cup tapioca starch
⅓ cup potato starch (or cornstarch)
1½ tsp xanthan gum
Add all ingredients to a large bowl. Whisk to combine.
Instructions
Place warm water in a medium bowl with the ¼ teaspoon sugar. Sprinkle the yeast over the top and stir gently to dissolve the yeast. Let stand 5-10 minutes, or until foamy.


In the bowl of a stand mixer fitted with the paddle attachment, beat together the eggs, ¼ cup olive oil, honey, dried herbs, vinegar, salt, garlic, and pepper. Add the yeast and mix on low until combined. Turn off mixer and add the gluten-free flour all at once. Turn mixer on to low speed and mix well. The dough should be pretty sticky. Turn off mixer and scrape down the sides and turn mixer back on to low speed. Add the sun-dried tomatoes and raise speed to medium-high. Continue beating for about 3 minutes. Turn off mixer and let dough stand 5-10 minutes. It will thicken a bit as it stands.


Pour 1 Tbsp olive oil into a 9-inch round glass or metal cake pan. Tilt to cover the bottom and sides. Transfer the dough to the pan and turn it over to coat the other side with oil too. Use your hands to pat the dough into an even layer. Pour the remaining 1 Tbsp olive oil evenly over the top. Cover with plastic wrap and let rise for 45 minutes. Preheat oven to 400°F while the dough rises.


Bake focaccia for 20-25 minutes or until golden brown on top and baked through. Remove from oven and brush with a little more olive oil, if desired. Cut into wedges and serve.


Recipe created by Café Johnsonia.