Summer Squash Flatbreads
Celebrate the summer squash harvest with these delectable savory flatbreads, made instantly tangy with a boost from Platinum Instant Sourdough Yeast.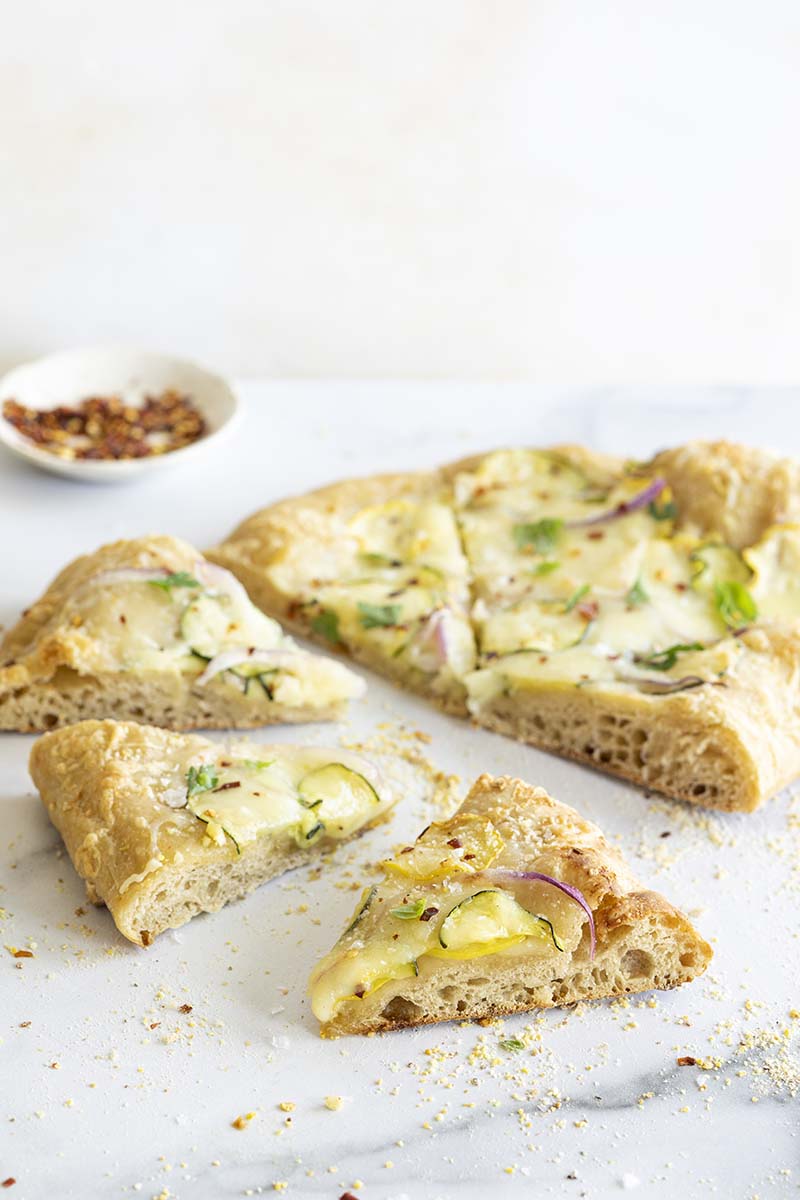 Ingredients
3¾ cups (469 grams) all-purpose flour, divided
1 package (0.63-ounce, 18 grams) Platinum Instant Sourdough Yeast
2¼ teaspoons (6.75 grams) kosher salt
¾ cup (180 grams) water
½ cup (120 grams) whole milk
3½ tablespoons (49 grams) extra-virgin olive oil, divided
1 teaspoon (7 grams) honey
3 cloves garlic (15 grams), minced
½ teaspoon packed lemon zest
Cornmeal, for dusting
1½ cups (170 grams) shredded fontina cheese
⅔ cup (61 grams) finely shredded Parmesan cheese
½ cup (60 grams) thinly sliced (1/16 inch) zucchini
½ cup (60 grams) thinly sliced (1/16 inch) yellow squash
½ cup (65 grams) thinly sliced red onion
Garnish: shredded fontina cheese, flaked sea salt, fresh basil leaves, chopped fresh parsley
Instructions
Step 1. In the bowl of a stand mixer fitted with the paddle attachment, beat 2 cups (250 grams) flour, Platinum Instant Sourdough Yeast, and kosher salt at low speed until well combined.


Step 2. In a small saucepan, heat ¾ cup (180 grams) water, milk, 2 tablespoons (30 grams) oil, and honey over medium heat until an instant-read thermometer registers 120°F (49°C) to 130°F (54°C). Add milk mixture to flour mixture; beat at medium speed for 2 minutes. Reduce mixer speed to low; gradually beat in 1½ cups (188 grams) flour until a very soft, sticky dough is formed.


Step 3. Switch to the dough hook attachment. Beat at medium-low speed for 13 minutes. (Dough should almost pull away from sides of bowl.) Add up to remaining ¼ cup (31 grams) flour, 1 tablespoon (8 grams) at a time, if necessary. (Avoid adding too much flour; a slack dough is important for a light, airy crust.) (Dough should pass the windowpane test; see Note.) Using well-floured hands, shape dough into a ball.


Step 4. Lightly oil a large bowl. Place dough in bowl, turning to grease top. Cover with plastic wrap, and let rise in a warm, draft-free place (75°F/24°C) until doubled in size, about 1½ hours.


Step 5. Punch down dough. Divide dough in half (about 390 grams each). Using floured hands, shape each half into a smooth ball, and place each in a lightly oiled small bowl. Lightly brush tops with oil. Cover with a double layer of plastic wrap, and refrigerate overnight*.


Step 6. About 1½ hours before baking, remove dough from refrigerator. Place a pizza stone on lowest oven rack. Preheat oven to 475°F (250°C). (Allow at least 1 hour for pizza stone to fully heat before baking.)


Step 7. In a small microwave-safe bowl, combine garlic, lemon zest, and remaining 1½ tablespoons (21 grams) oil. Heat on high until mixture begins to bubble, about 20 seconds.


Step 8. Generously dust a pizza peel or a rimless baking sheet with flour and cornmeal.


Step 9. For each flatbread, drape each portion of dough over your knuckles. Using both hands, gently stretch dough with knuckles to form a ⅜-inch-thick oval, being careful not to press out any air bubbles. Place dough on prepared pizza peel, stretching to even out any thick areas. Shake pizza peel a few times to make sure dough always stays loose, dusting bottom with additional cornmeal if needed. (Continue to check dough a few times while topping. Dough must remain loose to slide easily onto pizza stone.)


Step 10. Evenly spoon half of garlic mixture onto each flatbread. Top each with half of fontina and half of Parmesan; top each with half of zucchini, half of squash, and half of onion. Slide 1 flatbread onto hot pizza stone.


Step 11. Bake until crust is deep golden brown, 10 to 12 minutes, using tongs to rotate flatbread halfway through baking. Immediately garnish with fontina, sea salt, basil, and parsley, if desired.


Step 12. Repeat procedure with remaining flatbread. Immediately garnish with fontina, sea salt, basil, and parsley, if desired.


Recipe featured in Bake From Scratch magazine.
Notes
Test dough for proper gluten development using the windowpane test. Using floured fingers, pinch off a small piece of dough. Slowly pull the dough out from the center. If the dough is ready, you will be able to stretch it until it's thin and translucent like a windowpane. If the dough tears, it's not quite ready. Beat for 1 minute, and test again.

*Refrigerating this dough overnight allows it to develop better flavor and texture, but the flatbreads can be baked on the same day as well. Simply preheat pizza stone and oven while dough is rising and then shape flatbreads after punching down dough.