Sheet Pan Pizza
This sheet pan pizza recipe is so incredibly delicious and perfect for feeding a crowd. The crust has a wonderful crispy outside and soft inside and makes the perfect party food that all your guests will enjoy!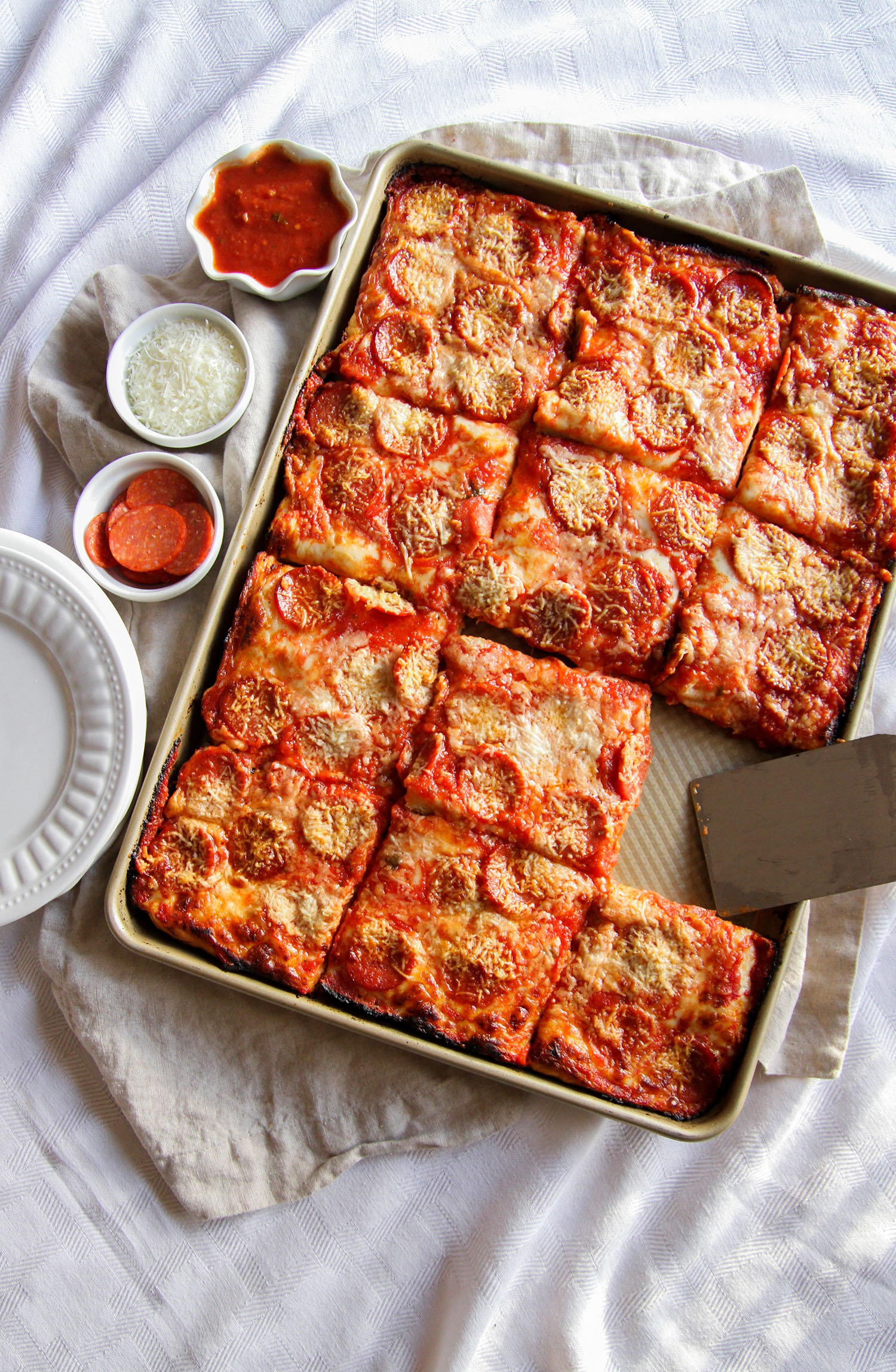 Yield:
1 pizza, about 12 servings
Ingredients
For the dough:
1 package (2¼ tsp, ¼oz, 7g) RED STAR Quick·Rise Yeast
¼ tsp sugar
1¼ cup warm water, about 100-115°F
1½ tsp Kosher salt
3 Tbsp olive oil, plus ¼ cup for the pan
3½ – 4 cups unbleached all-purpose flour
For the sauce:
2 Tbsp extra-virgin olive oil
3 cloves garlic, roughly chopped
1 Tbsp dried oregano
½ tsp dried red pepper flakes, or more to taste
1 (28-ounce) can whole peeled tomatoes
1 tsp Kosher salt
To Assemble and Bake:
1 pound sliced deli-style mozzarella cheese
6 ounces natural-casing pepperoni, cut into ⅛-inch slices
4 ounces Pecorino Romano cheese, grated
Instructions
Dissolve the yeast and sugar in the warm water in a small mixing bowl or measuring cup. Proof the yeast until it is foamy, about 5 minutes.


In the bowl of a stand mixer fitted with the dough hook attachment, pour in the yeast mixture, salt, 3 tablespoons olive oil and 3 ½ cups of flour. Turn mixer on medium and mix until combined, about 4 minutes. Slowly add in the additional ½ cup flour and mix for about another 2 minutes. Remove the dough from the mixing bowl and transfer to a lightly-floured surface.
Knead by hand until smooth and elastic. Shape dough into a small rectangle.


Coat a 12x17-inch sheet pan (or jelly roll pan) with ¼ cup olive oil.


Transfer dough into the oiled pan and cover loosely with plastic wrap. Let rest until double in size, about an hour.


Punch down the dough. Form dough by pressing with your fingers to fit the entire pan, edge-to-edge. Make sure dough is even thickness across pan. Lightly prick with a fork to prevent the crust from bubbling up (don't poke all the way through the dough, 10-15 total fork pricks.) If the dough is resistant to reach the corner, allow it to rest a few minutes and try again. Cover pan with the plastic wrap and allow it to rest another hour.


Preheat the oven to 550°F, making sure the bottom rack of your oven is set to its lowest level.


Make your sauce: sauté garlic in the olive oil in a medium sauce pan over medium-high heat until fragrant (2 minutes). Add in the oregano, red pepper flakes, can of tomatoes and salt; stir and cook for 2 minutes, then remove from heat. Use an immersion blender to blend contents in the pot or pour contents into a blender and blend until smooth and no large chunks remain.


Remove plastic wrap from the pizza dough and place slices of mozzarella cheese evenly over pizza dough, then spread sauce over the cheese. Top with slices of pepperoni and then sprinkle with Pecorino Romano cheese.


Place the baking sheet on the lowest rack in the oven and bake for about 10-15 minutes, until the crust is crispy and lightly browned.


Recipe created by Sweet Phi.